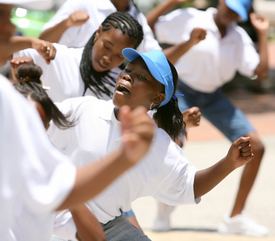 45 states: Hundreds of thousands honor Juneteenth
What do Waterloo, Iowa; Littlefield, Calvert, Edinberg, Hempsted, Dallas, Corpus Christi and Galveston, Texas; Clarion, Bedford, Wilkinsburg, Williamsport and Lancaster, Pa; Elkton, W.Va.; Southfield, Mich.; Moscow, Idaho; and Senatobia, Columbus, Corinth, Tupelo and Wanyesboro, Miss., have in common? These are just a few towns and cities in 45 states where hundreds of thousands of African Americans, Latinos and whites marched, rallied and celebrated the nation's first African American holiday — Juneteenth.
On June 19, 1865, the Union army reached Texas to deliver General Order Number 3: Slavery in the U.S. was over; the enslaved African American people were free. Since then, Juneteenth has been celebrated first in churches and now on the streets of communities around the country.
In Waterloo, Iowa, building on last year's turnout of 10,000, residents jammed the future site of the African American History and Cultural Museum.
In Brooksville, Fla., thousands marched for health awareness and environmental justice.
Unions and economic equality were on the minds of hundreds who marched in Miami, honoring a leader of the Laborers' Union who was murdered over 30 years ago. Celebrations and cultural events stretched over eight days in south Florida.
In Michigan, affirmative action and the fight to keep the doors open to African Americans seeking higher education brought together residents in Southfield.
The Tuskegee Islamic Center, in Tuskegee, Ala., was the hub of the city's Juneteenth commemorations.
Calling punitive drug laws and mandatory sentencing "modern day slavery," Pennsylvanians from Philadelphia to Wilkinsburg focused on the 2006 elections to restore justice to neighborhoods and protect youth.
Galveston, Texas, celebrated for two weeks, looking to history for the story of the Underground Railroad and capping off with a Jubilee parade.
In every town and city, churches played a key role in uniting residents with people's politics, culture and joy.
WASHINGTON: Congress enacts mine safety law
In the wake of 33 deaths of coal miners at work so far this year, the Senate and House of Representatives both passed the Mine Improvement and New Emergency Response Act (MINER) by overwhelming majorities. Bush signed the bill into law June 15. But since Bush took office in 2001, his administration has cut the budget for the Mine Safety and Health Administration (MSHA) by $500,000 and eliminated 190 inspectors.
Deborah Hamner, whose husband George Hamner died inside the Sago Mine in West Virginia, Jan. 2, told the president she was honored to be at the signing, but opposed Bush nominee Richard Stickler, a coal operator, to head MSHA.
Fred Ware did not get out of the Sago Mine alive, and his daughter, Peggy Cohen, also present for the bill signing, called upon members of Congress not to stop their efforts to improve mine safety. The MINER law, the first upgrade in federal mine safety regulations since 1977, "is a start," she said. "Let's hope it's not the end."
MINER changes existing law to require companies to supply miners with two hours of oxygen instead of one hour, provide additional oxygen underground and install two-way communications and tracking devices within three years. It requires experienced rescue teams within one hour of a mine, empowers MSHA to shut down a mine if an owner refuses to pay safety violation fines and increases fines to a maximum of $250,000 for first offenses and $500,000 for second offenses.
Pennsylvania Gov. Ed Rendell agrees with Peggy Cohen. He said the bill should have required that rescue chambers, like those that saved the lives of 72 potash miners in Canada, be installed in U.S. coal mines.
West Virginia Sen. Robert Byrd (D) said, "At long last this Congress is taking steps to protect the lives of our coal miners." He continued, "In West Virginia this year, 19 miners have been killed on the job. We cannot allow these men to die in vain. Clearly there is more to accomplish, but the MINER Act is a major step forward."
COLUMBUS, Ohio: Woman to lead 2.3 million Episcopalians
Amid swirling controversy surrounding the ordination of women, deputies to the Episcopal General Convention elected Nevada Bishop Katharine Jefferts Schori the first woman Episcopal Presiding Bishop, providing spiritual leadership to 2.3 million U.S. members of the church. Schori placed first in a field of seven contenders. She was the only woman candidate.
Three U.S. Episcopal dioceses — Fort Worth, Texas, Quincy, Ill., and San Joaquin, Calif. — refuse to ordain women and opposed Schori.
The convention also rejected a ban on gay bishops. Meanwhile leaders of the 2.4-million-member Presbyterian Church (USA) met in Birmingham, Ala., with much of the attention focused on a theological task force report on "Peace, Unity and Purity." Although the discussion was sharp, "our debates will not end but they will have a more Christian tone," said Mark Achtemeier, member of the task force that drafted the document. Ordination of gays and lesbians, the war in Iraq, gay marriage and other social justice issues are among 140 proposals being discussed.
In addition, the nation's largest Protestant denomination, the Southern Baptist Convention with 16.2 million members, met in Greensboro, N.C. For the first time since 1979, the 11,000 delegates elected a president independent of the deeply conservative leadership. Rev. Frank Page, minister of the First Baptist Church of Taylor, S.C., won with 4,546 votes over two ministers backed by the right-wing leadership.
Embracing the idea of a "kinder, gentler" Southern Baptist Convention, Page said, "I believe in the word of God. I'm just not mad about it."
David Kay, director of Baptist Studies at the Emory University School of Theology, said he was surprised at Page's victory on the first ballot "against two very strong conservative, politically connected candidates." He described Page as a "local pastor made good" who is not a major player in intra-church politics or national politics. Media commentators said the deciding issue was internal church finances.
National Clips are compiled by Denise Winebrenner Edwards (dwinebr696@aol.com).