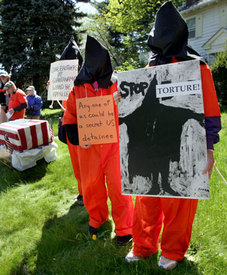 NEW ORLEANS: Nagin re-elected
Mayor Ray Nagin won a second term May 20, beating out Lt. Gov. Mitch Landrieu 52-48 percent. Nagin begins his second term on May 31 — a day before the start of the 2006 hurricane season.
Fewer than half of the city's 455,000 pre-Katrina residents are living in New Orleans; most remain scattered elsewhere in Louisiana and beyond. Turnout for the election was 38 percent, slightly higher than the April primary. According to The Associated Press, the vote split largely along racial lines, but both candidates got about one-fifth of the "crossover" vote. Racial inequalities were exacerbated after Katrina, and rebuilding plans have raised concerns about the future of some African American neighborhoods.
PITTSBURGH: National health care movement adds another sponsor
Temple Sinai was filled with labor representatives, community activists, elected officials and religious leaders supporting the growing grassroots movement to pass HR 676, the "Medicare for All" bill. They got a boost when local Democratic Rep. Mike Doyle announced that he had become the 70th member of the U.S. House to sign on.
The bill's author, Congressman John Conyers (D-Mich.), keynoted the citizens' hearing. State Sen. Jim Ferlo outlined efforts at the state level to provide insurance coverage for all Pennsylvanians through SB 1085.
In an all too familiar story, Terry Kennedy described in often tearful detail her family's struggle with cancer and parents working two jobs apiece just to cover the health insurance and hospital bills.
The Western Pennsylvania Coalition for Single-Payer Health Care launched a postcard campaign and inspired new activists for the movement.
BOSTON: Campus protest greets Rice
Following three weeks of petitioning by 800 students and 150 rot s invitation to Secretary of State Condoleezza Rice to deliver the commencement address and receive an honorary degree, hundreds demonstrated at graduation May 22 and graduates wore black armbands.
Arguing that Rice's view on international affairs violated Roman Catholic values, two leading theology professors at the college started the protest. The administration received a letter signed by 19 Catholic educators based in Nicaragua, El Salvador, Kenya, Jerusalem, Honduras and the U.S. saying, "As Jesuits we are scandalized and outraged" by the Catholic college's decision to award an honorary doctorate to Rice. The letter called Rice "one of the principal architects and representatives of the Bush administration's illegal and immoral invasion and occupation of Iraq."
Adjunct professor Steve Almond resigned in protest. The president and vice president of the student government opposed the invitation to Rice.
LAS VEGAS: Unions campaign to save schools, services
The words sound sensible and harmless. Republican state Sen. Bob Beers, a candidate for governor, initiated a petition campaign to place a constitutional amendment on the ballot to limit state and local budgets to the combined rate of inflation and population growth unless voters approve otherwise. Known as the Tax and Spending Control Act (TASC), the measure needs 83,156 signatures by June 20 to get on the November ballot.
No so fast, says truck driver Anthony Lock. As he explained to a voter in the desert heat, "It would lead to harmful reductions in vital public services like education, transportation, health care and fire and police protection." The voter, who had signed Beers' petition, signed Lock's and asked for more information.
The Nevadans for Nevada campaign led by the state AFL-CIO is the first in this state where an organization is going back to voters who signed a petition for a ballot initiative and asking them to rescind their support — stop the question from getting on the ballot. Nevadans for Nevada has a small army of paid and volunteer workers on the street, clip board in one hand, flyers in the other. They are reaching out to registered voters across the Silver State.
The AFL-CIO has also filed suit to halt TASC. Not just workers are worried about what the 400 pages of text in the TASC measure means. The Las Vegas Chamber of Commerce has joined in the campaign, although not part of Nevadans for Nevada, to stop TASC.
CHAPEL HILL, N.C.: City Council says 'Impeach Bush'
City Council chambers and town hall meetings are not the most exciting settings for a deepening expression of the people's will, but they are effective. Earlier this month, this city's eight City Council members representing 52,440 residents unanimously approved a resolution calling on the state Legislature to take steps to impeach President Bush. They join a growing number of state and local governments across the country in exercising a little-known part of the U.S. Constitution enabling the states to force Congress to begin impeachment proceedings.
Legislatures in Illinois, California and Vermont have already begun drafting legislation for presidential impeachment.
Democratic parties in Nevada, Wisconsin, New Mexico, and North Carolina are considering a campaign for impeachment. For more information: impeachpac.org.
National Clips are compiled by Denise Winebrenner Edwards (dwinebr696@aol.com).