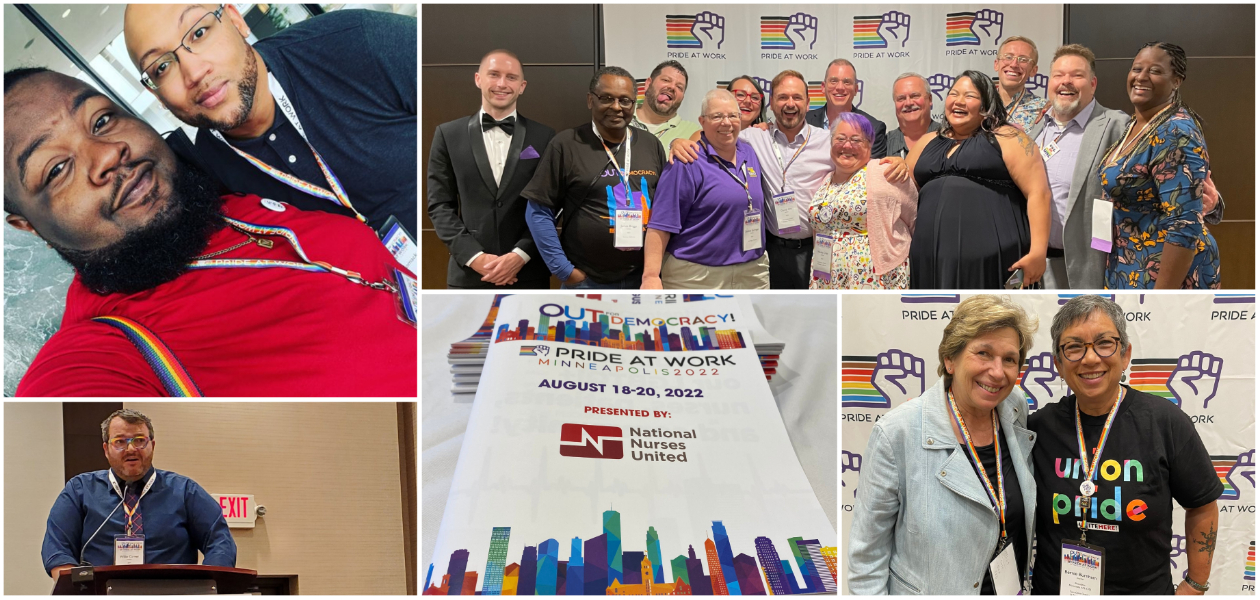 MINNEAPOLIS—Union leaders Fred Redmond, Randi Weingarten and Sara Nelson hit different themes—electoral activism, right-wing hate and corporate greed, respectively–at the Pride@Work convention in Minneapolis in mid-August.
And the meeting, of the AFL-CIO's constituency group for LGBTQ+ people also featured—what else?—a protest, which delegates eagerly joined in.
In this case, though, the protesters were members of Unite Here Local 17, who are campaigning for a contract with the Millennium Hotel, site of the convention. Bosses, as usual, are stonewalling—having reneged on a tentative agreement two months after the hotel booked the convention,
So Pride@Work delegates joined the Unite Here members in occupying the hotel lobby for half an hour.
The delegates didn't really get into the nuts and bolts of election planning for the fall campaign, but discussed how the gay community has become a political target of the radical right and its "social issues," said News Guild President Jon Schleuss.
Redmond and Schleuss, who attended the whole convention, received Solidarity awards. The convention theme was "Out for Democracy."
"I dedicated the award to News Guild members and spoke about the power of our media and non-media members, like the workers at the Southern Poverty Law Center who won a very strong first contract just last month," Schleuss wrote in a letter to members this week.
Then, he "celebrated the great bargaining committee at the Dallas Morning News, who invited me to their bargaining on Friday. And the millions of dollars won by workers at the Los Angeles Times to correct pay inequities based on race, ethnicity and gender." Schleuss helped organize the Guild at the long-time anti-union Times.
"The focus was particularly on the trans community," he added in the interview, because of such discriminatory acts as so-called "bathroom bills," and mandating trans athletes play school sports using their original gender.
Nelson, president of the Association of Flight Attendants-CWA, took particular aim at corporate greed, and specifically at airlines that took federal pandemic aid and now are engaging in stock buybacks, Schleuss said in a telephone interview.
And Delta flight attendants drew strong support from delegates in their renewed campaign to unionize their airline, the only one of the nation's Big Four carriers that is not unionized, except for its pilots.
Starbucks workers also addressed the delegates, outlining working conditions that have led to more than 200 union wins at the coffee chain's stores. They've also led to such hard-line anti-union opposition from Starbucks CEO Howard Schultz that the National Labor Relations Board's Buffalo regional office has petitioned for a nationwide judicial injunction against the firm (see separate story).
AFA-CWA has launched a campaign to yank the federal tax deduction for such stock buybacks. Other aviation unions joined "#GreedDoesntFly," and AFL-CIO President Liz Shuler has endorsed it.
It demands aviation CEOs "pledge to stabilize the industry with reliable operations and good jobs before diverting any airline cash to Wall Street."
Weingarten, one of two openly gay national union presidents among the delegates and speakers went after the right-wingers for their book bans. In one instance, in Tennessee, it descended into book-burning.
"They ban books. We give out books," Weingarten declared.
Teachers, public schools, school boards and curricula have been particular targets of the haters.
"The intent of this is clear," Weingarten said of Florida's law banning teaching about sexuality, pushed by Republican Gov. Ron DeSantis, a Donald Trump clone with an eye on a White House run in 2024.
"Stop story-telling about children who are of a different race or religion who have been oppressed, because a child might then empathize or feel the pain of antisemitism or racism," Weingarten said sarcastically about DeSantis's demonization of gays and other "different" people.
"There are demagogues and extremists out there who are playing on fear. Fear built on false narratives," she continued. "These fearmongers prey on racial and economic anxieties, stirring up resentment and racial, ethnic and gender tribalism."
And they're not just in deep-red states, she added. "In New Hampshire in May, we helped beat back a bill that would have required public schools to notify parents any time their child joined any club or group about LGBTQIA+ issues, such as a student Gay-Straight Alliance."
"They are banning books that tell the stories of Black people, of gay people, of Jewish people. Last week a school district banned the teaching of the diary of Anne Frank. Districts have banned the teaching of Ruby Bridges."
Bridges, then aged 8, became the first African-American student in New Orleans public schools, in November, 1960. Federal marshals had to escort her daily past a crowd of white haters, who also pulled their kids out of the classroom, leaving only Ruby and her teacher—a Boston native.
The descendants of those extremists also vilify public schools, especially since public schools now teach a majority composed of students of color.
"So why are schools and children the center of the culture wars? It's because extremists understand that public schools unify Americans," said Weingarten.
Redmond challenged the LGBTQ community not just to get involved in politics, but to seek public office.
"Everybody in. Nobody is left out. I dare you, members of @PrideatWork, get involved, run for office and follow the examples of (Bayard) Rustin, (A. Phillip) Randolph and others," Redmond declared. "Push for the change you want to see in our unions, our communities and our country.
"One day our children and grandchildren will hold us accountable for how we responded at this moment. This is our time: to grow our movement and ensure the next generation is proud to stand up and say #UnionYes."
"Hold politicians accountable," urged Communications Workers Legislative Director Shane Larson, according to Schleuss. "The issues of the LGBTQ community are workers' issues" and should be included in union endorsement discussions and decisions, he said.