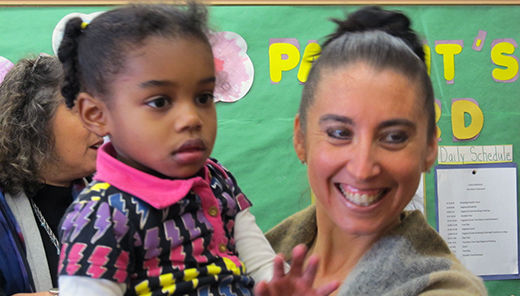 OAKLAND, Calif. – "We're the biggest supporters of parents working at low-wage jobs, teen parents who want to go back to school, special needs kids," said center director Hetzel Simbulan, as she stood in a brightly lit, colorfully decorated Early Head Start classroom here.
Simbulan was worried because among $61 billion in draconian cuts in the federal spending bill the Republican-dominated House of Representatives passed last week is $1.1 billion in funding for Head Start. The 22.4 percent cut would eliminate some 218,000 places from the 45-year-old program.
By contrast, President Obama is calling for $866 million more for Head Start, to maintain funding that was increased under the 2009 stimulus bill.
"I don't know what will happen to our children, and to our parents who are working, taking job training or going back to school, if these cuts go through," Simbulan said.
One member of Congress she didn't have to persuade was U.S. Representative Barbara Lee, a Democrat, whose district includes Oakland.
As a press conference got underway in the classroom, Lee told reporters, "These are our sons, our daughters, our grandchildren, right here in this city. We all know how important these programs are to the many parents who depend on them, and the children they serve."
The Republicans "want to balance the budget on the backs of poor, low-income people and children," Lee said. "They're talking about cutting domestic spending back to 2008, but they're cutting these programs and leaving defense. Cut defense!" she said.
Lee also pointed out that when Congress should be creating jobs, the Head Start cuts would eliminate some 55,000 Head Start teachers.
Mayor Jean Quan said the city is fighting a similar struggle over the California budget, and state cuts have already forced the school district to close many early childhood development centers.
"This has a effect on our youngest, most vulnerable citizens. And it's an investment that makes so much difference, and gives them the ability to have good start at education," Quan added.
Over 2,000 Oakland children and their families participate in Head Start and Early Head Start, at 31 centers around the city. The centers also provide "wrap-around" health and social services.
Both Lee and Quan called attention to the huge percentage of African American young men – 40 to 50 percent – who drop out of high school. "We need to take stock of our priorities and look at what Head Start has done with minimal amounts of money, and expand it with more resources so we can reduce that dropout rate," Lee said.
The elected officials, and the parents and children at the press conference, were part of nationwide actions this week in support of Head Start.
In Lewiston, Idaho, parents and children demonstrated at the office of Republican Rep. Raul Labrador. Jessica Powers, of nearly Clarkston, told the Morning Tribune, "The cuts they're trying to make are terrible. My youngest is going to be ready for kindergarten because of the program. Without Head Start, there would have been no way."
As Wheeling, W.Va., parents protested at the office of Republican Rep. David McKinley, Head Start parent David Murphy told the News Register he has been jobless for over a year. While he and his wife take university classes, he said, Head Start provides affordable day care and education for their four-year-old son and 22-month-old daughter.
Sarasota, Fla., parents held a "stroll-in" at Republican Rep. Vern Buchanan's office. Among them was Christina Espino, carrying her two-year-old daughter on her hip. Espino, who lives with her mother and works part-time, told the Herald-Tribune she wants to start training for a nursing job that would pay up to three times what she earns as a cashier. If the Republicans' proposed cuts were to go through, they would take effect just when her classes start.
Photo: Marilyn Bechtel