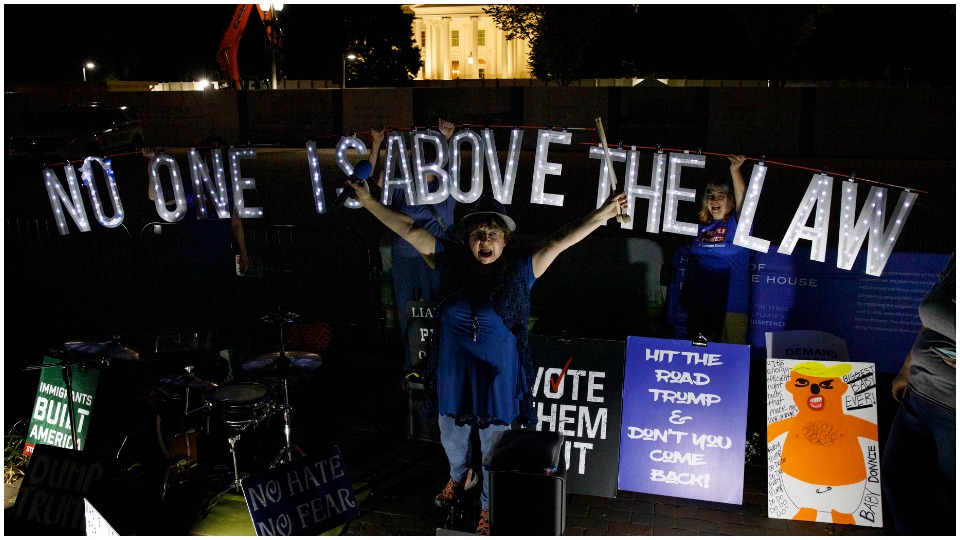 WASHINGTON—From Anchorage to Honolulu, from San Diego to Miami, millions of people are taking to the streets at 5:30 p.m. local time nationwide to demand lawmakers impeach, convict, and oust President Trump from office.
The "Impeach and Remove" non-violent rallies in 632 cities and towns and counting have spread so far that the farthest east is in Machias, Maine, just this side of the U.S. border from St. John's, capital of the Canadian province of New Brunswick.
Information about local times and places of rallies—including seven in the Chicago area and two in D.C.—is available online at Impeach.org.
As Americans pour into the streets today to demand the removal of a criminal president, Trump is showing he could not care less. His personal lawyer Rudy Giuliani is back again doing more of what the president is being impeached for—hanging out in Ukraine in an attempt to drag corrupt operatives of a foreign government into the Trump scheme to influence the 2020 elections.
Displaying the brazenness of a Mafia movie figure, Giuliani went on national television yesterday and today to brag about his actions. "Sure, I wanted her out of the way," he said, responding to a question about whether he had engineered the ouster of former U.S. ambassador to the Ukraine, Marie Yovanovitch. "She was getting in the way of our investigation," he said.
The investigations to which he was referring included the attempts by Trump to revive discredited conspiracy theories that it was Ukraine, not Russia, that interfered in the 2016 election and attempts by Trump to enlist corrupt Ukrainian operatives in his scheme to discredit the Biden family.
A wide coalition of groups, including Credo Action, Democracy21, People for the American Way, Common Cause, MoveOn, and the Service Employees International Union, have organized the rallies calling for a "yes" vote.
The demand comes as U.S. House members prepare to vote on Dec. 18 on two articles of impeachment against Trump, one for abuse of power and the other for obstructing congressional investigation of his crimes—notably his attempted bribery of the Ukrainian government to get it to smear one of his potential Democratic foes, former Vice President Joe Biden. Depending on how long debate goes on Dec. 18, the votes could slip into the next day.
Though the impeachment articles do not use the word, Trump's bribe was withholding $391 million in U.S. military aid the right-wing Ukrainian government needs to defend itself against what it says is the Russian-sponsored civil war there. The House Judiciary Committee's 600-plus page report marshals tons of evidence and two weeks of testimony from non-partisan witnesses for its conclusion. It also says Trump's action endangered national security and violated his oath of office.
Some rally sponsors are looking ahead to what is expected to be a trial in the Senate and urging attendees to put pressure on senators to convict Trump. The vote in the House tomorrow is virtually certain to result in Trump's impeachment.
Majority Democrats—even most of those representing districts Trump carried three years ago—will vote to impeach Trump, with every Republican expected to vote "no." Rep. Justin Amash, Ind-Mich., who was kicked out of the GOP for concluding Trump committed impeachable obstruction of justice in the probe of 2016 Russian manipulation of the U.S. election, is expected to vote "yes," too.
But House impeachment is only the congressional equivalent of an indictment. The Senate will hold the trial, in January, and two-thirds must vote to convict Trump and oust him. Majority Leader Mitch McConnell, R-Ky., has already flatly refused to call additional witnesses and says he's working hand-in-glove with Trump's lawyers to manage the trial and assure acquittal.
He's also strong-arming Republicans to stand with Trump and many have already made up their minds to do so. That isn't stopping masses of people from marching tonight, however.
"This is our moment to mobilize," Common Cause President Karen Hobart Flynn wrote in an e-mail before what she called "an historic vote." And, she added "We can't wait until the 2020 election."
"We MUST stand together and send a message that nobody—not lawmakers, the media, or Washington insiders—can ignore," Flynn declared.
"Trump's attack machine has gone into overdrive to de-legitimize Congress's constitutional oversight, spending millions on attack ads to intimidate Democrats and Republicans alike out of supporting impeachment. Turnout will be a crucial indicator of whether the American people are ready to hold Trump accountable, or are tuning out at this pivotal moment.
"We have a president who has repeatedly and openly violated our nation's laws. He'll keep pushing as far as he is allowed—including inviting foreign interference in the 2020 election," Flynn warned.