ASHLAND, Wisc. – The Democratic party primaries have been heating up across the nation over the last year, with progressive Dems like Rep. Alexandria Ocasio Cortez of New York elected to Congress and an array of Democratic primary presidential candidates all pushing progressive causes.
Local elections have also taken place that deserve special note. One of the more interesting of these happened last month in Ashland, Wisc. where a Native American, Wahsayah Whitebird, who is also a member of the Communist Party USA, defeated the city council president, David Mettille, in a non-partisan contest.
While there has been some media attention to self-described socialist candidates winning elections in bigger cities, in Northern Wisconsin now, for the first time in its history, a Communist is on the city council in Ashland.  Whitebird defeated incumbent Mettille 52-42.
Whitebird, a worker at a town deli, was in an excellent position to engage one to one, in person, with voters in the period leading up to the election. A member of the United Food and Commercial Workers, he decided to run for office, he said, after talks with labor and community leaders.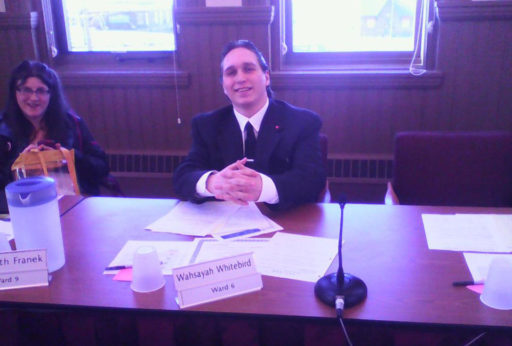 Not in anyone's wildest imagination was an openly communist Native American challenging the city council president ever expected to win the election. Talking about his opponent Mettile, Whitebird said, "I asked him to come and have a town hall debate. He would always respond that he was too busy."
Whitebird ran an old-fashioned working-class political campaign. He had a small but dedicated group of volunteers; he went door to door and held community meetings.
The main message of his campaign was "higher wages, affordable housing, and more homeless shelters," not exactly the militant indictment of capitalism many communists have been stereotyped as always putting forward.
Now in a position to act on his campaign promises Whitebird plans to introduce a city ordinance to increase the minimum wage. His proposal is different from many bills passed in other states calling for across-the-board but gradual $15 minimum wage hikes. Instead, he said his ordinance would "depend upon the size of the business, "$10 for the local/state, $13 for national and $15 for international."
Something else he is bringing into the politics of Ashland and into U.S. politics too is for-profit industrial and agricultural ventures operated by city governments to generate revenue instead of increasing taxes. Whitebird is a member of the Bad River Band of the Lake Superior Chippewa. It isn't an uncommon practice for indigenous governments to own and operate for-profit enterprises to provide employment and revenue for the benefit of their citizens.
"By admitting I'm a communist, I cast a beacon for those who oppose me, but also for those who agree with me," Whitebird said — seeing his election as an opportunity to build a coalition around working class issues in the city of Ashland.