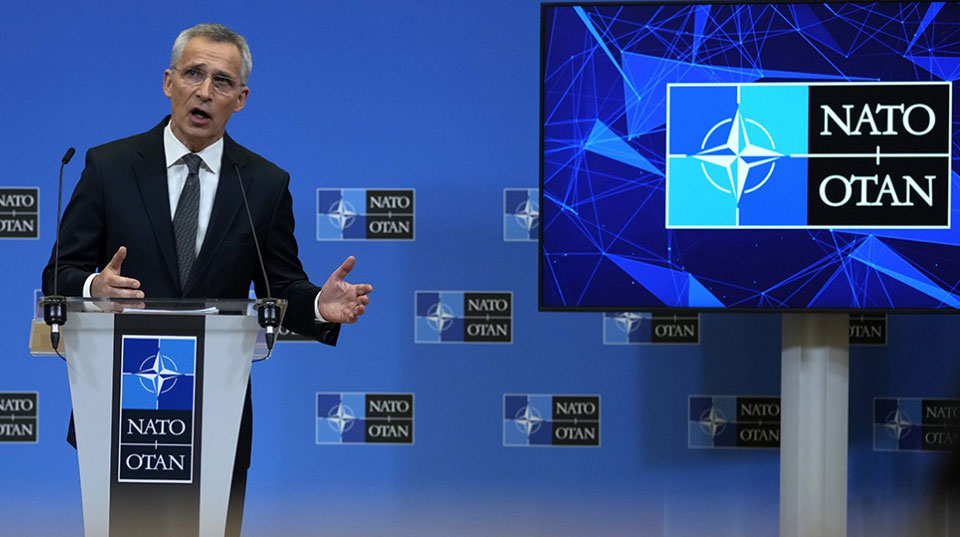 NATO chief Jens Stoltenberg declared Wednesday that the U.S.-led military alliance is preparing to act against China, describing that country as "a threat to security and democracy."
He said at a press conference in Brussels on Tuesday that NATO is "deepening its connections with Asian allies to deal with the challenge posed by Beijing."
Stoltenberg announced that he will call a meeting of the foreign ministers of NATO member states and the European Union but that he (at the strong urging of the U.S.) will also invite other countries to the anti-China gathering. Those countries will include ones that NATO would like to add to their list of members, in further violation of their agreement with the Soviet Union at the end of the Cold War not to expand further eastward. The non-NATO European members being invited to the anti-China gathering are Finland, Sweden, and, perhaps most provocatively, Georgia.
Underlining U.S. intentions to expand NATO not just up to the borders of Russia but all around the world, NATO has also agreed, under U.S. direction, to invite Australia, New Zealand, and South Korea to the anti-China conference which, according to Stoltenberg, will discuss China's "growing influence and coercive policies on the global stage which pose a systemic challenge to our securities and to our democracies."
"We see that China has been unwilling to condemn Russia's aggression and has joined Moscow in questioning the right of nations to choose their own path," Stoltenberg said at the press conference.
China has been pressured to condemn Russia by President Joe Biden, who has threatened Beijing with "consequences" if it supports Moscow, whether militarily or economically. It turns out that U.S. intelligence reports that Russia had asked China for military help in Ukraine were false. Numerous sources in the Administration are admitting now that those reports were circulated to discourage China from providing Russia with help just in case China was considering doing that. Peace proponents note that the circulation of false intelligence reports for tactical reasons in a war can make things far more dangerous than they already are.
China has rebuffed pressure from President Biden by declaring it will remain neutral, saying it will be a force for peace. China has said it wants to be available to mediate the conflict between Russia and Ukraine if need be.
The U.S. has accused China of circumventing and sabotaging sanctions it and the EU have levied against Russia. China has denied this but has declared that, in any case, it opposes economic sanctions against Russia because of the danger that they could spill over with "disastrous consequences all over the world," as Chinese government spokesperson Wang Luting has said in a statement.
"Even Europe has been conducting normal business with Russians. We are contributing to the global economy by maintaining the normal trade [with Russia], to avoid any possible disruption of the supply and industrial chains," he said.
Other countries have also expressed anger over what they say is undue pressure on them by the U.S. to join in support of sanctions against Russia. One argument they make is that the sanctions hurt average Russians much more than they hurt the Putin government. One country, however, has even charged that the U.S. is attempting regime change over the issue.
Pakistan's Prime Minister Imran Khan has accused Washington of being behind a plot to oust him over his failure to condemn Russia and for his criticism of U.S. foreign policy.
India has also expressed anger over what it says is U.S. pressure on it because of its continued trade with Russia and its failure to fall in line with European countries, some of whom are straining to meet the demands of the United States that they increase sanctions. Some in Europe say, for example, that they can meet the latest U.S. demands that they boycott Russian coal but that their people will suffer if they boycott all the other fossil fuels.
The U.S has been accused of hypocrisy for pressing the E.U. and its allies to block Russian oil while increasing its own imports from Moscow by 43% to 100,000 barrels per day over the past week.
The Czech Republic, meanwhile, made a move Wednesday that not everyone in the NATO leadership is happy with. It became the first member country to provide tanks to Ukraine.
Prague sent a shipment of Russian-built T-72 tanks and other armored infantry vehicles as its direct response to Ukrainian President Volodymyr Zelensky's pleas at the U.N. this week for increased military hardware from the U.S. and NATO. The tanks were provided as a gift, apparently paid for by Czech multi-millionaires and billionaires.
In a sign that there may be some divisions among U.S. allies on the issue of military aid to Ukraine, the Pentagon is reported to be unhappy about the move, which it did not approve. There are reports that discussion is underway in the Pentagon, as the U.S. increasingly looks at China as more of a security threat than Russia, that, at some point, the supply of military aid to Ukraine will have to be "re-evaluated."
That sentiment exists too among some of the U.S. European allies who may not be as united on all aspects of Ukraine war policy as the Biden administration likes to pretend. "The tanks sent by the Czechs have this offensive dimension; they are not purely defensive. They would not be particularly relevant to the military activities the Ukrainians need to undertake," said a Western official who spoke to members of the European press on condition of anonymity and who was quoted in European newspapers, including the Morning Star in Britain.
NATO is willing to go only so far in its military "aid" to Ukraine. The transfer of 28 MiG fighter jets from Poland to Ukraine via a U.S. base in Germany was squashed by the U.S. last month, and the U.S. has resisted repeated calls by Zelensky and Ukrainian officials for certain planes and helicopters. The reason given is that it could lead to direct NATO confrontation with Russia and a wider war between the two.
Meanwhile, thousands appear to be fleeing the Donbass area of Ukraine in fear of a coming Russian offensive. When discussing China at his press conference Wednesday, NATO's Stoltenberg switched topics and said he thinks Russia will not be ready for such an invasion for several weeks yet. The belief is that Russia has pulled out of the region around Kiev to step up military campaigns in the East.
Morning Star contributed to this article.