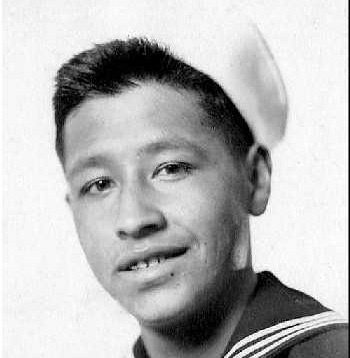 The U.S. Navy is expected to name a new military cargo ship after labor leader and civil rights activist Cesar Chavez this week in San Diego, California. But the news has sparked controversy from both those that support and oppose it.
Navy Secretary Ray Mabus is expected to make the official announcement Wednesday, May 18, during a ceremony at the San Diego General Dynamics NASSCO facilities, where the ship is being built. The shipyard is located in the predominantly Latino Barrio Logan community in San Diego. Of NASSCO's 3,600 employees, about 60 percent are Latino.
Mary Montgomery, a NASSCO spokeswoman, said they recommended Chavez to honor their work force, who widely supported the idea.
Chavez was born in Yuma, Ariz. in 1927. He became active in California's Central Valley where he advocated for farm workers' rights. He founded what became the United Farm Workers in 1962, a union that organized and lobbied for collective agreements and safe working conditions for farm workers. He led nationwide grape boycotts and mobilized tens of thousands of migrant workers in the 1960s and '70s, forcing growers to sign union contracts and respect labor rights.
Chavez is widely known for using non-violent tactics and became a national civil rights leader against widespread discrimination. He also served two years in the Navy during World War II. He died in 1993 at age 66 and was awarded the Medal of Freedom from President Bill Clinton a year later. Dozens of parks, schools, and streets are named after Chavez nationwide.
Marc Grossman, with the Cesar Chavez Foundation and longtime aid to Chavez, told Fox News Latino that Chavez was a humble man who would have never wanted the spotlight.
"He was always uncomfortable being singled out for praise because he knew there were many Cesar Chavezes – farm workers who made great sacrifices and accomplished great things but who were unknown," he said. "So the Chavez family today acknowledges this honor in the name of all Latinos who have built this country and served this country in the armed services."
The ship to be named after Chavez is the 14th and final one in the Lewis-and-Clark class of cargo ships to honor famous American pioneers, explorers and visionaries that celebrate bold action and the American spirit.
Naming the ship after Chavez drew stark criticism from conservative Republican Congressman Duncan Hunter, who represents parts of San Diego County. There are better choices he said including the late Marine Corps. Sgt. Rafael Peralta, who was nominated for the Medal of Honor for action in Iraq, or World War II Medal of Honor recipient John Finn. Both lived in San Diego County. Hunter, a member of the House Armed Services Committee and Marine Corp. veteran said the Chavez decision would be unfair to military war heroes.
However Sen. Barbara Boxer, D-Calif., said she applauds Secretary Mabus for naming the ship after Chavez because he worked tirelessly to promote fair working conditions and equal rights for all Americans.
Abel Valenzuela, chairman of the Cesar E. Chavez Department of Chicana/o Studies at the University of California Los Angeles also welcomed the news.
"He is arguably the most revered Latino American in the U.S., and his contributions to equality and justice for one of our most vulnerable work forces make him a hero in the eyes of Hispanics and Americans of other backgrounds," said Valenzuela to the San Diego Union-Tribune.
But not everyone thinks naming a military cargo ship after Chavez represents what he really stood for.
Rossana Cambron, a Los Angeles peace activist whose son is about to embark on his third tour duty with the U.S. Army, says it sends the wrong message.
"I just wish that Chavez could be honored in another way," she said. "It feels like his legacy is being twisted. It's not healthy when children learn about Chavez's nonviolent teachings, then they find out a military ship is named after him. If the government and the military said they were ending the wars in Iraq and Afghanistan in the name of Cesar Chavez and the Rev. Martin Luther King Jr., than that would be very fitting."
Randy Shaw, from San Francisco, is the author of "Beyond the Fields: Cesar Chavez, the UFW and the Struggle for Justice in the 21st Century," published in 2008. He too questions the Navy's choice.
"We're talking about a person who believed in nonviolence – the absolute core belief was nonviolence," Shaw told CNN. "Do you think he would want a military ship named after him? It seems pretty unlikely."
Photo: Cesar Chavez in his U.S. Navy uniform.