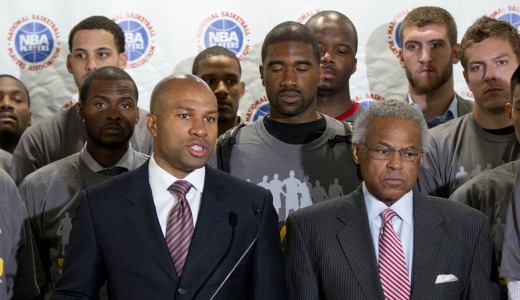 The NBA's regular season is set to open Nov. 1, with the NBA champions Dallas Mavericks hosting the Chicago Bulls in the first game. But the prospects of that game happening appears dim, as collective bargaining talks between players and owners failed this week. The NBA lockout, which began July 1, continues.
The NBA has postponed training camps indefinitely, set to open Oct. 3, and canceled 43 preseason games because it has not reached a new labor deal with the players. The league announced Friday that all games from Oct. 9-15 are off, and further decisions will be made as warranted.
"We'll keep working at it until we figure this thing out, but right now there isn't anything to really report or say," said Derek Fisher of the Los Angeles Lakers and president of the players union to the Associated Press.
NBA Commissioner David Stern also provided little progress between the two adding, "the calendar is not our friend" when it comes to keeping the season intact.
Sports experts note the league usually needs at least four weeks to prepare for the regular season, making the actual deadline for a new labor deal closer to Oct. 4.
Both sides remain divided over structural and financial terms. However the gap seems to have been significantly closed in recent weeks. The players have agreed to reduce their share of revenue to 53 percent or less, from their current 57 percent. Every percentage point represents about $40 million. The players union has conditioned that offer on retaining a soft salary cap, which allows team to exceed the cap under certain circumstances. A hard cap doesn't allow exceptions.
On the other side the owners have been insisting on a hard cap, and are seeking a 50-50 split of the leagues revenue. Last week Stern signaled that the cap structure was negotiable, opening the door to a potential compromise.
Sources say Stern told union chief Billy Hunter that the owners want to reduce the players' cut of basketball-related revenue to a percentage well below 50 percent, which is a non-starter for the players.
Talks between the players and the owners will resume next week.
"We're trying to figure out ways to come together," said Fisher to the LA Times. "Hopefully we'll get another opportunity next week to continue to try and figure this thing out. We're committed to this process."
But some basketball fans are fed up with the whole process.
"It's terrible and I feel like this can take up half the season," said Marcus Hollowell, 22, a student at Shimer College in Chicago.
"It's always over more money. When it comes down it, it's us the fans that have to suffer."
The NBA has not lost a game, preseason or regular season, to a labor dispute since the 1998 lockout. That year, league officials started canceling exhibition games on Sept. 24 and regular season games on Oct. 13.
Photo: NBA players and union executive director Billy Hunter, right, join Los Angeles Lakers' Derek Fisher, center, president of the NBA players union, during a news conference, Sept. 15, in Las Vegas. Players will remain unified and calm in what could be a lengthy pursuit of a labor agreement, said Fisher. (AP Photo/Julie Jacobson)