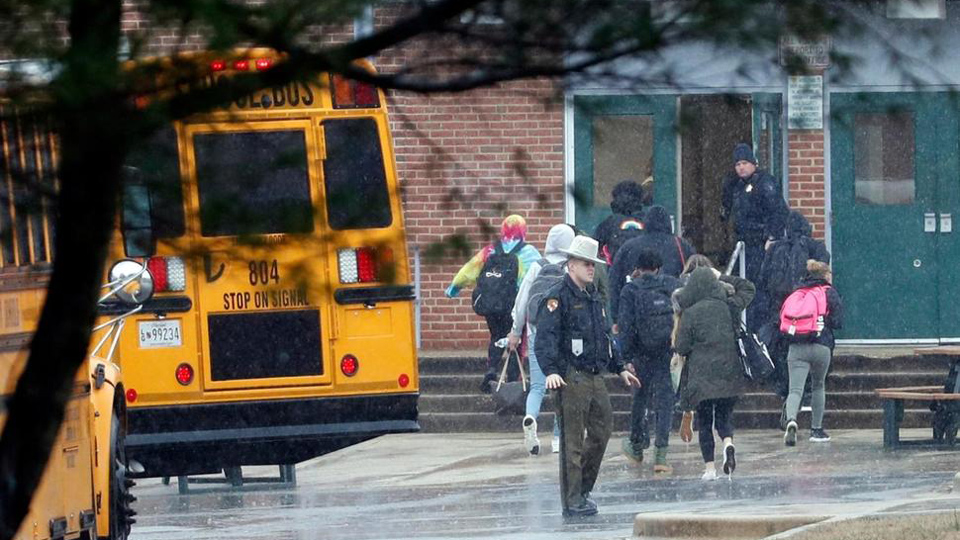 Saying "enough is enough," the National Education Association (NEA), reiterated its strong stand against guns in schools and for a ban on weapons of war on their campuses. Yesterday, a shooter wounded two students at NEA-represented Great Mills High School in rural St. Mary's County, Md., 50 miles south of Washington, D.C.
The shooter, Austin Rollins, 17, was later killed, either by suicide or by school resource officer/sheriff's deputy Blaine Gaskill, who confronted him and fired one round. The wounded 14-year-old boy was in stable condition at a local hospital while the critically wounded 16-year-old girl was airlifted to a shock-trauma center.
The Maryland shooting occurred just four days before the scheduled March For Our Lives in D.C. Students from Florida's Marjory Stoneman Douglas High School will lead the march for tough gun controls including a ban on AR-15 rifles and similar weapons of war. The Douglas shooting was where Nicholas Cruz used his AR-15 to massacre 14 students, two teachers who both AFT members trying to protect the kids, and the school's athletic director. D.C. organizers got a parade permit for 500,000 people. There will be similar marches in other cities nationwide.
This is the latest shooting assault in any U.S. school. CNN noted there have been an average of one a week since the start of the year.
"Our hearts are broken yet again by a senseless and tragic shooting in our nation's public schools," said Lily Eskelsen-Garcia, president of the NEA whose national, state and local unions represent Great Mills teachers and staff.
"Enough is enough. We all have a responsibility to create safe schools and communities. We can and must do more to ensure that everyone who walks through our school is safe and free from the threat of violence," Eskelsen-Garcia declared.
"The NEA is steadfast in support of the students, staff and families of Great Mills High School. We join the Maryland State Education Association and Education Association of St. Mary's County in calling for policy changes that will end these preventable, traumatic events," she added.
"We are heartbroken that gun violence in schools has now touched our community, and we pray for the full recovery of the students who were shot," added Jill Morris, president of the NEA local that represents the 107 teachers and staffers in Great Mills, and a total of 1,500 in St. Mary's and other Southern Maryland counties.
"Simply put, it is devastating that for the students of Great Mills, their memories of school will now include this traumatic day. We are resolved to provide all the support and comfort we can to our colleagues and neighbors in the Great Mills community while we work together towards a day when no school community ever has to experience this type of tragedy."
"As we learn more details…one thing is clear: it is far past time for gun violence in our schools to end," said Maryland State Education Association President Betty Weller. "Students and educators deserve days filled with learning and discovery, not with fear and lockdowns."
"We are grateful to the heroic school employees and first responders who protected students, and we stand ready as a union family to support the educators, students, and community of Great Mills."
The unions also praised Gaskill for confronting the shooter. They noted that as a result, the shooting was over in seconds. "It could have dragged on longer and proven deadlier were it not for the rapid response of a school resource officer," the unions said.
Gaskill "responded exactly how we train our personnel to respond," St. Mary's County Sheriff Tim Cameron said. "This is something we train, practice and in reality, hope would never come to fruition. This is what we hope would never happen. This is our worst nightmare." At Marjory Stoneman Douglas, in Parkland, Fla., the sheriff's deputy/resource officer there did not go inside as Cruz sprayed bullets through the school.
The GOP Trump administration keeps ducking the issue of banning guns from schools. The notorious National Rifle Association, the powerful gun lobby, actually said Gaskill's action proves its point that teachers should be armed to shoot back.
The School Administrators (AFSA), which represents many of the nation's school principals, tweeted "Just after another school tragedy this morning, DeVos (Trump's Education Secretary) says she's 'unsure' if she has time to meet with Parkland students on Friday and has yet to schedule a date for the school safety commission meeting."
"DeVos' performance" on her department's budget hearing for the fiscal year that starts Oct. 1 "provided little comfort that the administration is taking school safety seriously," said AFSA Vice President Ernest Logan. He noted Trump and DeVos want to eliminate "the only program – the Student Support and Academic Enrichment Grant Program – that supports school mental health services," a program that might have flagged both Cruz and Rollins.
"This is particularly hard to fathom in the wake of last month's shootings in Parkland and today's tragedy in Maryland. And the 'Task Force' the administration concocted to work on school safety solutions is similarly ludicrous: It is only comprised of four Cabinet secretaries and has no Democrats nor, more importantly, educators or students."
"It is time not only for a real conversation but also for real action on school gun violence. We need to have the actual experts on school safety involved…not a bunch of federal bureaucrats who are new to and unversed in the subject." Logan said his union, whose members "have far too much experience with school shootings," is "ready to lead a serious conversation about keeping our kids safe in school."
"Finally, we need bipartisan courage to address a root cause of school shootings – easy access to guns. If Florida's governor, who received a 100 percent rating from the NRA, can sign into law a bill that makes significant changes to state gun laws, then certainly our nation's president can do the same. We are deploying our resources to push for real and meaningful gun regulation."