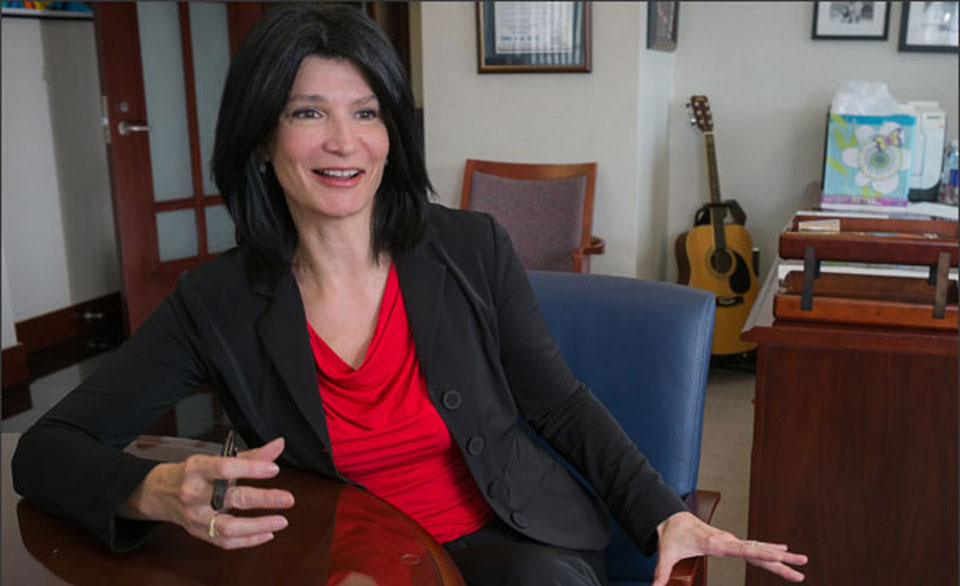 WASHINGTON —The nation's largest union, the National Education Association, is asking its members and allies nationwide to lobby lawmakers to include $175 billion to aid schools in the next economic relief act dealing with the impact of coronavirus closures.
And they're also making the point the issue is in the hands of lawmakers, particularly senators' hands. That's because GOP President Donald Trump doesn't give a damn.
"The other day President Donald Trump said" of the relief bill, 'You work on the payments for the people, and the rest of it we're so far apart we don't care. We really don't care,'" union President Lily Eskelsen-Garcia noted in her e-mail.
"He's talking about a host of issues he doesn't care about," said the Salt Lake City primary grades teacher, who is coming to the term-limited end of her tenure leading the three-million member union.
"Chief among them is funding for the public school students and educators who he wants to send back into school buildings regardless of COVID-19 infection rates in their area. No plans in place. No funding to implement them."
"It's been eight days" on August 4, the date of her e-mail, "since Mitch McConnell released his woefully inadequate coronavirus aid proposal, and 81 days since the House passed the Heroes Act and we still have not reached a deal," she explained.
"Let's keep up the pressure. Call your senators right now to demand at least $175 billion in education funding," Eskelsen-Garcia urged. She provided a toll-free number, 1-866-374-7034 to call lawmakers, or a link https://educationvotes.nea.org/action/keep-students-learning-and-educators-working/ to be connected.
The $3 trillion Heroes Act, HR6800, includes billions of dollars in aid to school districts, who are struggling to find money to reopen, but safely. The Democratic-run House passed it on a party-line vote May 15.
It also includes almost $1 trillion to states and cities, who are financially underwater due to the depression-caused crash in revenues—and who provide at least 90% of school funding through state and local income and property taxes.
But McConnell, the Kentucky Republican and Senate Majority Leader, says HR6800 is both "dead on arrival" and "a Democratic wish list," though its centerpiece extends federal $600 weekly "top-off" checks for more than 20 million jobless workers, through January 31.
McConnell's $1 trillion alternative has nothing for the states and cities and little for the schools. He would also cut the checks to $200. At least 20 GOP senators, part of McConnell's majority, want to give the jobless nothing at all. Talks between Trump's aides and congressional leaders over the next economic aid bill are ongoing.
In addition to normal expenses, schools must spend additional dollars on distancing in classrooms, daily coronavirus testing of teachers, kids, administrators and staffers, deep cleaning, distance learning—including buying tablets for students too poor to afford them—and other measures to prevent schools from becoming the next round of coronavirus hotspots.
That hasn't stopped Trump or his anti-teacher anti-public school, anti-union Education Secretary, Betsy DeVos, from campaigning to reopen the nation's 100,000 brick-and-mortar schools, regardless of the coronavirus, without keeping students, staff and teachers safe.
Both NEA and the Teachers (AFT) resist that idea. The Florida Education Association, a joint NEA-AFT affiliate which represents 145,000 teachers and staff statewide, is suing Trump clone GOP Gov. Ron DeSantis in Miami-Dade Circuit Court to stop his reopening scheme.
And teachers and allies staged 35 car caravan protests nationwide on August 3 opposing forced and inadequate reopening plans and the Trump-DeVos demands. The Chicago plan drew 600-800 cars in protest and hundreds of more marchers on foot. It's so full of holes that the Chicago Teachers Union, AFT Local 1, may hold a strike authorization vote the week of August 10, union President Jesse Sharkey says (see separate story).