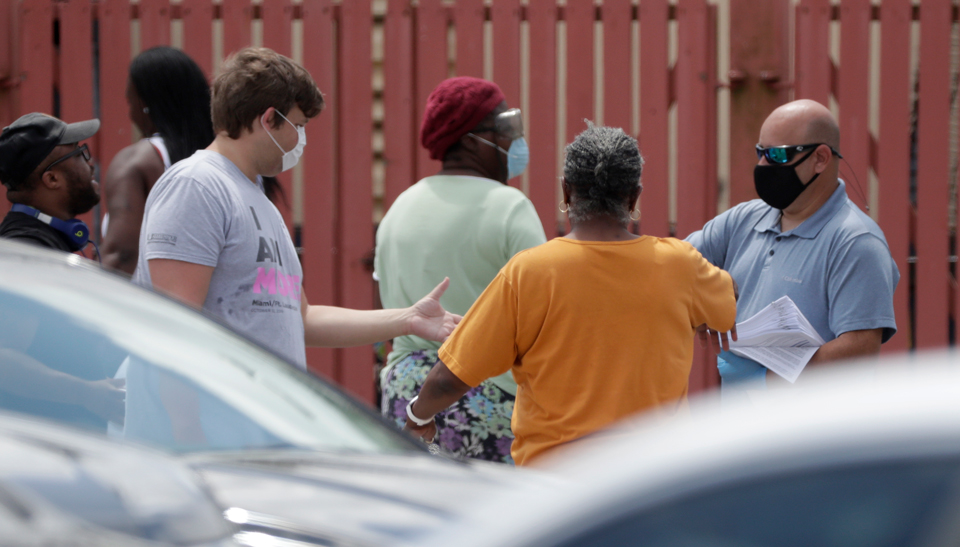 WASHINGTON—Total unemployment claims since the start of the COVID-19 epidemic have now topped 16.8 million. For the week ending April 4, an additional 6.6 million new claims were filed. New information in March exceeded 15 million, total, the federal government's Bureau of Economic Analysis said on April 9.
The only reason the number did not set a new record is because the BEA recalculated the prior week's total upward to 6.87 million.
"16.8 million apply for unemployment benefits in three weeks! The labor market has been upended," said Elise Gould, the policy director of the labor-backed Economic Policy Institute on Twitter.
The fuller impact will show up in monthly jobless data to be released in early May, but AFL-CIO President Richard Trumka told the Maine AFL-CIO the day before that unemployment could hit 13%—and that wasn't counting the April 9 release of the prior week's numbers.
Coronavirus and capitalist crisis: The struggle of (and for) our lives

New jobless claims skyrocket to 6.648 million, double last week

Weekly jobless claims skyrocket to 3.28 million, breaking all records
To put that in perspective, Trumka added, the highest jobless rate during the 2008 business-caused recession, also known as the Bush Crash, was just over 10% in 2010.
Once again, California got hit the worst, reporting more than 827,000 new jobless claims in the first week of April, followed by New York (nearly 287,000), Michigan (over 176,000), and Florida (just over 154,000).
The jobless claims overwhelmed overburdened state unemployment agencies, which actually handle and run the program. Tweets to Senate Minority Leader Charles Schumer, D-N.Y., told of people calling the state offices hundreds of times and failing to get through.
An AFSCME legislative analysis of the last $2.2 trillion economic stimulus law said it shortchanged those overburdened state services. The union, whose members include unemployment office workers, promised to push for more when Congress returns.
"The bill includes a harmful emergency state staffing flexibility provision that allows states to temporarily waive merit-staffing requirements through Dec. 31, 2020. The bill also lacks additional funding for states to administer UI benefits," AFSCME added.
While the government did not release data by race or ethnic group, Elise Gould, Policy Director at the Economic Policy Institute, warned people of color are suffering more.
"Because black and Hispanic workers are more concentrated in front-line service jobs that have been hit particularly hard by social distancing, blacks and Hispanics are likely experiencing greater job loss. This recession magnifies existing inequalities and disparities," she tweeted.
"We're leaving many workers out, including the undocumented," AFL-CIO International Affairs Director Kathy Feingold said at a seminar on the worldwide impact. "And on May Day, we'll shine a spotlight on" those left behind, she added.
TOWN HALL May 2 – Confronting the COVID Economy: Women Fight Back