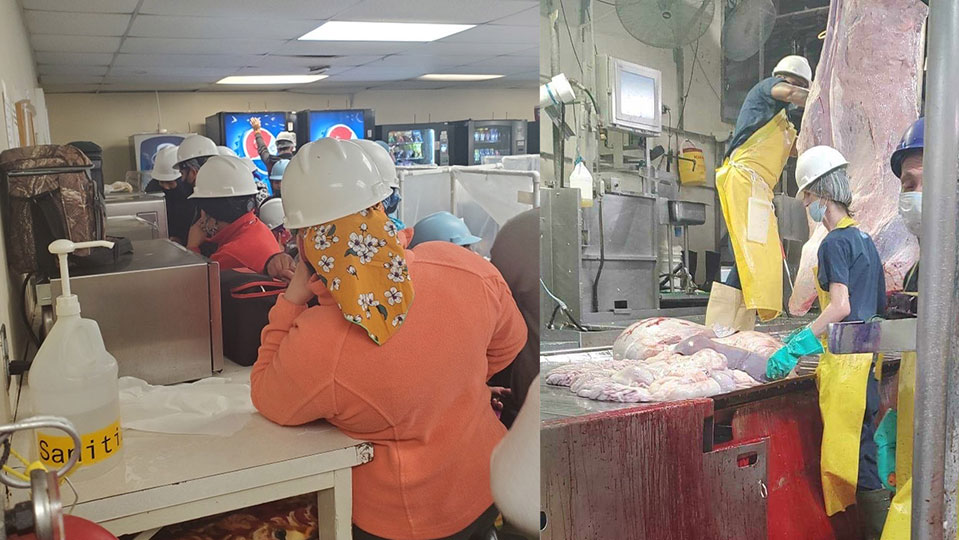 HASTINGS, Neb.—When it comes to protecting workers against the coronavirus, the Noah's Ark kosher meat plant in Hastings, Neb., leaves its employees, most of them workers of color, the opposite of kosher: The Yiddish word trayf.
It means "ritually unclean."
And unclean—or, to be precise, endangered due to lack of personal protective equipment, unsanitary conditions, forcing sick workers to toil, and no social distancing—is what Noah's Ark imposed, according to a lawsuit former workers and a local pediatrician filed against the firm in U.S. District Court in Lincoln, Neb., on Nov. 23.
The workers, who still keep in touch with ex-colleagues inside Noah's Ark, and their ACLU lawyers want the judges to declare it a "public nuisance," find it breaks basic job safety and health laws and violates the Families First Coronavirus Response Act which Congress approved earlier this year as part of the battle against the pandemic.
They want the court to order the plant bosses to implement basic health moves against the virus, including replacing soiled masks, allowing time for handwashing, paid sick and family leave for workers forced to self-quarantine, and social distancing.
And it's not just the workers who are unprotected, the court papers add. So is the community. The virus has spread in Hastings, as it has in other meatpacking-heavy cities in the Great Plains, to other residents.
A study earlier this year by the federal Centers for Disease Control, one of the main sources of national coronavirus data, shows that industry, in particular, is more prone to exploiting its workers by exposing them to the dangers of the virus. While workers of color were one-third of all meatpacking workers, 56% of the 16,200 workers who tested positive through the end of May were Latino and another 31% were other workers of color.
While one of every nine Nebraskans are Latino, that group accounts for 26% of the state's coronavirus cases and 17% of its 934 dead, other data sources report.
The lawsuit calculates that 49,000 meatpacking workers nationwide have tested positive
by now for the coronavirus, and 253 have died. That's out of nearly 13 million people in the U.S. who have tested positive, and 260,000 who have died, since the pandemic was officially declared.
CDC also reported counties with meatpacking plants showed higher rates of coronavirus cases than other counties. The workers' lawsuit says the infection rate was much higher in Adams County, site of Noah's Ark, than in surrounding counties, except for next-door Hall County. Many Noah's Ark workers live there. It too has a big packing plant, in Grand Island.
Latest figures show Adams County had 122.6 people testing positive per 100,000 residents, and Hall
County had 116.9 new daily cases per 100,000. Case rates were slightly lower in the state's largest city, Omaha, and significantly lower in the capital, Lincoln.
And while the lawsuit did not say so, GOP Oval Office occupant Donald Trump gave plant bosses the go-ahead for such repression against the mostly-people of color workforce by, early, declaring plant workers "essential," forcing them back on the job, virus or no virus.
GOP-dominated Nebraska has not penalized the plant. Right-wing GOP Gov. Pete Ricketts went even further, the suit says: In May, he told county health departments to stop reporting coronavirus outbreaks at meatpacking plants. Though the suit does not say so, Ricketts is a member of a prominent family of financiers, owners of TD Ameritrade.
Noah's Ark "stands out for its refusal to take reasonable and obvious precautions to protect its workers and the community from a new surge of COVID-19 cases," the court papers say. "Despite the consensus that has emerged around these precautions, Noah's Ark has failed to implement them, even after its workers suffered a major wave of infections in April and May."
Workers are forced to "stand shoulder to shoulder for hours at a time on the processing lines, and they sit crowded together in a small windowless cafeteria where they cannot wear masks while eating." The workers wear masks while on the meat-cutting lines, but bosses don't replace masks that "become soiled with blood, sweat, and fat." So Noah's Ark workers often must toil with uncovered faces, inches from each other, shift by shift.
The plant offers inadequate sick leave, pressures sick workers to come in, let others work even when they display COVID-19 symptoms, and when workers do stay home or self-quarantine, refused to pay them.
"On top of everything else, Noah's Ark is not providing any onsite testing. If and when there is another surge in cases, the plant and its workers will once again have no idea until it is too late," the lawsuit adds.
"All of these protections—distancing, masks, sick leave, testing—are basic and eminently feasible. Other plants are providing them. While other protections are also desirable, these four are non-negotiable, especially at a crowded indoor workplace like Noah's Ark. At this point in the pandemic, there is no excuse for failing to implement them." As a result, the coronavirus risk to the workers and the surrounding community is rising and will skyrocket as winter descends, the lawsuit warns.
The workers had to use aliases for fear of retribution from plant bosses, but they described horrors on the job that endangered them, their families, and the community.
The plant is non-union, the suit notes, and Noah's Ark has been cited many times for labor law-breaking during union organizing drives there, the court papers note.