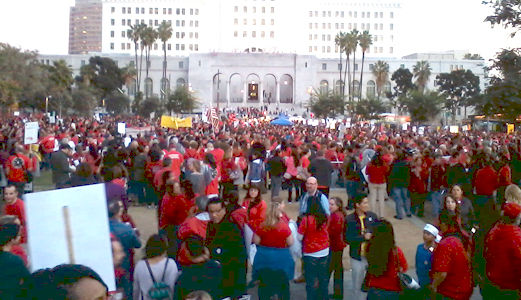 LOS ANGELES – Red shirts filled Grant Park last Thursday, across the street from City Hall here, in a rally of educators, students, and parents. "District greed has got to go! Call the school board and let them know," people at the rally chanted.
Downtown Los Angeles at 4:30 in the afternoon is the height of rush-hour. Traffic came to a stand-still as motorists and pedestrians saw red T-shirts gathering throughout the main streets surrounding City Hall. Bus drivers and rush hour commuters showed support by giving the thumbs up as the rally closed down the main streets around Los Angeles City Hall.
The union has put forward key demands, including fair pay, smaller class sizes, increased staffing, nurses at every school, more counselors and cost-of-living raises. The teachers, represented by the United Teachers of Los Angeles (UTLA) came from West Los Angeles, Huntington Park, Hollywood, East Los Angeles and other parts.
The UTLA, which represents 35,000 teachers in the Los Angeles area, is at an impasse in its negotiations with the Los Angeles Unified School District (LAUSD) that could lead to a strike. The teachers have been without a contract since July. To assist in moving forward, both the union and LAUSD have agreed to seek mediation.
A mediator will help resolve outstanding issues in the contract negotiations. Over the past several months the union's organizers, school coordinators and leadership have collected teacher commitment cards sending a message to the Los Angeles School District that teachers will strike if necessary.
According to Alex Caputo-Pearl, the union president, one of the issues is teacher pay. "Teachers haven't had a wage increase in eight years," the union leader said. "UTLA is seeking to negotiate competitive salaries and benefits to hire and retain quality educators. We must remember that during the recession LAUSD laid off teachers. Now they are spending thousands of dollars on corporate attorneys at $1,000 per hour to assist administrators at the bargaining table and they continue to threaten teachers with layoffs.
"Teacher salary increases are just one of our outstanding issues not being addressed. LAUSD can no longer claim poverty when we see high power, high-priced corporate lawyers dismiss educators who sit across the bargaining table. The district has money because they have received increases in state funding."
The UTLA organizing campaign 'The Schools LA Students Deserve" educates the public and asks teachers, parents, students and community members to call the Superintendent and LA School Board Members telling them that the district needs to reach an agreement with UTLA for the students, Caputo-Pearl added.
AFT Vice President Joshua Pechthalt said: "I remember the strike of 1970 that lasted four and a half weeks. I remember the 1989 strike lasting nine days. Everyone is now watching to see what UTLA will do. They are watching to see how much support UTLA will have. They are watching to see if the union and the community will back down in the face of the attacks on public education."
John Fernandez, a retired teacher from Roosevelt High School said, "I was arrested during the 1989 strike. That was the last time UTLA went on strike. This time there seems to be more support. This is good because it puts more pressure on the leadership to take hard positions and it sends a clear message to the LAUSD that teachers will strike."
Maggie Mallen, a teacher at Miguel Contreras High School, a performing arts school, said, "It's time for teachers to take a stand. That is why we are here today. We are fed up with the large classroom size; the district needs to respect teachers. What we need is fair pay. At my school 100 percent of the teachers will go on strike if necessary. "
Thursday's rally ended with a message to everyone that the next step includes voting in the upcoming school board election, getting out the vote, talking with neighbors, friends and relatives about support for a possible strike.
Photo: Rossana Cambron/PW