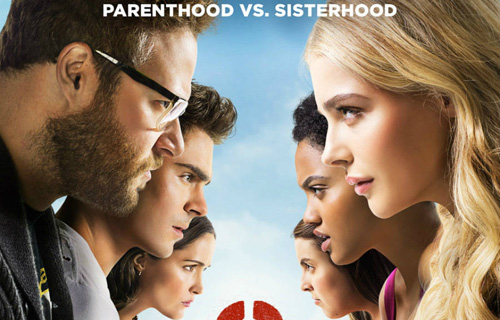 Put your brain into neutral for Neighbors 2: Sorority Rising, a raucous romp full of bathroom humor, bodily functions, some body parts, drug use, beer blasts, frat parties and the like. This "long awaited" (that is, if you're a Universal suit anxious to cash in on another mindless franchise) sequel to the 2014 hit Neighbors has the same plot premise: 30-something parents (drolly referred to as "the old people"), Mac Radner (buffoonish Seth Rogen) and his saucy Aussie wife Kelly (Rose Byrne, who co-stars with Susan Sarandon in The Meddlers), once again find themselves living next door to a house inhabited by wild and crazy students from the nearby college, who lower real estate values by raising the block's decibel levels.
But what's "different" in this retread is that now those causing the Radners to declare "there goes the neighborhood!" aren't members of an out-of-control fraternity house, but rather sisters of a new sorority house. Hey, how original can Hollywood and Nicholas Stoller (who helmed both flix and co-wrote the sequel) be? However, by replacing the frat house with a sorority, now the by-the-numbers Neighbors 2 can also cash in on the "women behaving badly" trend that has filled screens since at least 2011's blockbuster Bridesmaids. (To thee I sing, ka-ching!)
The sequel even has an overweight female in the Melissa McCarthy mode – Jonah Hill's sister Beanie Feldstein as Nora – because, since Marie Dressler in silent films such as the 1914 flick Tillie's Punctured Romance opposite Charlie Chaplin, for sheer hilarity, gosh darn it, there's simply nothing funnier than watching fat women perform slapstick and especially when they aspire to be sexual. Her Kappa Nu sorority sisters include Beth (22-year-old Kiersey Clemons, who co-starred as the lesbian Diggy in 2015's Dope and appears in Amazon's Transparent) and Shelby (teenager Chloë Grace Moretz, whose credits range from 2014's artsy Clouds of Sils Maria to, appropriately, a movie about another horrible house, 2005's remake of The Amityville Horror).
Fans of the original will be happy to know that veterans of Neighbors' Delta Psi are back, notably the buff Zac Efron, who was so superb in 2008's ode to youth and art, Me and Orson Welles (although Neighbors 2 is no Citizen Kane). Other frat brothers also on hand include Jerrod Carmichael (who has gone on to star in the NBC sitcom, the imaginatively named The Carmichael Show, which explores African American issues in the topical tradition of the 1970s Good Times series) reprising his role as Garf. Jonah Hill isn't the only actor to have a younger sibling appear in Neighbors 2: Not to be outdone, James Franco's kid brother, Dave Franco, returns as a now out-of-the-closet Pete.
Several notables also have cameos in Neighbors 2, including Kelsey Grammer as Shelby's father. Lisa Kudrow returns as the image-conscious, bureaucratic college dean, and Selena Gomez, who has a lovely presence demanding more screen time, is wasted as rival sorority house Phi Lambda's head honcho.
In a nod to topicality, Neighbors 2 takes on contemporary subjects – although mostly for laughs. The film ponders the definition of sexism and who, exactly, is a sexist (and racist, for that matter). But whereas Berkeley's '60s students fought for free speech and against the Vietnam War, Neighbors 2's notion of "sisterhood is powerful" is that sorority houses should have the same right as frat houses to throw parties.
The flick's concept of feminism is unclear and vague. Shelby is, technically, a virgin but the pic drops that plotline and never follows up on what has been the centerpiece of many a teen screen romp. There is a good sight gag about police brutality re: Blacks, and same sex marriage is a subplot (along with numerous references to homoeroticism among fraternities). There is also an interracial couple and an Asian woman belying if not exactly defying celluloid stereotypes. But despite its nods to contemporary issues, including the presidential race, Bernie Sanders – a popular candidate among campus youth crushed by college debt – is never alluded to.
There are some touching, sweet moments celebrating parenthood and raising children. And the movie has that rarity: A married couple actually having sex (yes, with each other, wisenheimers!). Yet, despite its frequent tasteless references to babies and dildos (oh, excuuuuuse me, I mean "vibrators"), the R-rated picture has little nudity. Like Amy Schumer's Trainwreck, beneath all the bad boy/grrrrrrrl bravado about sex is the same puritanical streak (no pun intended) and lack of graphic nakedness (not that one would necessarily want to see Rogen unclad, in this, the best of all possible worlds). Even when characters have sex they are covered up in both movies (except for a brief Efron moment that is sort of the opposite of full "frontal"). So both pix lack the courage to exercise the rights hard fought for by artists for years, which became common in the late '60s and '70s, and is still commonplace on European big and little screens. What cowardice masquerading as being "daring!"
Nevertheless, for those who enjoy their comedy coarse with crude, lewd dudes and dudesses, Neighbors 2: Sorority Rising is likely to get a rise out of you. If in a past life the vomitoriums at the Roman Coliseum were your thing when it came to mass entertainment, this is just the ticket for you. Go yuk yourself!
Indeed, some may find Neighbors 2: Sorority Rising to be sheer hilarity. With his mind in neutral (or low gear), your reviewer enjoyed guffawing, having his ribs tickled and slapping his knees for 92 minutes. And while this might not exactly be Sergei Eisenstein's 1925 classic Battleship Potemkin, as auteur Preston Sturges noted in 1941's Sullivan's Travels, there's a worthy place for this on the screen. There's a lot to be said for laughing your head off, and if you happen to find mine rolling around on the floor of the ArcLight Hollywood, please kindly return to sender.