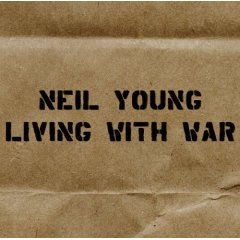 Neil Young has come full circle. In just three days, earlier this month, he and a 100-voice choir, backed by metal musicians and brass, recorded a protest album whose second track is "Let's Impeach the President."
In 2001, Young publicly backed the USA Patriot Act, aligning himself with the Bush administration.
The title track on "Living with War" is an anti-Iraq-war song that Young compares to the work of 1960s folk artists Phil Ochs and Bob Dylan. At Young's web site, www.neilyoung.com, lyrics include, "I raise my hand in peace, I never bow to the laws of the thought police, I take a holy vow, To never kill again."
Elliot Roberts, Young's longtime manager, told Reuters, "It's devoted to the state of America or the direction America is moving in."
"Living with War' comes just seven months after the release of Young's highly praised album "Prairie Wind," which has sold 450,000 copies in the U.S. to date.
Young thanked Warner/Reprise, the record company he works for, for support in producing "Living with War."
Earlier in his career, Young worked with Crosby, Stills and Nash, whose performance at Woodstock in 1969 rocked the 300,000 concertgoers at the three-day music festival. In 1970, Young wrote "Ohio," protesting the killing of four Kent State students by the Ohio National Guard during an anti-Vietnam War demonstration.
The album is expected to be released online before the end of April and to be available on CD sometime after that.