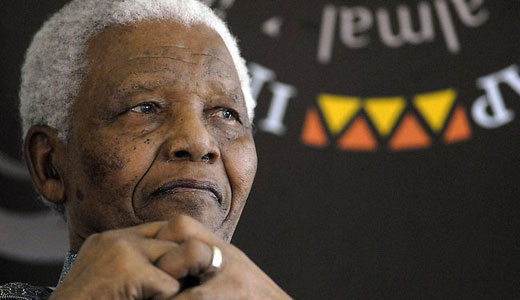 Former South African President Nelson Rolihlahla Mandela celebrated his 95th birthday on Thursday, July 18. In South Africa and worldwide, the rejoicing was all the greater for the fact that South Africa's revered elder statesman has been hospitalized with a very dangerous lung infection, and the news had just come that while he is not out of danger, his condition has improved considerably.
The anxious wait for news on Mandela's health and then the celebration of the birthday are good reasons for reflection on what Madiba, the clan name by which Mandela is universally known in his homeland, has given to his country and the world.
Mandela's struggle against racial oppression in South Africa preceded the vicious apartheid system. Since long before the 1948 election which brought Dr. Daniel Malan's reactionary National Party to power, non-white people in South Africa had been subjected to exploitation and oppression. The indigenous majority of the country had also been robbed of huge areas of its agricultural land base by 1894 Glen Grey Act, the 1913 Land Act and other measures, formal and informal, which began with first Dutch and later British colonization. They had been prevented from organizing labor unions and subjected to violent repression when they resisted.
Nelson Mandela as a young man worked through the African National Congress Youth League to organize political resistance to these policies. When apartheid was implemented by Malan and his successors, Mandela was one of a group of outstanding leaders with which South Africa was blessed who were able to organize resistance not only within the country but worldwide. Many of these leaders have passed away, including Walter and Albertina Sisulu, Govan Mbeki, Joe Slovo, and Oliver Tambo. But Madiba is still with us.
After the African National Congress, the Communist Party of South Africa (as it was then called) and other liberation organizations were declared illegal and the government cracked down hard on protest activity, Mandela worked closely with the Communist Party to organize armed resistance through the organization called Umkhonto we Sizwe, Spear of the Nation, which hit military targets and tried to avoid civilian casualties. Mandela also traveled widely, soliciting support for South Africa's freedom struggle from other countries in Africa and worldwide.
In 1962, acting on information from the United States Central Intelligence Agency, South African police arrested. Mandela was sentenced to life imprisonment on Robben Island off the coast of Cape Town. As a prisoner, Mandela continued his leadership role, giving support, education and guidance to his fellow political prisoners. Outside, a worldwide campaign to "free Mandela" steadily gained power and support worldwide.
By the end of the 1980s, due to huge protests of the South African people the regime saw that apartheid had no future, and looked for an exit from the situation in which it had put itself. It offered Mandela his freedom if he would renounce violence and repudiate his communist allies. Mandela's principled stand was that he would not recommend that the resistance renounce violence until the government did the same, and he would not abandon his allies, period. The racist government, finding the country ungovernable, capitulated, releasing Mandela and his fellow political prisoners in 1990 and legalizing the African National Congress, the South African Communist Party, the Congress of South African Trade Unions (COSATU). In 1994, in South Africa's first free universal suffrage elections ever, Mandela was elected president.
Mandela took on the presidency at an exceptionally difficult moment. The USSR and the Eastern European socialist regimes had just collapsed. South Africa could not rely on assistance and favorable trade arrangements from the socialist bloc, although Mandela and his colleagues maintained a warm cooperative relationship with socialist Cuba especially, recognizing Cuba's role in backing up the resistance of the peoples of Southern Africa against the military attacks of the apartheid regime. So many of the goals in the Freedom Charter of 1955, in the drafting of which Mandela also had a hand, could not be realized immediately.
But the legal structures of apartheid were all swept away, while Mandela worked to build a unified, progressive, and multiracial nation.
Mandela left office in 1999, succeeded by Thabo Mbeki. As an ordinary citizen, Mandela continued to play an outsized progressive role in the struggle for social justice. When his son, Magkatho, died of complications of AIDS in 2005, he made constructive use of the sad occasion by speaking out for a national effort against the devastating epidemic, leading to major improvements in policy.
Here in the U.S., we also owe Madiba a great debt of gratitude, though perhaps many of us do not realize it. The struggle to free Mandela and end apartheid helped to organize and focus powerful coalitions of African Americans, organized labor, the religious community and many others. These alliances and their work continue to serve as a model of how grassroots mobilization can impact U.S. foreign policy and international affairs, as well as social justice struggles in our own country.
For this, we are thankful and we salute Nelson Mandela on his 95th birthday.
Photo: Nelson Mandela. AP
Corrected 12/12/13: Mandela's release from prison was in 1990. An earlier version had an incorrect year. We apologize for the error.