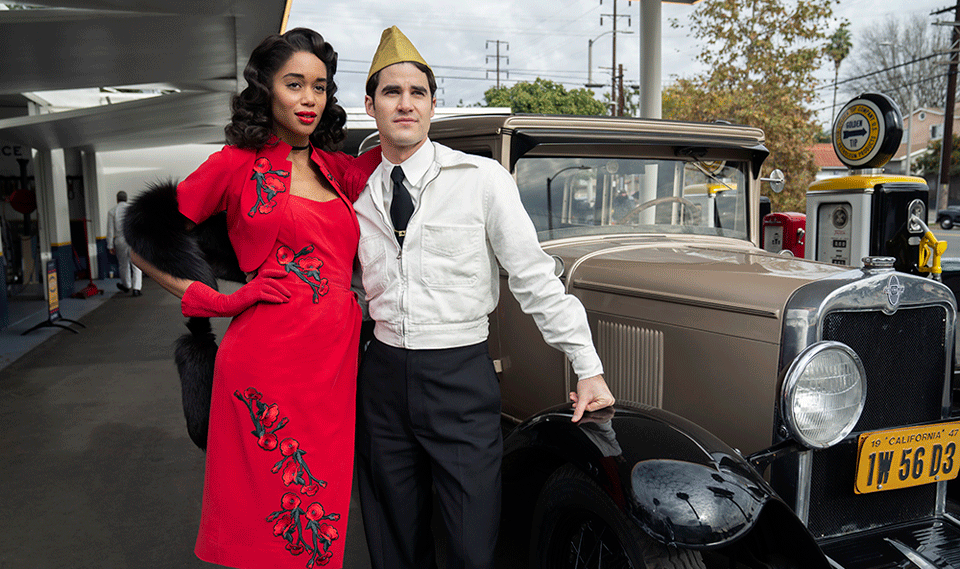 "Movies don't just show us how the world is, they show us how the world can be." – Hollywood
The film and television industry is a complex terrain. Creative workers come together in order to produce stories that can be reflections of the time they live in, the world they wish to live in, or the world they hope never comes to be. Movie magic can happen, but it often comes at a high price for those pursuing a life of cinematic narratives. A recent report showed that only 2% of actors can make a living solely through their craft. Yet that doesn't stop thousands upon thousands of hopefuls from flocking to the film epicenter that is Hollywood, California, looking for their chance to be on the big screen. Netflix's new limited series Hollywood serves as a homage to the history of Tinseltown, managing to sprinkle in hope of what can still be while airing the dirty laundry of what was (and possibly still is) when it comes to discrimination, inequality, and labor exploitation.
Hollywood is executive produced by co-creators Ryan Murphy (American Horror Story) and Ian Brennan (Scream Queens), along with Alexis Martin Woodall (The People v. O. J. Simpson: American Crime Story) and Janet Mock (Pose), who also serves as a writer and a director. The cast includes David Corenswet (The Politician), Darren Criss (American Crime Story), Laura Harrier (Spiderman: Homecoming), Samara Weaving (Ready or Not), Jim Parsons (The Big Bang Theory), and a whole host of familiar faces mixed with newcomers.
The series follows a group of aspiring actors and filmmakers in post-World War II Hollywood as they try to make it in Los Angeles. Over the course of seven episodes, each close to an hour long, the main characters offer a look behind the curtain of what is considered Hollywood's Golden Age. This includes placing a spotlight on discriminatory practices and biases across race, gender, and sexuality. Hollywood has a good amount of comedic moments interlaced with melodrama that clearly aspires to paint a bigger picture of an imperfect industry with imperfect people that has so much influence in society. The writers' aim is pretty good as the manage to hit the mark on many of their intended subject targets.
Subversion is definitely the name of the narrative game when it comes to the series. The normal tropes you're used to when it comes to plotlines and a focus on characters who are given central stage—none of these apply when it comes to Hollywood. The program makes it known in the very first episode that it won't be following the plot formula viewers are familiar with (and perhaps tired of) in mainstream film and television. This series is about exploring the bold what if even in a time when discrimination was much more pronounced (and legal) than what we witness today.
Could a Black gay man become the head writer of a major studio film? Could a woman of color have a real shot at being the lead actress? What if a film that didn't follow the status quo was given the resources and support to be a potential triumph instead of a tragedy? Many of these questions are seen as milestones even by today's standards as the entertainment industry still falls behind the curve when it comes to diversity. Hollywood places these puzzle pieces in the late 1940s, and it makes for an imaginative rollercoaster ride to discover whether the series will follow through on its bold choices or do a bait-and-switch and settle back into "safe" plot devices.
Many of the plotlines put a focus on groups that have often had a history of being marginalized in not only entertainment but society as a whole. Discrimination towards homosexuality is a major theme in the series. This, of course, is not purely imaginative as there have been plenty of stories about classic Hollywood stars and starlets who had to hide their sexual orientation in order to pursue their careers in film. The famous American actor Rock Hudson, whose career spanned decades, had much talk around his sexuality, although it was never confirmed until his death due to AIDS in 1985. Hudson is one of the main characters in Hollywood, played endearingly by Jake Picking, and the series chooses an interesting way to tell (or re-tell) his story as it is interwoven in the fictional plot.
This highlights another engaging aspect of the series. Hollywood brings in actual historical figures in a major way within their new story. Because of this, and the what if angle of reshaping Tinseltown's history, even those who consider themselves classic Hollywood history buffs will be at a loss to know how the series will play out even for the real-life characters. Liberties are taken with history but very clearly for a purpose.
Issues of race and racial discrimination also come into play. Laura Harrier gives a vulnerable performance as the young Black actress Camille trying to play a role other than the hired help. While Broadway actor Jeremy Pope treats viewers to a star-making performance as the young Black gay man Archie, who wishes to show the world he has what it takes to be a writer. Darren Criss takes on a role that addresses the idea of racial passing as the half-Asian director Raymond.
A great choice by the series is adding real-life icons, women of color, who actually endured the minefield of attempting to establish a career in a white-dominated arena filled with stereotypes and glass ceilings. If nothing else, hopefully, the series will entice viewers to find out more about Anna May Wong, the first Chinese-American movie star, who appears in the show with a scene-stealing performance by Michelle Krusiec.
Other topics briefly touched upon are sex work, anti-Semitism, sexism, and sexual harassment. There's a lot there. Hollywood has a lot to say because the real Hollywood, and the entertainment industry in general, has yet to fully tackle much of what the series attempts to "rectify." This show is ambitious, and some will inevitably complain that it is overly preachy and not subtle in its messaging.
Is it preachy? Perhaps. Is the message that discrimination based on race and sexual orientation is wrong overt? Yes. Is that a bad thing that makes this series less entertaining and engaging? No.
It is not a perfect series. Some of the dramatic moments and character turns feel a bit rushed. Some of the plots are squared away just a little too easily. Then again, it is clear that this series isn't trying to make the hardships the centerpiece of the story, but the triumphs. At a time when so-called "edgy" storytelling relies so heavily on tragic figures and miserable endings for the sake of "realism," Hollywood's attempt to give a little glimmer of joy is a breath of fresh air. The pretty and vibrant vintage aesthetic doesn't hurt either.
In a time when a pandemic has thrown the entertainment industry, and society as we know it, into uncertainty, Hollywood serves as a love letter speaking to what the future may hold through a bold retelling of the past and what could have been.
Hollywood is available on Netflix May 1, 2020. The trailer can be seen here.
Like free stuff? So do we. Here at People's World, we believe strongly in the mission of keeping the labor and democratic movements informed so they are prepared for the struggle. But we need your help. While our content is free for readers (something we are proud of) it takes money — a lot of it — to produce and cover the stories you see in our pages. Only you, our readers and supporters, can keep us going. Only you can make sure we keep the news that matters free of paywalls and advertisements. If you enjoy reading People's World and the stories we bring you, support our work by becoming a $5 monthly sustainer today.