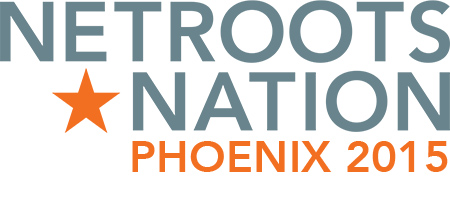 This week, Netroots Nation, one of the largest gatherings of progressives and the Democratic activist base, will kick off in Phoenix, Arizona.
The conference will take place this Thursday through Sunday at the Phoenix Convention Center and will feature a Town Hall with presidential candidates Sen. Bernie Sanders and Gov. Martin O'Malley.
Netroots Nation will bring together more than 3,000 progressive activists and leaders to discuss key issues and strategize for upcoming political battles in 2015 and 2016. Energizing Netroots is seen as key if Democrats are going to keep the White House and win back the Senate.
The results of the 2012 cycle show what happens in midterms for Democrats when the base is not fired up. Hearing from some of these key organizers will be an indicator of what Democrat's support looks like with the people who will be knocking on doors, making phone calls, and raising money for them.
On Saturday, July 18, presidential candidates Sanders and O'Malley will address the convention in a special town hall event.
Secretary Clinton has declined to participate.
In addition to O'Malley and Sanders, other speakers and special guests include Sen. Elizabeth Warren, Reps. Rosa DeLauro, Donna Edwards, Keith Ellison, Ruben Gallego, Raul Grijalva, Hank Johnson, Robin Kelly, Mark Takano, Senior Circuit Judge Mary Schroeder, and many more.
The keynotes will be:
Thursday, 6 p.m.: Opening keynote with Rep. Donna Edwards and more
Friday, 10:30 a.m.: Morning keynote with Sen. Elizabeth Warren
Saturday, 10:30 a.m.: Presidential Town Hall with Senator Sanders and Governor O'Malley
Saturday 4:30 p.m.: Closing keynote: Ignite at Netroots Nation
The conference will include more than 80 panels on topics ranging from the 2016 elections, economic populism, immigration, criminal justice, and more.
People's World will be there to bring you day-to-day coverage.