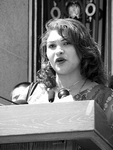 SAN FRANCISCO — Immigrant rights organizations are forming a new network to demand an end to police actions they say violate the city's values of dignity, respect and equality for immigrants. Representatives gathered on the steps of City Hall Aug. 23 to protest police misconduct.
Margarita Hernandez, a member of the Women's Collective of the San Francisco Day Labor Program, told of being stopped Aug. 15 by a police officer who alleged she was speeding at 42 mph though she had just pulled out of a gas station. When she asked him to explain his reference to "a point" on her driver's license, Hernandez said, the officer recommended she take an English class "so people wouldn't need to repeat what they said to me."
Hernandez said she has filed a complaint with the Office of Citizens' Complaints (OCC). She believes she was pulled over because she is a Latina.
Victor Hwang of Asian Pacific Islander Legal Outreach told of a Latina client, a legal permanent resident, who was stopped by a police officer for jaywalking. The officer requested her immigration papers, threatened her with jail if she couldn't produce them, and asked, "Why can't you speak English?"
"We are outraged that someone stopped for jaywalking could be subjected to such treatment," Hwang said.
Hwang called on Police Chief Heather Fong and the OCC to investigate these and other incidents, and urged the Police Department to insure that its policies and practices reflect the city's principles of dignity, respect and equality.
Interviewed later, Hwang said people are often afraid to speak out, and urged that victims report anti-immigrant incidents to his organization and other immigrant rights groups. He said police often treat people whose English is not fluent as less credible in situations such as auto accidents or domestic violence.
Hwang credited Chief Fong with trying to improve the situation, but said individual police don't always use the department's resources, including bilingual officers and a language phone line.
"Immigrants make this city, we make this state," Anamaria Loya, executive director of La Raza Centro Legal, told the journalists. "We have a right to be here."
In a later conversation, Loya emphasized the effect of anti-immigrant sentiment being promoted at the national level. "When our leadership creates an atmosphere of fear, hate and repression, it is to be expected that law enforcement agencies will respond with increased harassment," she said. "That's why people need to stand together and fight back."
Members of the Board of Supervisors have expressed support for immigrant rights, said Maria Poblet of St. Peter's Housing Committee, "but when there is a difference of opinion between the federal and city governments, the question is, what position will the city take?"
Among other organizations joining in the effort to end police harassment are the American Arab Anti-Discrimination Committee, Chinese for Affirmative Action, the Filipino Community Center, the Bay Area Immigrant Rights Coalition, and Mujeres Unidas y Activas.