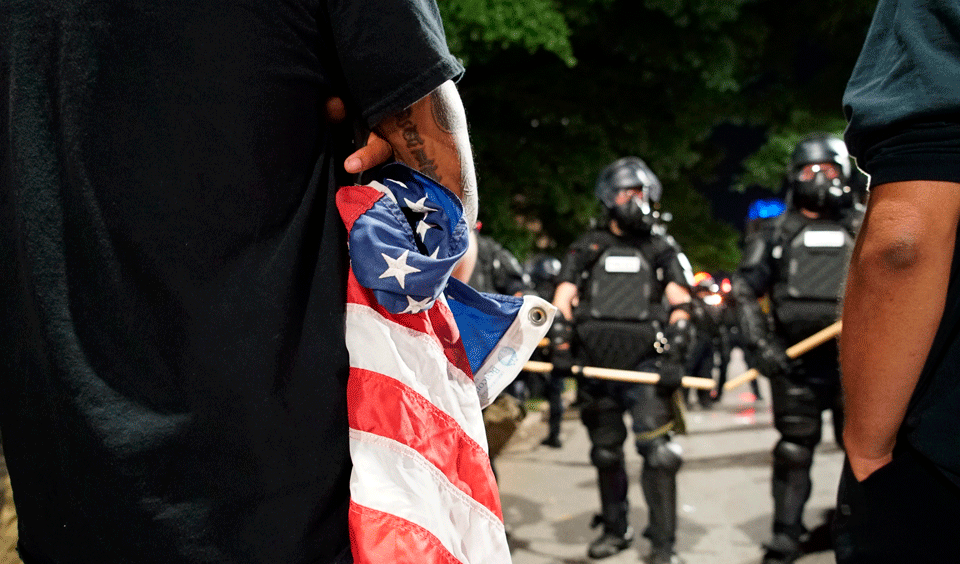 Poets have a talent for capturing a glance, a mood, a spirit, a moment, an idea in just a few concentrated words that by use of metaphor, rhythm, rhyme and other literary devices stand for much more than the words themselves say. The current wave of protests connected with racist police brutality, the coronavirus crisis, the economic depression, and a growing fascistic governance has reawakened a new passion for social and racial justice throughout the country. We offer these poems today to give our readers pause for thought and inspiration, and for us all to remember we are not, we have never been, and will never be alone.
I Look at the World
Langston Hughes
I look at the world
From awakening eyes in a black face—
And this is what I see:
This fenced-off narrow space
Assigned to me.
I look then at the silly walls
Through dark eyes in a dark face—
And this is what I know:
That all these walls oppression builds
Will have to go!
I look at my own body
With eyes no longer blind—
And I see that my own hands can make
The world that's in my mind.
Then let us hurry, comrades,
The road to find.
* * * * *
Revolting in America
Peter Marcus
Coppers wired
is what connects
what the police state meant
when it executed
the color code,
separate and unequal.
The bottom line
can't be crossed,
will be short-circuited,
or cut down
by guns fired
on a black ground
of poverty,
terrorized by Klan destiny,
on behalf of capitol
in Washington.
The slave owners
are now on Wall Street,
a wall obscuring the race
to the bottom
in the gutter,
sniping.
Blood on their hands,
bodies riddled with bullets,
or billeted in Jim Crow
bar hotels,
jailbirds
who cannot fly,
shackled, wired,
awaiting the execution
of injustice.
Not so much
the lynch pin
hanging around.
But still revolting
in America,
Land of the Free
occupied and stolen
by a very democratic republic.
(2015)
* * * * *
The Flower Market
Po Chu-I (772-846)
In the Royal City spring is almost over:
Tinkle, tinkle—the coaches and the horsemen pass.
We tell each other "This is the peony season":
And follow with the crowd that goes to the Flower Market.
"Cheap and dear—no uniform price:
The cost of the plant depends on the number of blossoms.
For the fine flower,—a hundred pieces of damask:
For the cheap flower,—five bits of silk.
Above is spread an awning to protect them;
Around is woven a wattle fence to screen them.
When they are transplanted, they will not lose their beauty."
Each household thoughtlessly follows the custom,
Man by man, no one realizing.
There happened to be an old farm laborer
Who came by chance that way.
He bowed his head and sighed a deep sigh:
But this sigh nobody understood.
He was thinking, "A cluster of deep-red flowers
Would pay the taxes of ten poor houses."
* * * * *
Port Authority Terminal: 9 a.m. Monday
Chad Walsh
From buses beached like an invasion fleet
They fill the waiting room with striding feet.
Their faces, white, and void of hate or pity,
Move on tall bodies toward the conquered city.
Among the lesser breeds of black and brown
They board their taxis with an absent frown,
Each to his concrete citadel,
To rule the city and to buy and sell.
At five o'clock they ride the buses back,
Leaving their Irish to guard the brown and black.
At six a drink, at seven dinner's served.
At ten or twelve, depressed, undressed, unnerved,
They mount their wives, dismount, they doze and dream
Apocalyptic Negroes in a stream
Of moving torches, marching from the slums,
Beating a band of garbage pails for drums,
Marching, with school-age children in their arms,
Advancing on the suburbs and the farms,
To integrate the schools and burn the houses . . .
The normal morning comes, the clock arouses
Junior and senior executive alike.
Back on the bus, and down the usual pike.
From buses beached like an invasion fleet
They fill the waiting room with striding feet.
* * * * *
Dear America
Robert Peterson
"We are humanitarians." Lyndon B.Johnson
"No lie lives forever." Thomas Carlyle
Dear America you worry me.
Our friendship (& that's all it ever was)
is shaky.
I don't trust you
or your Dreams
or your Destiny
any more.
No longer Gem of the Ocean,
no longer Land of the Free,
your house no more the Golden Door
Who are you to ask me to be a statistic
or a lizard? (No I won't shut up.)
Trying to hand my body over to Ministers
& Generals, throwing me out False Reports,
killing kids & calling it News.
I know an ugly mirage when I see one.
Your Power grunts in cannon, is dying
in smoke rings . . .
Don't tell me what is good for me,
I'll make up my own poor mind.
The Last Mile is a lonesome road,
go bomb a canoe.
Langston Hughes's "I Look at the World" is credited to the Beinecke Library, Yale University, New Haven, Conn. It was published in Poetry (January 2009). Peter Marcus's "Revolting in America" is taken from his book, A Worker's Friend. "The Flower Market" by Po Chu-I was included in Poems of Protest Old and New: A Selection of Poetry, ed. by Arnold Kenseth (New York: Macmillan, 1968). Also in Kenseth are Chad Walsh's "Port Authority Terminal: 9 a.m. Monday" and Robert Peterson's "Dear America." Our staff writer Eric A. Gordon assembled today's collection.