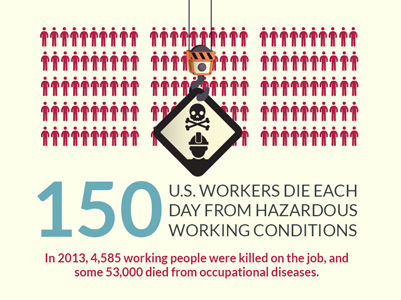 WASHINGTON (PAI) – Though the number of U.S. workers and workplaces has virtually doubled since Congress enacted the federal Occupational Safety and Health Act in 1970, the number of inspectors and enforcement officials has fallen far behind, a new report from the AFL-CIO says.
As a result, it would take 140 years for federal and state Occupational Safety and Health Administration (OSHA) inspectors to visit every workplace in the U.S., seeking safety violations, Death on the Job:The Toll of Neglect adds. That's up from 91 years for all workplaces in 1970.
The report, the 24th in the federation's series, says that lack of enforcement is just one job safety problem. Another is the workers OSHA doesn't cover. Millions of government workers are not covered by the act, nor are the self-employed. And its low fines and lack of jail terms for corporate executives whose firms disobey or disregard safety and health mandates provide little incentive for companies to obey the law.
Meanwhile, Congress has virtually frozen OSHA's funding for the last several years, with the prospect of another cut this coming fiscal year, adds veteran AFL-CIO Occupational Safety and Health Director Peg Seminario.
Organized labor will fight those budget caps, she adds, along with fighting for strengthening the federal job safety law. "But resources for OSHA haven't kept up with (growth in) employment. It's a zero-sum game," she says.
Rep. Joe Courtney, D-Conn., and Sen. Al Franken, DFL-Minn., introduced the federation's proposed stronger law, the Protect America's Workers Act s.1112, on Workers Memorial Day, April 28. It has no chance in the GOP-run 114th Congress.
The federation released the report as part of its observance of the day, the annual event honoring dead, injured and ill workers. AFL-CIO President Richard Trumka asked for a moment of silence in their memory before a major address on April 28. Obama Administration Labor Secretary Thomas Perez sponsored a memorial ceremony at his agency.
The report says that in calendar 2013, the latest year for which data are available, 4,585 workers died on the job and another 3.8 million-at least-were injured. An estimated 50,000 former workers died from illnesses such as emphysema, cancer and black lung disease, contracted during prior employment.
The 2013 fatality rate was 3.3 dead workers per 100,000 workers, down from 3.4/100,000 the year before. Those are accurate but the injury numbers are low. Seminario said figures gathered from several states, using workers comp data, hospital admissions and other measures, show approximately half of job-related injuries are not reported that way.
"Federally, we don't see a lot of enforcement," Seminario says. With job-related deaths being classified only as misdemeanors-and with maximum 6-month jail terms for perpetrators-"there have been only 88 prosecutions since 1970, while there have been 390,000 deaths on the job," she adds.
And the number of federal OSHA inspections dropped by 3,011 in fiscal 2014, which ended Sept. 30 of that year, to 36,167, compared to the year before. State OSHA inspections declined by 3,407, to 47,217.
Other key points in the report include:
While the overall death rate on the job has been declining, the death rate for Latino workers is rising, as are the numbers. Some 748 Hispanic-named workers died on the job in 2012 (3.7/100,000) and 817 died in 2013 (3.9/100,000). The 194 dead Latino workers in California were 48 percent of that state's on-the-job deaths. Two-thirds of all dead Latino workers were born outside of the U.S. "It's quite disturbing," Seminario said.
Latino workers have additional reasons not to report on-the-job injuries: Fear of deportation. Employers often intimidate all workers into failing to report injuries, since doing so brings both OSHA attention and higher workers' comp premiums. But the added fear that employers will call immigration agents hits Latinos, the report says.
Deaths are particularly high for Latinos in oil and gas extraction in Texas and North Dakota, which has the highest death rate among the states (14.9/100,000). Among North Dakota oil workers, the fatality rate was 84.7/100,000. That's seven times the national death rate for oil workers.
Deaths are also high in construction in Texas, North Dakota and California. Deaths in construction rose to 806, but the fatality rate declined as more construction workers reclaimed jobs due to the economic recovery. The construction death rate dropped from 3.9/100,000 in 2012 to 3.7/100,000 in 2013.
The changing nature of the workplace, with more workers being hired as "contractors," is an increasing enforcement problem.
"Contractors accounted for 16 percent of all worker fatalities in 2013, or 749 deaths," the report says. "Construction and extraction workers accounted for half of these deaths. Thirty-five percent of contract workers who died in the construction industry were actually contracted to another industry when they died. Temporary workers and other contract workers often work in dangerous jobs, with no safety and health protections or training."
OSHA has concentrated its enforcement efforts on construction-considered one of the most-dangerous occupations-manufacturing and, lately, oil and gas refining. But Seminario said given the high rate of injuries, especially ergonomic (musculoskeletal) injuries in health care, notably among nurses, it ought to step up enforcement there, too. To do so, however, it would have to reduce enforcement elsewhere. Half of OSHA's inspections were in construction and 22 percent were in factories, with only 4 percent in health care. But health care accounted for one-fifth of on-the-job injuries.
"The leading industries for injuries and illnesses among women were nursing and residential care facilities, hospitals, and food services and drinking places. Nursing, psychiatric and home health aides experienced the greatest number of injuries. Overexertion was the major cause of these injuries, and the major injury type was sprains, strains and tears. All of these characteristics of lost-time injuries among women workers have been consistent over the past several years," the report says. And 35 percent of them are ergonomic injuries.
States vary wildly in their on-the-job death rates. North Dakota is the most-dangerous state, with 14.9 deaths per 100,000 workers. Hawaii (1.6/100,000) had the lowest death rate, followed by Connecticut, Massachusetts, New York and Rhode Island.
Fines are small and Seminario says the law requires OSHA to negotiate them down to fit a firm's size. The median penalty a firm faces after a worker dies on the job is $5,050 if a federal OSHA probe finds the firm guilty of the causes of the fatality, and $4,438 if a state OSHA finds the firm guilty.
"The White House needs to actively support needed safety and health rules and prevent the Office of Management and Budget from blocking or stalling these measures. OSHA needs to move to finalize the silica dust standard and to develop and issue proposed rules on combustible dust, infectious diseases, beryllium and chemical process safety," the report says.
"Enforcement must be ramped up, particularly for employers who repeatedly violate the law. Funding and staffing at the agencies should be increased to provide for enhanced oversight of worksites and timely and effective enforcement.
"Efforts to strengthen OSHA's whistleblower protection program must continue. The widespread problem of injury underreporting must be addressed, and employer policies and practices that discourage the reporting of injuries through discipline or other means must be prohibited. OSHA needs to keep up with new hazards that face workers as workplace, the nature of work, and employment relationships change."
OSHA should give extra attention to the "serious safety and health problems and increased risk of fatalities and injuries faced by Latino and immigrant workers" and in oil and gas extraction, the report says. Continuing safety issues in refineries forced the Steelworkers, who represent two-thirds of all U.S. oil refinery workers, into a strike earlier this year. Workers at some refineries are still out due to management intransigence.
"Without action, the workplace fatality crisis in this industry only will get worse as production intensifies and expands," the AFL-CIO report says.
Photo: AFL-CIO Facebook.