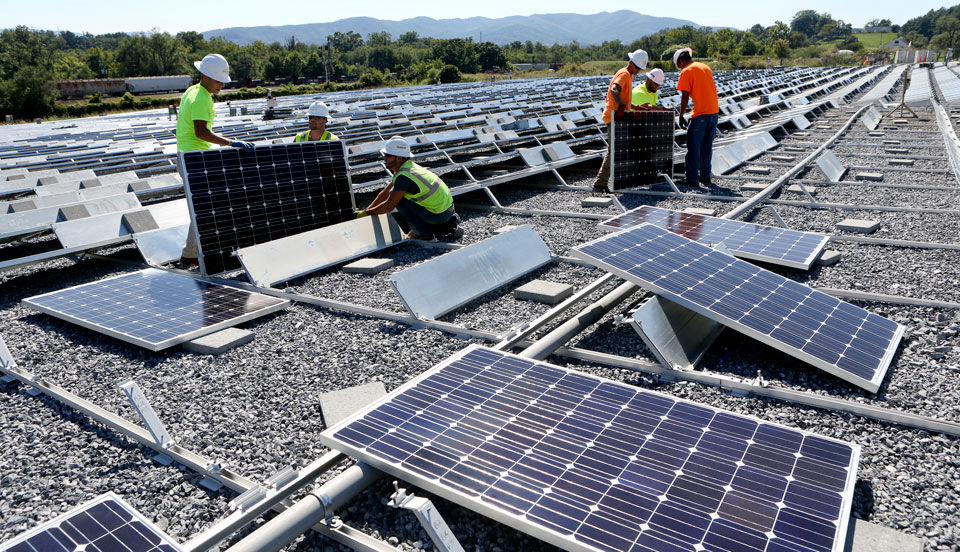 WASHINGTON (PAI)—For years now, says Jason Walsh, the new executive director of the BlueGreen Alliance, his coalition has argued that jobs and the environment are not an either-or choice.
It's still repeating that mantra.
Walsh, who took over the top administrative job less than three months ago at the coalition of eight unions and six environmental groups, firmly believes that converting the U.S. to a "greener" economy can also produce tens of thousands of well-paying union jobs.
"We're guided by the principle that we should not have to choose between good jobs and a clean environment," he said in a recent interview on WPFW's Your Rights At Work with then co-hosts Mark Gruenberg of Press Associates Union News Service and Ed Walsh of the D.C. Nurses Association.
But not everybody in the labor movement agrees with that equation, and that's let climate change foes, including GOP President Donald Trump and most of the Republican Party, "drive a wedge" between unions and green groups, Walsh admits.
Those same foes then use that wedge to get unionists to ignore the foes' other priorities, such as income inequality, he noted.
Unions who are skeptical of environmentalism would disagree. They cite greens' apparent inattention to job losses, especially in Appalachian coal country.
They also note that changing to a non-carbon-based economy would put tens of thousands of other union members—Utility Workers, Oil, Chemical and Atomic Workers, and others—out of present and future jobs.
The green groups, those unionists say, give lip service, but no more, to helping those hurting and to-be-hurt workers.
Walsh begs to differ. He points out the whole point of the BGA is to bring the two sides together, and that the co-founders of the group, the Steel Workers and the Sierra Club, have worked especially closely, with the Sierra Club sticking up for steelworkers in particular.
But even though Walsh has been on the job only a few weeks, he's also taken another concrete move to show Greens are on the side of the Blues—blue-collar workers, that is.
Walsh marshaled green support for a strong letter to Trump's Labor Department—with copies to Congress—opposing a Department of Labor scheme to open building trades apprenticeships to takeover by low-road cut-rate non-union contractors.
"Our program" of union-run, DOL-certified apprenticeships "has a long track record" of success and of "earn while you learn," turning out highly qualified apprentices who step right into union building trades jobs, he notes.
Trump "is trying to extend apprenticeships to programs that don't deserve the name."
If you didn't know you were talking with the BGA's executive director, you'd swear you were hearing those words from Sean McGarvey, president of North America's Building Trades Unions—the old AFL-CIO Building and Construction Trades Department.
There is, however, still a big stumbling block between an even stronger alliance between Blues and Greens: The Green New Deal.
Advocates advertise the GND by its phase-out of U.S. use of fossil fuels within a few decades, in an effort to stop the carbon emissions that lead to global warming. That frosts the building trades unions and their members, as well as residents of coal country, who see no replacement jobs in sight when coal mines and coal-fired utility plants close.
In a congressional hearing on the issue earlier this year, the BGA offered its own, more-comprehensive alternative to the GND. They kept the phase-out but added a second basic goal: Mandated creation of new union jobs in retrofitting buildings and other infrastructure and in creation and implementation of new "green" industries—such as building solar panels and wind turbines.
"There are a lot of similarities between the two. But the point is to create and sustain well-paying jobs for workers while fighting climate change," Walsh says.
BGA, Walsh admits, was forced into that re-thinking by the results of the 2016 presidential race, when many union workers in the key Great Lakes swing states of Michigan, Pennsylvania, Ohio, and Wisconsin pulled the voting machine lever for Trump.
The green jobs point has always been part of BGA's platform, ever since now-retired Steel Workers President Leo Gerard first came up with the alliance idea and pitched it to the Sierra Club. But it wasn't emphasized enough.
That left the field to Trump and his claims that he would "bring coal back"—which he hasn't, says Mine Workers President Cecil Roberts, another GND skeptic. But Trump played on that, and on Democratic nominee Hillary Clinton's perceived insensitivity, to win workers' votes.
"So we embarked on a year-and-a-half project to find out where we went wrong," says Walsh, who spent his first weeks as BGA Executive Director reading, analyzing, and implementing the findings. The project included a survey of 1,400 workers, plus six focus groups and 12 town hall meetings.
"We found we were speaking past people. They told us they believe climate change is real and they want to see action against it—but they don't want to be presented with a binary choice" of jobs versus the environment, he said.
Some unions—Walsh mentioned the Service Employees by name—went ahead and endorsed the Green New Deal anyway, even though GND's creators had "a lack of engagement with the labor movement" in crafting it. Roberts had the same complaint.
Instead, "we emerged with a holistic plan" to address all those job and green issues and "at the end of the day, everyone from the Sierra Club to the Plumbers and Pipefitters signed on." The alliance presented it to the U.S. House's ruling Democrats in June and got a favorable reception.
So did Sen. Edward Markey, D-Mass., the chamber's top environmentalist, plus aides to 20 other Democratic senators. There were no aides to the Senate's ruling Republicans there.
The senators and staffers "saw we had policies backed by two key wings of the Democratic Party," Walsh said. Looking forward, he adds: "We have to keep that coalition together so we can pass it"—the green+jobs plan—"with a different president."