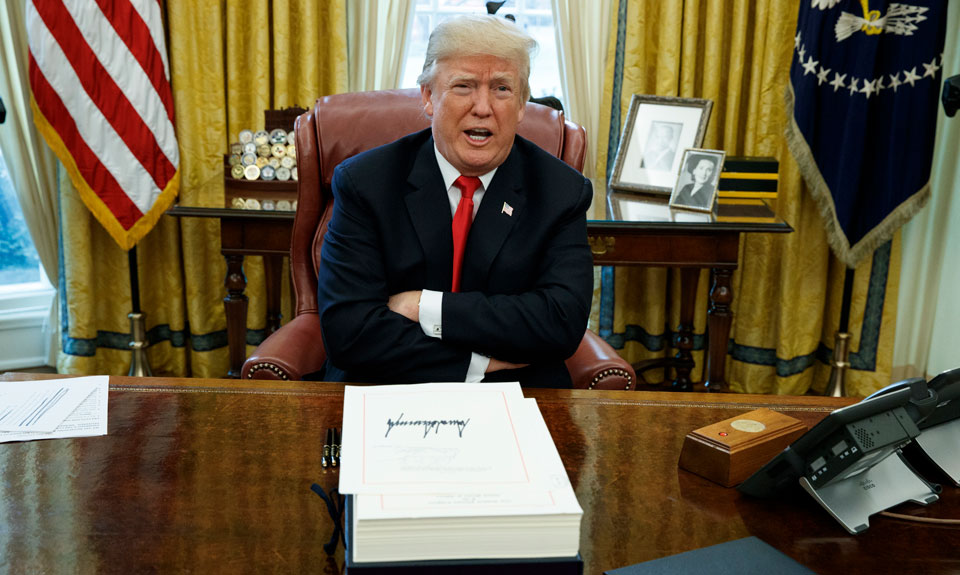 When he signed Senate Bill 27, The Presidential Tax Transparency and Accountability Act, on July 30, California Governor Gavin Newsom launched a new challenge in Democratic legislators' ongoing campaign to force President Trump to reveal his financial records.
The measure, passed overwhelmingly by the majority Democratic state legislature, does not name names, but its focus is clear.
Starting with California's March 2020 primary, a candidate for U.S. president is required to file with the California Secretary of State, copies of all income tax returns filed with the Internal Revenue Service in the five most recent taxable years, at least 98 days before the relevant primary election. California gubernatorial candidates will be required to do so in 2022.
The financial reports are to be posted online by state election officials, with some private information redacted.
The legislation affects every candidate from every party but only in primary elections. California's constitution says political parties can nominate their own candidates in general elections.
"These are extraordinary times," Newsom said in a statement, "and states have a legal and moral duty to do everything in their power to ensure leaders seeking the highest offices meet minimal standards, and to restore public confidence." He said the disclosures required by the bill "will shed light on conflicts of interest, self-dealing, or influence from domestic and foreign business interests."
Saying the U.S. Constitution "grants states the authority to determine how their electors are chosen and California is well within its constitutional right to include this requirement," Newsom emphasized California's "special responsibility," as one of the world's largest economies and home to one in 9 eligible U.S. voters, to require that presidential and gubernatorial candidates provide the financial information.
Newsom cited a report issued last October by the Brennan Center's National Task Force on Rule of Law and Democracy, that includes the recommendation that Congress should require the president and vice president, and candidates for those offices, to publicly disclose their personal and business tax returns.
"I agree," he said. "This law should be a national standard."
SB 27 was introduced by state Senator Mike McGuire, D-Healdsburg and state Sen. Scott Wiener, D-San Francisco at the start of the current legislative session. As the bill headed for a final vote early last month, McGuire declared, "Presidential candidates need to put their own interests aside in the name of transparency," and called on Trump to "step up" and follow "40 years of time-honored tradition that has made this nation's democracy stronger."
Wiener added that making a candidate's tax returns public gives voters confidence the president is working for them and not for personal enrichment. "By also including the office of governor in this legislation we show that we will hold our own executive to this vital standard."
At press time Trump had not directly responded to Newsom's signing the bill, but his personal attorney, Jay Sekulow, told Politico that California's "attempt to circumvent the Constitution will be answered in court."
State and national Republican leaders are using adjectives like "gimmicky" and "outrageous" to describe the new law, and media outlets around the state have featured op-eds on both sides of the issue. Two years ago, former Governor Jerry Brown, also a Democrat, vetoed a similar bill.
While no other state has so far enacted a measure like SB 27, similar bills have been introduced by legislators in 18 other states, according to a database kept by the National Conference of State Legislatures.
In his past campaigns for San Francisco Mayor, California Lieutenant Governor, and Governor, Newsom released his tax returns, though former Gov. Brown did not do so.
In his signing statement, Newsom cited opinions of three national leaders in constitutional law who said they support the new law and uphold its constitutionality. Among them was Dean Erwin Chemerinsky of the University of California/Berkeley Law School.
Calling the measure "constitutional," Chemerinsky said it "does not keep any candidate from being on the ballot so long as he or she complies with a simple requirement that is meant to provide California voters crucial information … that might be very important to them when they cast their ballots as to who they want to be President of the United States."