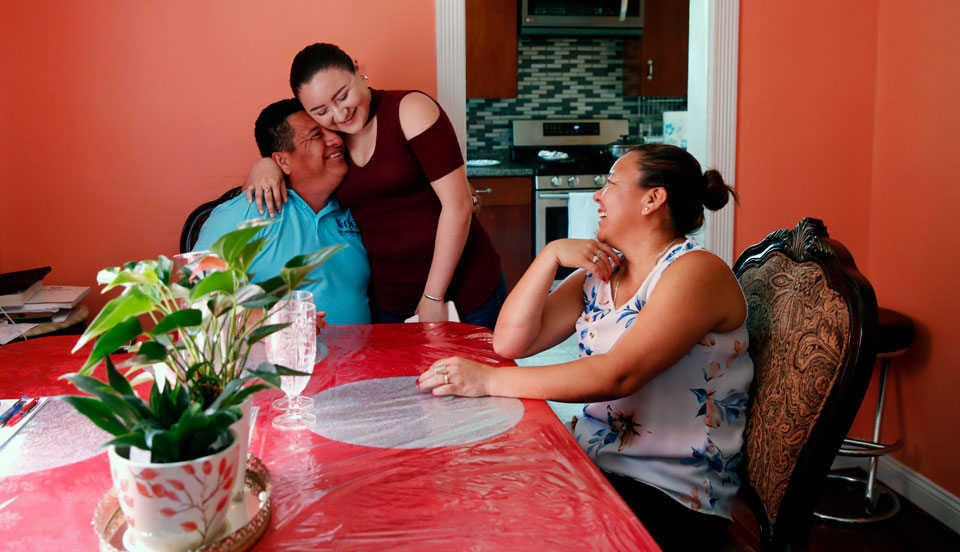 In the weeks leading up to the midterm elections, President Trump warned of an "invasion" by a caravan of 3,000 Central Americans, mostly from Honduras, heading north towards the Mexico-U.S. border. In October, these immigrants set out on a journey of more than 2,500 miles to seek asylum in the United States, fleeing violence, corruption, and poverty in their home countries. In response to thousands of families, including babies and elders, our government has deployed more than 5,000 soldiers to the border in anticipation of their arrival.
All this attention on the border means that many have forgotten what is happening to immigrants who are already here, including more than 320,000 people who are threatened by the ending of Temporary Protected Status (TPS). Congress created TPS as part of the Immigration Act of 1990 to provide temporary immigration relief for members of countries facing ongoing armed conflict, natural disasters, or other extraordinary and temporary conditions. TPS allows beneficiaries to receive temporary relief from deportation, an Employment Authorization Document, and the possibility to travel abroad. TPS applies to people from 10 countries, including El Salvador, Haiti, Honduras, Nepal, Nicaragua, Somalia, South Sudan, Sudan, Syria, and Yemen.
Nearly three decades later, many TPS recipients have been living in the United States for many years, but they still do not have a pathway to legal permanent resident status. Some TPS recipients, like those from El Salvador, have been renewing their status for more than 15 years.
TPS recipients are not just immigrants; they are also an important part of the U.S. workforce. The Center for Migration Studies reports that 81 to 88 percent of TPS recipients are working, predominately in construction, restaurants and other food industries, landscaping services, child day care services, and grocery stores. They are part of the American working class and an essential part of many local communities. Despite their economic contributions, Congress has not taken any action to extend TPS or to provide recipients the opportunity to become permanent residents or citizens.
For the Trump administration, the solution is to end TPS for citizens from the Caribbean and Central American countries that have suffered natural disasters or state-sponsored terrorism. In May 2018, Homeland Security Secretary Kirstjen Nielsen determined that the impact of natural disasters or political violence had lessened enough in some countries to warrant the suspension of TPS for their citizens. About 2,500 Nicaraguans and 45,000 Haitians were ordered to leave by January and July 2019 respectively. In January 2018, the Trump administration cancelled protection for 200,000 Salvadorans, notifying them to depart by September 2019.
But some TPS recipients are facing deportation even sooner. For immigrants from Sudan, TPS was originally set to end November 2, but a court ruling focused on whether the end of TPS reflects racial bias on the part of the Trump administration ordered the program to remain in place for TPS recipients of Sudan, El Salvador, Haiti, and Nicaragua until April 2, 2019. Once that extension expires, the President will have the authority to terminate TPS based on the arbitrary recommendation of the State Department. If Trump continues to insist on ending TPS, hundreds of thousands of people will be required to return to countries they left years ago or face deportation.
Ending TPS will not only affect these immigrants, but it will also have a devastating impact on the U.S. Most TPS recipients have been in the U.S. for many years. They have learned English, paid taxes, bought homes, made a life here. According to a report from the Center for American Progress, "A recent survey of Salvadoran and Honduran TPS holders demonstrates that they are active community members, with 29.7 percent of respondents reporting participation in a variety of organizations, including neighborhood and work associations, schools, and sports teams."
Here in Washington, D.C., we have an especially large community of TPS recipients from El Salvador—about 32,000 people. According to the Executive Director of the Central American Resource Center, Abel Nunez, about 20 percent of construction workers in this city have TPS. This means that many projects within the city would come to a halt if they were to lose their status and thus the work permits allowing them to work legally.
Along with construction workers, D.C. would lose many of its restaurant and other food industry workers, landscapers, nannies, and employees at grocery stores. While Trump touts his anti-immigration stance as defending American jobs, ending TPS would cripple the U.S. economy by deporting workers who provide some of our most basic necessities.
Ending TPS would also further destabilize Central America as countries would face an influx of 195,000 Salvadorans and 57,000 Hondurans. These countries do not have the infrastructure to provide employment to so many returnees. According to the Inter-American Dialogue report,  Central America Migration: Current Changes and Development Implications, 70 percent of the labor force in El Salvador and 80 percent in Honduras are part of the informal economy. These economies also depend on remittances—money sent to family members in Central America from TPS recipients in the U.S. According to the report, "Remittances alone amounted to $17 billion in 2015 and represented over 50 percent of household income in some 3.5 million households in the region."
Ending TPS will devastate Central American economies, which would, in turn, spur further migration out of these countries—including more people trying to enter the U.S. to find employment. If we want to stabilize Central America and reduce illegal immigration to the U.S., Congress should propose a bill that would grant a pathway for TPS recipients to remain in the country permanently.
Proposing such a bill would let Democrats show that they really stand behind immigrants. As Democrats prepare to take control of the House, I hope they will include plans to provide permanent protection for TPS recipients on their agenda. Winning protection for TPS recipients will also create an opportunity for the immigrant rights community to advocate for other working families and make clear how immigrant workers contribute not only to the economy but also to American communities.
To make this happen, we all need to get informed, to support organizations that focus on TPS, and finally make sure that Democrats in Congress don't get distracted from TPS by the Republican anti-immigrant fear campaign.
This article originally appeared in Working-Class Perspectives, from Georgetown University's Kalmanovitz Initiative for Labor and the Working Poor.