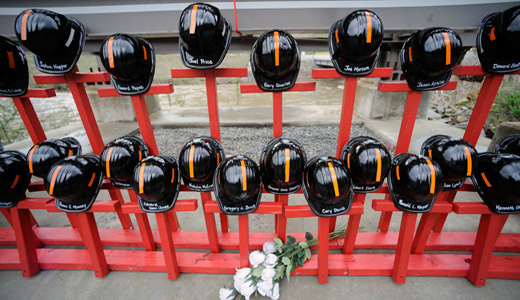 If anyone doubts there is extensive rot in the so-called U.S. capitalist system, we have an invitation for them: Read the FBI's latest report on corporate criminality – and that's before recent big settlements with Wells Fargo and other malefactors.
The Financial Crimes Report, which covers Oct. 2009-Sept. 2011, details corporate felonies that will curl your hair. And it makes us consider that skullduggery in executive suites is the rule, not the exception.  First, some of the basics:
"As the lead agency investigating corporate fraud, the FBI focused on cases which involve accounting schemes, self-dealing by corporate executives, and obstruction of justice…At the end of FY 2011, 726 corporate fraud cases were being pursued…several of which involved losses to public investors that individually exceed $1 billion." In the last two years, there were 242 indictments, 241 convictions, $2.4 billion paid in restitution, and $16 million in fines.
There are some 1,800 pending cases of securities fraud at the end of 2011, and that doesn't count the biggest settlement of all, in Dec. 2010. Then, the FBI rounded up "343 criminal defendants nationwide." And more than 120,000 victims had "losses attributable to alleged criminal activity of more than $8 billion."
Healthcare fraud. Here's where you find the big drug companies, and that's not even counting this year's $3 billion fine against GlaxoSmithKline for illegally promoting some of its drugs. But the total collected is huge: "Through FY 2011, 2,690 cases investigated by the FBI resulted in 1,676 indictments and 736 convictions of HCF criminals; and it should be noted that numerous cases are pending plea agreements and trials," the report says. In just fiscal 2011, which ended last Sept. 30, the government got $1.2 billion in restitutions, levied $1 billion in fines, seized $96 million, gained $320 million in civil restitution, and picked up over $1 billion in civil settlements.
Mortgage fraud. Unscrupulous firms took advantage of "underwater" mortgage holders, whose home values plummeted in the Great Recession. There have been "1,223 indictments and 1,082 convictions of mortgage fraud criminals" and in FY 2011, the FBI regained $1.38 billion in mortgage fraud restitution, $116.3 million in fines, seized $15.7 million in fraudsters' assets, and garnered $7.33 million in forfeitures.
Bank fraud. In 2010, 157 banks failed, and the number dropped to 85 last year. But there are almost 500 on a federal watch list of problem institutions, the FBI says. "During FY 2011, cases pursued by the FBI resulted in 521 informations and indictments, and 429 convictions of financial fraud criminals," the report says. That year, the government got $1.38 billion in restitution, levied $116.3 million in fines, and seized another $15.7 million in bank assets.
Now, some particularly outrageous thefts by corporate criminals:
In what the FBI called "cookie jar accounting," executives at Beazer Homes, a former Fortune 500 company in Charlotte, N.C., "encouraged false information to finance and sell homes and to manipulate corporate earnings. "That let Beazer cut its net income during flush times and smooth its earnings during the housing crash. In 2009, Beazer signed a deferred prosecution agreement "acknowledging corporate culpability in this complex fraud. "It also paid $50 million in restitution. Last year, its chief accounting officer was convicted on seven counts of fraud, and awaits sentencing.
Washington, D.C.'s Colonial Bank and TBW, a major U.S. mortgage originator, conducted a several-billion-dollar accounting fraud by back-dating loans and creating fictitious loans "which inflated loan asset values," all while manipulating the subprime mortgage market, the FBI said.
Remember, it's the collapse of those unpayable mortgages and the bad debts they caused that triggered the financial meltdown and the Great Recession.
The FBI caught the Colonial-TBW fraud. It also prevented the two from taking $553 million federal Troubled Asset Relief Program money. TBW's chairman is serving 30 years for bank and securities fraud, its president is in for 40 months, and the bank's senior VP is in jail for eight years.
Luis Belevan, owner of The Guardian Group of Phoenix, pled guilty to conspiring to commit wire fraud and mail fraud in 2009-2010. "Belevan and his co-conspirator defrauded at least 1,800 distressed homeowners out of a $1,595 upfront fee each for bogus promises of assistance in avoiding home foreclosure," the FBI said.
Belevan pocketed the money. DOJ didn't say when he's going to prison.
Of course, what the Justice Department is prosecuting is law-breaking. What we in the union movement call corporate criminality is different, and often not prosecutable. It's the schemes of corporate plutocrats to strip workers of pay, pensions, and rights.
That crime covers firms as varied as Verizon, Massey Coal, Delta, FedEx, and Wal-Mart. Their execs shouldn't be sitting in plush chairs – they should be sitting in jail cells.
Photo: Miners' helmets and painted crosses at the entrance to Massey Energy's Upper Big Branch coal mine. The memorial represents the 29 coal miners who were killed in an explosion at the mine. The financial crimes of big executives result in the death of workers.   Jeff Gentner/AP