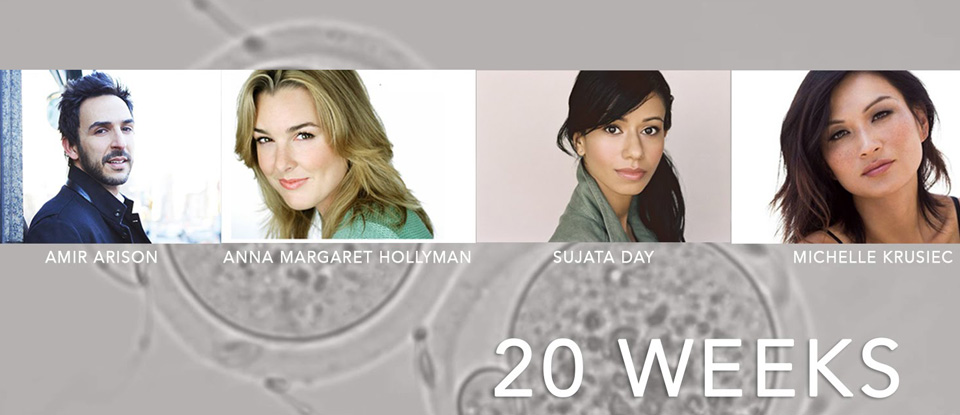 The opening scenes of 20 Weeks show a young couple, Maya (Anna Margaret Hollyman) and Ronan (Amir Arison), very much in love—and also rather prickly about maintaining their individual identity, sensitive to minor slights that frequently threaten to metastasize into a breakup. But each of them has gone that way before, so maybe this time, 11 months into this new relationship, will be the ticket.
Almost immediately, thanks to the magic of nonsequential storytelling, we see Maya undergoing an ultrasound on her big pregnant belly, so we know where this particular story is going.
Many, many are the films premised on an unplanned pregnancy and what to do about it. I haven't performed or read the actual studies, but very few of them terminate the fetus. To her credit, writer and director Leena Pendharkar says, "I deliberately did not use the word 'abortion' in the movie, as I didn't want to politicize the issue, but rather, humanize it.
"My goal was to explore this gray area where humanity and science meet and for a couple to talk very intimately and honestly about the things no one wants to talk about, and ultimately ask the question, what is the nature of love?"
There are the exceptions, but the majority of mainstream films about a topic like this—which, mostly, women will see—"choose life," as the anti-abortion forces often put it, and everyone lives happily ever after. It seems there is a tacit censorship at work here: Make a pro-abortion movie—or "pro-choice," as the folks on that side of the debate would say—and you are likely to incur the wrath of the anti-feminist religious right wing. Expect incensed picketers at the movie house.
Discretion argues against revealing what happens with Maya and Ronan's baby once the ultrasound at 20 weeks shows that an abnormality in the fetus has developed. Suffice it to say that Pendharkar, according to information supplied to the press, herself had a similar experience: At 20 weeks her daughter in utero was seen to have a malformed jaw, and it took four surgeries in the first year of the child's life to correct this problem. Happily ever after.
Does the nonlinear script deepen our understanding of the characters? In my view, not especially. The basic story is the whole story, with no subplots or really any consequential other characters—a friend or confidante at most, and these are Maya's hand-holders. We do learn that she's a freelance writer of some kind (might have been interesting to know just what kind and what circles she travels in), but Ronan is a cipher. We know he's had previous affairs, we see he's great with kids, and he has made it clear that's he's on the daddy-track, but we don't see him in his world. What does this guy do for a living and how does he propose to support a family?
One thing we do hear from him is his worry that the medical insurance he carries will not cover the additional costs of this birth and perhaps the lifelong care the new baby will require. In a society like ours, where, until we reverse the paradigm, health care is every day becoming more and more a privilege and not a right, it is wise to think hard about what their future as a family is going to look like.
One little personal complaint (since I perform marriages at the rate of about 25 a month for Los Angeles County): The couple exchange rings and dress up for what appears to be a wedding, but there is no officiant pronouncing them married, nor any marriage license in sight, so we don't even know if this is just their private little ceremony or if it's a legally recognized change of marital status, which could have enormous ramifications down the line one way or the other.
With no plot complications outside the blinkered focus on the couple to distract us, the film seems dogged and redundant. From the start we get what it's about, and the issue is recapitulated over and over again. Putting the scenes out of order makes the viewer work a little more, but then the tedium sets in again. Long soulful shots of Maya and Ronan, thinking, ruminating, questioning, add nothing that we don't already know, and the cliché scenes of enjoying the great Los Angeles outdoors—al fresco dining on the hills overlooking the cityscape, frolicking in the waves at Venice Beach—suggest a down-budget version of the recent musical movie La La Land. Compare and contrast: Say what you will, that film featured characters with complex, interesting lives that meant something to them, and to us.
Pendharkar, Indian-American herself, is good about including a fairly broad racial diversity in her cast: The baby doctor is Dr. Lucy Chen, and Maya's best friend Ruby Singh is of Indian background. The baby shower invitees include some African-American friends. Of course, there's Ronan himself—that would be Ronan Baines—who looks like he could be Indian, too, but we really know so little about him and we meet none of his family.
Ultimately, it's simply too plodding and thin. However, early on, Maya complains to Ronan that he's uninterested in her concerns about having a child—the "real stuff women have to actually deal with." I feel a little chastised from the get-go: I'm a man, so I'd better pay attention to this "real stuff."
Other viewers may see it far differently.
20 Weeks
Written and directed by Leena Pendharkar
90 minutes
A Meritage Pictures & Spicy Mango Productions film
www.20weeks-movie.com