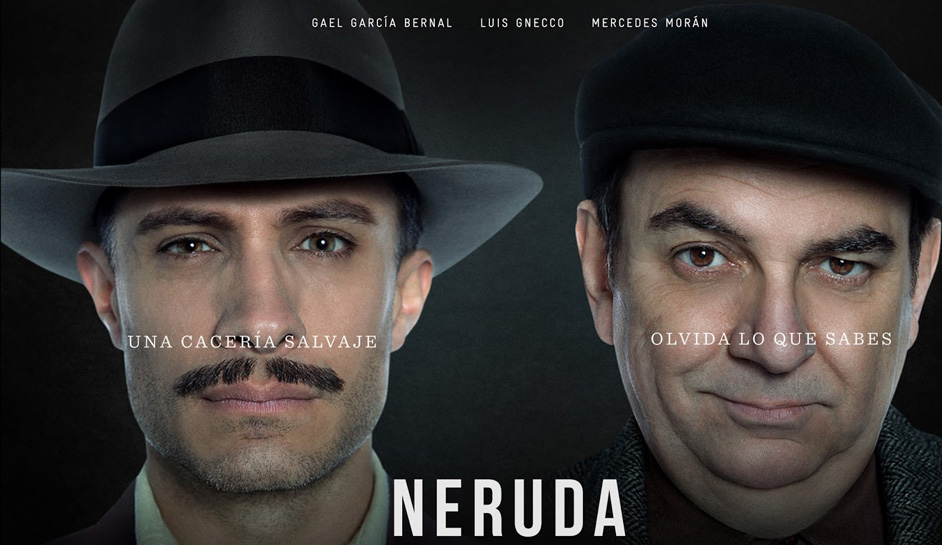 The Chilean rising star auteur, Pablo Larraín, brought two new stunning biopics to the Toronto International Film Festival this year. Both about as far apart in style as you would expect in a biography. The first, Neruda, is flashy and playfully experimental, while Jackie is a personal rumination on a tragic American figure.
Taking on the life of Chile's famous communist poet and politician, Pablo Neruda, Larraín chooses to focus on a short moment in his political life. It's 1948, the U.S. is turning on its former ally the communist Soviet Union, and Chile follows in lockstep. The love affair of convenience has soured and now it's not easy to be a communist Senator in a hostile environment, even if you are one of the world's most beloved poets. Neruda accuses the government of betraying the Communist Party and is immediately impeached. Rather than be arrested, Neruda goes underground and plays cat and mouse with an incompetent bizarre detective in a story that takes strange twists and unusual turns.
Neruda is a multi-layered creative "anti-biopic" shunning all conventions while raising the bar for experimental storytelling. Part real, part magical realism, the concocted role of Inspector Peluchonneau, brilliantly realized by multi-dimensional actor, producer, activist Gael García Bernal, reveals Larraín's absurdist style. While playing a buffoon in search of the missing poet hero, García Bernal shapes the character with depth and self-realization. The more he fails to find Neruda, the more he comes to know himself. This works on the viewer also, as we learn not only facts of the great man's life, we also come to realize the meaning and power of his poetry. During this period Neruda was writing his classic epic collection of poems, Canto General. (Full collection HERE. Waldeen's Lost Translations HERE). He was known to enter the Senate chambers and instantly receive calls to recite his poetry as the politicians stopped everything for a moment to be lifted from the daily repetition of governmental work. This adoration would be reenacted wherever he travelled, as workers, artists and especially women would be moved to Nirvana by his poems of life and love.
The film addresses many aspects of Chilean political history. The collectivist minded Neruda was constantly guided in his escape plans by the decisions of the Communist Party's leadership. In another eerie scene dictator Augusto Pinochet is found running an internment camp years before he brutally took power in a coup that ousted and assassinated beloved President Salvadore Allende. Neruda died shortly after the coup, and many believe he could have been assassinated also.
Luis Gnecco, who brilliantly brings Neruda to life, describes his character as "a paradox, as sensitive as a person can be, sensual, hedonistic, and at the same time politically committed and active. Always shining, blessed by the light of genius and inspired by the muse of passion which, if it really existed, would in his case be blind and stubborn."
A well known activist and supporter of progressive causes, Gael García Bernal (Motorcycle Diaries, No) takes on the role of the imaginary inspector in a totally fresh and creative manner. "This film's starting point is the word, the dangerous word that makes you fall in love and which creates new worlds," says García Bernal. "The characters are caught up in that whirlwind during the action of the film. They suffer because they can't break free of the constraints of poetic creation. And obviously the poet is the one who reads that language, who can bring it back to earth, by making it at once myth and truth."
Larraín describes the style of his film,  "We invented a world, just as Neruda invented his. The film we made is more a 'Nerudian' film than it is a film about Neruda, or perhaps it's both." He gives credit for the imaginative story to screenwriter Guillermo Calderon who also wrote the award winning film The Club. Larraín's brother, Juan de Dios Larraín, who has helped many budding filmmakers, produced this one also.
Jackie
During the long process of bringing this story to the screen, Larraín was offered an opportunity he couldn't refuse – to make another biography, one that was as different a subject as you could imagine. Always a background story in American politics, the tragic change of life events experienced by First Lady Jacqueline Kennedy are here given a new reading with a moving script by Noah Oppenheim and directed by Larrain in his now expected fresh and confident style.
This again is not your standard biopic, but an artful, deeply personal depiction of an important figure and time in history. Jackie is Larraín's first English language film, with much of Jackie's dialog delivered in her soft sotto voce, but after the assassination in stunned gasps of anguish. Natalie Portman plays the iconic First Lady as if the role was made for her. At once she is a dazed nobility sitting in a car holding her husband's bloody head and brains on her lap; then a beloved personality whose life is instantly changed forever, as she loses her husband and her privileged position in government and society. Jackie was shocked with LBJ's behavior and many others after her husband was assassinated, and was opposed when she urged to have the funeral procession walking down the street rather than driving in protected cars.
The film is structured with several cleverly overlapping discussions: an unannounced reporter in the family Hyannisport home just after the assassination; her intimate conversations on life and marriage with the family priest after the murder; her conversations with Nancy, her White House assistant soon to be assigned to the next First Lady; and the recreated historic 1961 TV Tour of the White House.
The film sets a tone of the assassination's quiet aftershock, as Jackie courageously walks through her expected behavior but now in a daze. She argues on occasion with her brother-in-law Bobby, who seems to be preoccupied with preserving the family and his brother's name. She is accused of not protecting her two kids by allowing them to appear in public during the funeral march through the streets of Washington, but she "wanted the world to see what they did to her and Jack's family and how they've been affected."  Despite her proper bourgeois tendencies she comes across as sensitive and down-to-earth. Portman uncannily captures the delicate nuances of this high profile figure in American history.
Jackie won the TIFF Platform Award for Best Director, stating it "combined an extraordinary script with precise direction and unforgettable acting; and for its exploration of the myth of American Camelot and its preeminent performance by Natalie Portman."
Larraín asked Protozoa Pictures, who held the rights for Jackie, why they wanted to hire a Chilean director for a movie that was deeply North American. Producer Scott Franklin said, "We wanted someone who didn't have too many preconceived ideas about the Kennedys, the assassination and Jackie. Pablo possesses incredible talent."