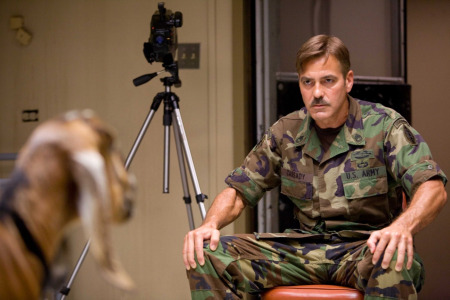 Progressive Cinema: Toronto International Film Festival 2009, Part 3
When Mel Brooks created "The Producers," there were some who were shocked at a musical about Hitler and Nazism. With all its irony and sarcasm, the power and comedic sense of songs like "Springtime for Hitler in Germany" went over the heads of many who considered it offensive and inappropriate. A similar case is Italian comic genius Roberto Benigni's "A Beautiful Life," a masterpiece to many but deemed by some an insensitive re-creation of life in the German concentration camps.
Humor in the form of satire and sarcasm has existed since the beginning of cinema. Chaplin's "Great Dictator" is another example of addressing a serious or tragic theme with humor.
In the present-day film world, it is Michael Moore who is most associated with biting social satires. From the beginning of his film career with "Roger and Me," through every one of his film projects, including "Canadian Bacon," "Fahrenheit 911" and "Sicko," the angry but witty Moore has persistently used humor to reach the masses. His newest film, "Capitlaism: A Love Story," screened at last month's Toronto Film Festival prior to an extensive world distribution campaign, is being called his epic accomplishment. The film we've been waiting for. A film that makes you laugh out loud and then brings you to tears in the telling of the tragic effects of capitalism on everyday Americans. From foreclosures of family homes and youth prisons for profit to Wall Street greed and the vultures who profit from people's losses, the film is a powerful statement for change in America. Heavily praised in the European press, where challenges to capitalism exist as common practice, and Canada where Moore is more willing to offer "socialism" as the alternative rather than the cop out "democracy," the film is drawing its detractors from the loony right-wing pundits who love to attack Moore and his causes. But it appears Moore is willing to put all his cards on the table as he steps forward to become one of the few brave filmmakers telling it the way it is.
Another world-class filmmaker, Palestinian Elia Sulieman, uses humor to address another deadly subject, the decades-long Israeli occupation of Palestinian land. After enduring years of repressive and frustrating tactics designed to wear down and drive out the local Palestinian population, Sulieman speaks, much like Moore, with wit, sarcasm and controlled anger. His previous award-winning film, "Divine Intervention," puzzled many with its symbolism and enigmatic metaphors expressed with deadpan humor about the Israeli occupation. His newest film, "The Time that Remains," is much more accessible and based on actual events in history. It follows the plight of his family, who were forced from their homeland by the Israelis during the war of 1948. His father, at first a brave resistance fighter, is eventually emasculated and humiliated before the Israeli occupation forces, ending his life gazing in solitude over endless cups of coffee. His family, driven from their home, experiences one tragedy after another. The film, at times humorous but most often tragic, features Sulieman playing himself as an adult, caring for his family members who have suffered the pains of injustice. It's a personal and thought-provoking story told in a unique satiric style.
George Clooney and Jeff Bridges star in an absurdist piece, "The Men Who Stare at Goats," that satirizes the American military's attempt to utilize psychic power after the loss in Vietnam. Reminiscent of "Dr. Strangelove," the film's zaniness is not far from the crazy truth that our military wasted tons of time and money trying to find ways to beat our enemies by using paranormal psychology. One exercise was to literally stare at a goat until it keels over dead. There are many hilarious sequences exposing the bizarre practices of our military. Along the way there are biting attacks on American foreign policy, and the acting and story hold together well in a successful blend of entertainment and social commentary.
One of this year's best exposes of corporate corruption and greed is Steve Soderbergh's "The Informant." Soderbergh, after offering us "Che," a serious and artful two-part study of the Cuban revolutionary, now turns to comedy-drama. Based on an actual story of corporate greed, the film features Matt Damon playing the role of Mark Whitacre, an executive so wrapped up in his job of profit-making that reality takes a vacation. In his attempt to expose others in a price-fixing scheme at his company, he manages to instead implicate himself in a much more serious scheme to bilk millions from the public. Damon plays the role with controlled weirdness, and the music by Marvin Hamlisch and kitschy costumes are reminiscent of the '70s. It's a scathing and satirical condemnation of corporate crime and a damning portrayal of executives drugged by the profit motive.
Photo: A scene from "The Men Who Stare at Goats."