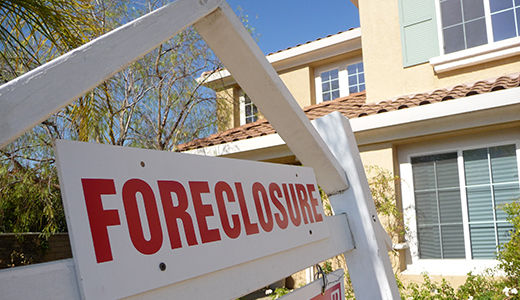 With over 12 percent of current mortgages in danger of default – close to 7 million homes – foreclosure notices made a slight drop in April signaling a potential bottoming out of the housing crisis. The number of homes threatened with foreclosure fell 2 percent from a year ago.
Repossessions however have shot dramatically up. Reuters reports in April banks took control of a record 92,432 properties, up 1 percent from March and 45 percent from a year earlier.
The states of Nevada and California topped the list, with Ohio and Michigan following closely behind.
While working and middle class families are attempting to take advantage of new federal programs, nearly 3 million homes received a foreclosure notice in 2009.
Economists consider the main source of new foreclosure to be unemployment which rose slightly in April. Over 11 million jobs have been lost due to the recession.
Efforts by White House are credited with easing the severity of the housing crisis. "The Obama administration's new program encouraging short sales, allowing homeowners to avert foreclosure by selling their homes for less than they owe on their mortgages, probably drove the drop in default notices."
In February, more people bought previously-owned homes due to the Obama administration's tax credit, the rate of new purchases rose 8.2 percent.
In addition, the president's team has worked to modify loan payments and keep families in their homes with some modest success. "The Obama administration is managing a $75 billion program that so far has helped about 231,000 homeowners with permanent reductions to their monthly mortgage bills. That's about 20 percent of the 1.2 million borrowers who started the program over the past year."
Banks have been reluctant to modify loan terms, profiting from late penalty payments and other fees.
A backlog of existing mortgage defaults also contributed to the decrease. ""What we're really seeing is the effect of lenders slowing down the initial notices of default while they are processing what's already in the pipeline," Rick Sharga, senior vice president at RealtyTrac. RealtyTrac issues reports about the housing market.
Meanwhile, a new study shows African Americans and Latinos face continuing discrimination in treatment by banks. In the Washington DC region, Blacks were 20 percent more likely to have their homes foreclosed on than white counterparts with identical credit histories and scores. Strikingly Latinos were 90 percent more likely.
Big banks are fiercely contesting the creating of a new Consumer Protection Agency that would monitor such unequal treatment.
The mortgage crisis is expected to continue at least through the end of 2010. A drop in unemployment will contribute significantly to abating new foreclosures.
Photo: http://www.flickr.com/photos/respres/2539334956/