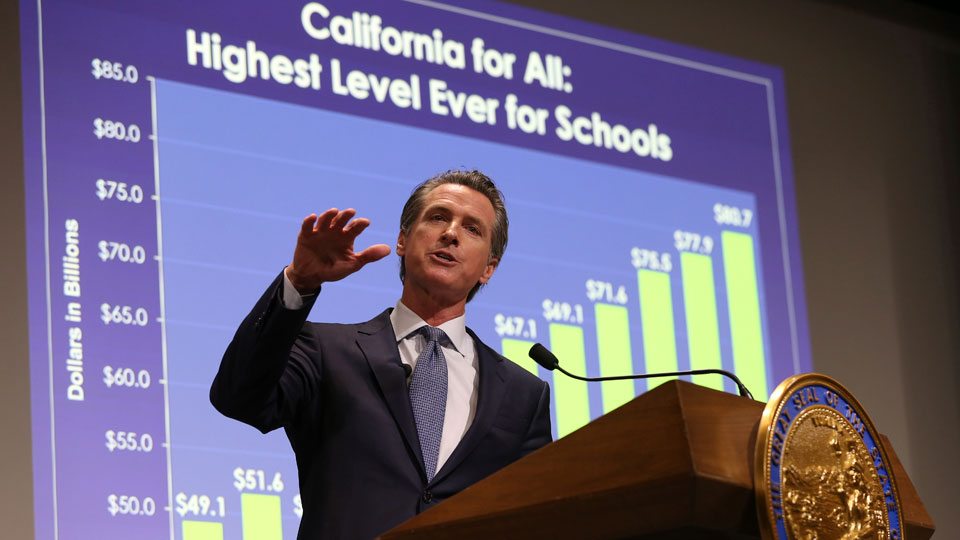 Just three days after he was inaugurated, California's new Governor Gavin Newsom on Jan. 10 sent his first proposed "California for All" budget to the state legislature for its consideration, launching discussions and negotiations leading to a mid-June deadline for the legislature to approve the final 2019-2020 budget.
Following the November 2018 elections, both legislative houses have Democratic supermajorities.
Newsom, who had served for eight years as Lieutenant Governor under former Gov. Jerry Brown, combined a continuing emphasis on his predecessor's fiscal caution with proposals to significantly expand funds for important programs in education, health care and human services, housing, and emergency readiness and recovery.
His budget, Newsom told a press conference, "is a reflection of our values; it is demonstrable that these dollars attach to real people and real people's lives."
He also repeatedly referenced discussions with leading legislators and state officials.
The governor called his proposal for a one-year budget with a three-year forecast period "structurally balanced" over the next four years.
"This budget is primarily about two things: education and health and human services," he told the journalists, with education accounting for 53 percent of the projected spending, and another 28 percent going to health and human services.
Newsom also emphasized the need to build a solid fiscal foundation in uncertain times, noting that $13.6 billion is to go "for what we refer to as resiliency," including eliminating all outstanding budgetary debt and deferrals, paying down unfunded retirement liabilities, building up the state's Rainy Day Fund to a record $15 billion, and more than quadrupling the Safety Net Reserve which provides "the first line of defense for families during an economic downturn."
Among proposals for education:
– Increasing K-12 spending to nearly $81 billion, with K-12 per-pupil spending reaching nearly $17,000 in the coming fiscal year, up from just over $16,000 in the previous budget.
– Universal preschool for low-income children by 2021-22, expansion of subsidized childcare facilities, and more access to full-day kindergarten.
– Free second-year tuition for fulltime, first-time community college students (they already have free tuition in their first year.)
– More funds for the University of California and California State University systems—which Newsom said should keep tuition flat for students—as well as for community colleges.
In a statement, California Teachers Association President Eric C. Heins said Newsom's budget "reflects his commitment to the children and students of California from cradle to career and demonstrates that he understands the needs and priorities in public education."
Heins highlighted the importance of early childhood education and called the additional funding for the California State University system and free second-year tuition for fulltime community college students "historic."
California Federation of Teachers President Joshua Pechthalt said the budget represented a "sea change in how we approach early childhood and community college education" that marks "a new day in California." But, he said, at present California ranks 43rd in the nation in per-pupil spending despite having the world's fifth largest economy, and he looks forward to working with the governor and legislature to raise essential revenue through progressive taxation.
On the health care front, two of Newsom's proposals directly contradict Trump administration policies and actions:
– $260 million to fund expansion of Medi-Cal (California's Medicare) to cover undocumented young adults aged 19 through 25. (Medi-Cal already covers undocumented children.)
– Restoring the state-level individual mandate requiring all Californians to have health coverage or pay a penalty. The resulting fines would be used to expand subsidies for middle-income families buying health plans through Covered California, the state's Affordable Care Act marketplace.
Immediately after his inauguration, the governor also directly took on Big Pharma with an executive order creating the country's largest single-purchaser system for drugs. The Department of Health Care Services will now negotiate drug costs on behalf of all 13 million Medi-Cal enrollees, and the order "charts the path to enable all Californians, including private purchasers, to join forces with public purchasers."
In line with the governor's emphasis on children and youth, his budget would also strengthen Medi-Cal programs for prenatal and post-partum care, chronic diseases, and behavioral health. Newsom has also pledged to expand the Paid Family Leave program, with a goal of reaching six months of paid leave for a parent or close family member of newborn or adopted children.
The broad Health Access health consumer advocacy coalition cited the budget's "first-of-the-nation steps to help Californians access health care and coverage" and said it represents "an important next step toward a more affordable, equitable and universal health care system" in the state. While Newsom's proposals will "help bring our state closer to the goal of universal health care coverage," Health Access said, patient advocates will be focusing on what more must be done to close remaining gaps in the system.
The California Pan-Ethnic Health Network said it is "thrilled to see Governor Newsom recognize that persistent health inequities have plagued communities of color for so long," and said the governor "is proposing historic investments to ensure that ALL Californians are able to access health care and live well." CPEHN highlighted proposals to fund trauma screening, home visits, integration of behavioral and physical health, and the Black Infant Health Program.
On the human services side, Newsom's budget features a new Working Families Tax Credit that more than doubles the size of the current state Earned Income Tax Credit. Nearly 400,000 more individuals would be covered, with families with children under six receiving a $500 credit.
CalWORKS, the public assistance program providing immediate short-term help and/or ongoing assistance to families with children, would see a significant rise in grant levels, with assistance for a family of three rising from $785 to $888 per month. Earlier cuts to In-Home Supportive Services, which provides help for elderly and disabled people so they can remain at home, would be restored.
Other budget categories marked for increases include housing, where a $1.3 billion one-time expenditure and a new approach to developing affordable housing would be coupled with a five-fold increase in the affordable housing tax credit for developers. State funds would help homeless Californians with emergency shelters, navigation centers, and supportive housing.
With fires and related disasters increasingly plaguing the state, Newsom's budget also raises funds for firefighting and forest management, improving the alert system, and helping local governments prepare for and recover from disasters.