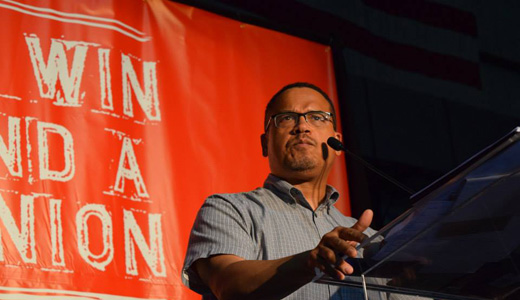 The last several years have been rough on working people, but the folks who make the products, fix the machines, fry the chicken and keep the place clean should never be counted out. Grassroots movements to restore opportunity for working Americans are emerging across the nation.
I listened closely when workers across throughout the country participated in a national telephone call to approve a national strike earlier this year. I could barely contain my excitement as, one-by-one, workers from cities across our country enthusiastically endorsed the strike: "Atlanta? Yes!" "Pittsburgh? Yes!" "Wausau, Wis.?" "Yes, because we can't survive on $7.25!" Their request was a simple one: A $15 an hour minimum wage and the right to organize a union.
When it was time for workers in Los Angeles, San Diego, and San Antonio to weigh in on the strike, they responded with a time-honored resistance chant that should resonate with anyone familiar with historic organizing campaigns waged by migrant workers:
"McDonalds/Escucha/Estamos en la lucha (McDonalds, listen, we are in the fight)." When New York's turn came, a strike leader on the call spoke to the persistent economic insecurity driving this movement: "I'm tired of picking out what bills to pay. I need to pay them all."
And just like that, some of the hardest working and lowest-paid Americans declared they aren't taking it anymore. Although they come from different communities and cultural backgrounds, they're joining together today to fight for a fair wage and a voice on the job.
But why now? What is driving these Americans to take their case to the street?
They know the stock market is at a record high and the purchasing power of the minimum wage is at a 40-year low. They know out-of-touch Republicans in Congress-philosophically opposed to programs that give working people a leg up-aren't going to help. They don't want to rely on assistance from the government or charity, but because they are paid so little, they have no choice.
And they're not alone.
In my home state of Minnesota, Enrique Barcenas struggles every day to feed his family
on $8 an hour. He, like hundreds of Minnesotans, leaves home to work late night shifts cleaning retail stores for contracted janitorial companies. Enrique and his fellow workers can barely afford the basic necessities on the shelves around them.
Enrique and his fellow workers said enough is enough. They banded together to convince Target Corp. to enact a new contractor policy. Enrique worked with his colleagues at
CTUL (Centro De Trabajadores Unidos en Lucha) to help Target establish its new "Responsible Contractor Policy," which says that if you're a vendor who wants to do business with Target, you must pay your workers fairly and allow them a voice on the job.
Workers are leading movements for better pay and higher working standards all over the country. Federal contract workers successfully organized last year to urge Democratic President Barack Obama to sign an executive order raising their pay. The Congressional Progressive Caucus, which I co-chair, supports this campaign. We passed amendments earlier this year in Congress to stop federal contractors who steal from their employees from receiving federal contracts.
And I recently introduced the A. Philip Randolph Employee Empowerment Act, which enhances worker protections by allowing victims of discrimination to receive remedies like back pay, injunctive relief, and punitive and compensatory damages in federal court. By expanding protections for workers we can expand opportunity.
Working people are reclaiming opportunity and the American Dream. Working Americans from different parts of the country and from different walks of life are marching in the direction of more economic opportunity for all.
As the late Minnesota Sen. Paul Wellstone always said, "We all do better when we all do better."
In solidarity.
Rep. Keith Ellison, D-Minn., co-chair of the Congressional Progressive Caucus, represents Minnesota's 5th District (Minneapolis) in the U.S. House of Representatives.
Photo: Fight for 15 National Convention, Facebook page.