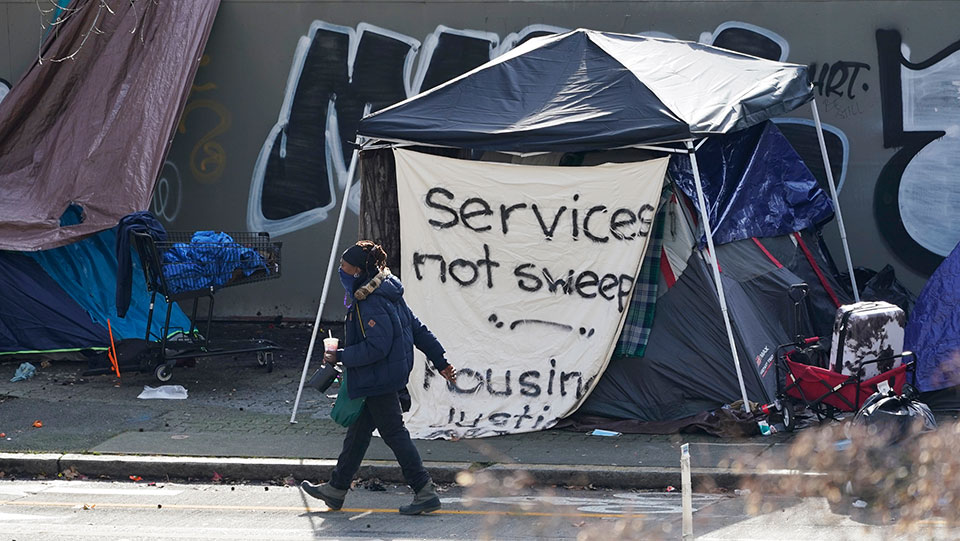 WASHINGTON—Housing, homelessness, and jobs, particularly through apprenticeships available to youth of color, were top topics municipal officials discussed at the recent National League of Cities conference in D.C., New Haven, Conn., Board of Alders member Evette Hamilton reports.
According to materials distributed at the conference in mid-March in D.C., affordable housing and homelessness are national problems, too.
The apprenticeships, which would be union-sponsored and union-taught, were a big pitch to the municipal officials from their top speaker, Democratic President Joe Biden.
Hamilton was one of a delegation of Connecticut municipal officials who traveled to the D.C. conference. Delegates from cities nationwide split their time between listening to top speakers—Biden included—strategizing over common problems in small-group seminars and lobbying their lawmakers on those issues, and on money to pay for them, she said in a telephone interview after its conclusion.
The nation's states and cities got a big funding boost from the year-old American Recovery Act Biden pushed through Congress on virtual party-line votes in early 2021, and the NLC thanked Biden for that aid when he came to speak on March 15.
But another big part of Biden's agenda is stalled. A GOP filibuster threat in the evenly split Senate, backed by renegade Democrats Joe Manchin of West Virginia and Kyrsten Sinema of Arizona, halted Biden's Build Back Better bill. That measure would repair and upgrade the social safety net.
BBB's tax provisions also include higher fines for labor law-breaking, extend responsibility for such illegality to corporate honchos and board members, and broaden what corporate actions—such as captive audience meetings—would become unfair labor practices, the formal name for the law-breaking.
Those didn't come up at NLC. But BBB, which includes money for wraparound services to help the homeless, was a topic of Biden's talk and the Connecticut officials' discussions with their lawmakers.
But all the federal funds don't help people who can't afford to buy or rent a house—and housing prices have skyrocketed. Federal figures show the median national price for a new home rose from $365,000 in the first quarter of 2021 to $414,000 now, or 13.5%. Existing home prices increased from $313,500 to $347,500, or 14%. The median is the point where half the homes are above and half below the price.
Connecticut is even pricier. Price figures in December 2020 for the 100 largest metro areas nationally, gathered by Clear Capital, showed New Haven's median new home price that year was $235,450, just behind the medians in Atlanta, Chicago, and Philadelphia. But New Haven's median rose 17.1% in one year, the second-largest percentage increase in the top 100, behind Oxnard, Calif.
Bridgeport's median home price was double that of New Haven, and just ahead of metro New York and Boston. San Jose ($1.16 million) and San Francisco ($930,000) topped the median price list.
"We are fighting really hard for" affordable housing in New Haven and elsewhere in the Nutmeg State, says Hamilton. Renters, she said, have an even more acute problem, as a concentration of power in just a handful of national rental property firms leaves tenants at their mercy.
Those firms "have snapped up available properties around the nation" and sharply raise rents afterwards, Hamilton explains. "How do we get that built?" she asks about affordable rental housing. "What are the programs that can help first-time homebuyers?"
Homelessness is a separate, though related, problem. If cities are short of affordable housing, they're even shorter of housing for the homeless. But from her decade of service on the New Haven city council's Finance Committee, including as its chair, Hamilton knows the homeless often need more than just a home—an issue she and other delegates discussed with Sen. Richard Blumenthal, D-Conn.
"How do you tailor programs" to help the homeless "to meet people's needs at their particular times of life?" Hamilton asked. "If a person is a substance abuser," for example, they need "additional help" beyond just providing a roof over their heads.
One way is incentives, she said: "We say 'We'll put you into a nicer apartment, but we say you can't use drugs.'" There are other alternatives as well.
"Blumenthal was really excited" by what Connecticut's cities are doing, Hamilton added. He's promoting wrap-around services for homeless veterans as a test case of how to help all homeless.
There's no question there's a problem. A report distributed at the NLC conference calculated, from Census Bureau surveys the U.S. has 580,466 homeless people as of 2020. And while there are 941,871 national beds for the homeless, more than half (545,722) are dedicated to housing formerly homeless people. That left just under 400,000 beds for the currently homeless.
And the National Alliance to End Homelessness calculates that in January 2020, just before the coronavirus pandemic hit, 21 veterans of every 10,000 were homeless. But the rate was five times as high (106 per 10,000) for veterans of color. Overall, The U.S. had 37,252 homeless vets at the start of 2020, with 11,401 of them in California.
That may be an undercount, Hamilton learned in the talks with the senator and his staff. Homeless vets who get "general discharges" because of mental illness, drug use, or problems arising from those factors aren't counted in the overall veteran homeless data.
"Get a positive discharge, and you get medical benefits," she explains. "There are more programs coming down the pike that we'll hear about," said Hamilton.
The NLC heard about apprenticeships, a key push by building trades unions, from Biden.
"He talked about how college is not for everyone," she said. She pointed out that after apprenticeship training—which is paid—plumbers, electricians, and heating, ventilation, and air conditioning workers, for example, "make over $100,000" a year, each.
"We talked about how you get younger people in the workforce to take advantage of them. My partner was in a 4-year HVAC program" and now makes good money. "Biden said 'We need to get our communities skilled up.'"
"The BBB bill would be excellent for our different communities" to, among other plans, fund programs to single out high school students with an interest in the building trades and start them early in apprenticeship training, even before graduation.
That goal, she says, could be a joint local-federal-state effort—and one she plans to work on back in New Haven.