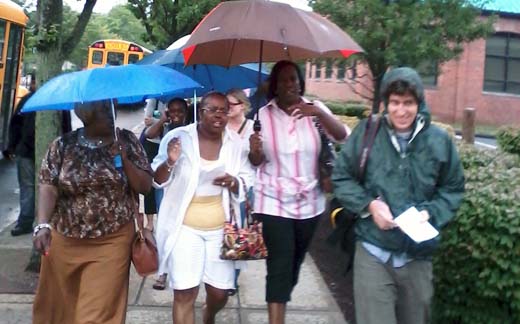 Many years of struggle for good jobs at the site of the former Winchester sporting arms factory, now Science Park at Yale, came together this week when Delphine Clyburn, candidate for Board of Aldermen in Ward 20, led a community delegation to the main building 25 Science Park and demanded 200 jobs for neighborhood residents.
"Winchester was a flowing river of life," she said to her neighbors before the march, referring to the fact that for decades, jobs at Winchester were the economic foundation of the Dixwell – Newhallville neighborhood. Many African American families migrated to New Haven from the south to work at that factory, and just about every family in the neighborhood had someone working there.
Six years ago, the company moved from New Haven leaving the community high and dry. With the future of the neighborhood hanging in the balance, Clyburn and her husband, who raised their children just down the street from the factory, knew that if the residents were not organized, corporate interests would push them out.
Searching for ways to stabilize and improve her neighborhood, Clyburn reached out to former Winchester workers, unemployed construction workers, neighbors and community organizers, and Dixwell Newhall Concern Residents was formed.
At 25 Science Park, surrounded by the community delegation, Clyburn presented petitions with over 300 signatures to a representative of Higher One, the largest company in the complex. Emphasizing the public funds and tax abatements they have received, she stressed they must hire from the neighborhood where they are located. The group was promised that a meeting with the owners would be set this week.
Word spread fast that evening, as campaigners knocked on doors and carried the message of the march and petition to voters. "That is great," said one 45-year resident. "This is what we need."
Clyburn was joined in the action by Aldermanic candidates from nearby Ward 21 Brenda Foskey Cyrus, and Ward 22, Jeanette Morrison. Their Dixwell-Newhallville neighborhood is not the only part of town with candidates running on a pro-worker, pro-community values agenda. Candidates with similar stories are running in 18 of 30 wards across the city. Most never imagined they would run for public office.
Delphine Clyburn got much of her leadership training in her union. A group home worker, she is a steward in Local 1199. Many of the other candidates across the city also became community leaders out of their union experience in Locals 34 and 35 at Yale and in AFSCME.
These candidates are passionate. High unemployment and rising tuition costs have shut out hope for many young people. This year 22 youths have been killed in homicides. The wealth of Yale University stands in stark contrast to the struggling neighborhoods in this poor city.
The large number of challengers in this year's Aldermanic primaries represents an unprecedented effort to save working-class neighborhoods from gentrification, and prioritize jobs and the needs of youth.
In this overwhelmingly Democratic town, the September 13 primary will decide many of the elections for alderman and for mayor. While having worked with the unions in the city in the past, Mayor John DeStefano angered many this year by attempting to privatize the unionized school custodians. He is campaigning hard to maintain a Board of Aldermen that will back his policies.
A banner headline in the New Haven Register this week accused unions of trying to take over the Board of Aldermen. The article charges that union members would impose a union agenda on the city, and would not represent the interests of their neighborhood. Delphine Clyburn's story exposes this argument as false. As a union leader Clyburn understood immediately what was happening in her neighborhood when Winchester moved out. She was able to give leadership because of her organizing skills and her caring for people.
The march on Science Park is a great example of the kind of mobilizing for jobs and youth that is needed in communities across the country to win federal job creation that will benefit New Haven and the nation.
This primary election in New Haven is making history on the side of working people and unemployed of all ages, races, nationality backgrounds and neighborhoods. Already six incumbents have stepped aside.
The new leadership that is emerging in the city is far beyond the candidates themselves. It extends to the hundreds of volunteers who have been knocking on the doors of their neighbors all summer to discuss the issues and build lasting ties. This is the hope for the future.
Photo: Lisa Bergman
Delphine Clyburn leads march for jobs at Science Park along with Brenda Foskey Cyrus and Jeanette Morrison. All three are candidates for Board of Aldermen in New Haven.