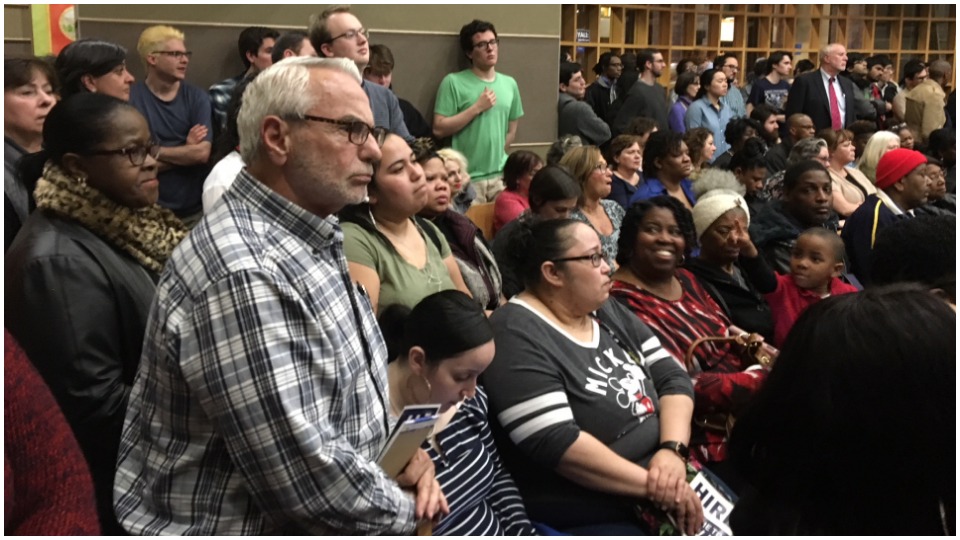 NEW HAVEN, Conn.—Hundreds of community members gathered at City Hall Thursday night to find out if the city's largest employer, Yale University, was on track to fulfill its three-year-old agreement to hire 1,000 local residents by April 2019. The public hearing was held by the New Haven Board of Alders.
While representatives from Yale University gave a presentation that appeared to show the university was getting close to fulfilling the agreed-upon target, many community members and union representatives gave testimony to the contrary and challenged the university to work harder in its hiring practices.
The hiring initiative was the result of work done by New Haven activists, union locals, and community members who took to the streets in 2015, bringing attention to the jobs crisis gripping the city. A leading coalition in this fight is New Haven Rising, which is a grassroots community organization working with UNITE HERE locals 34 and 35.
In response to their pressure, Yale promised to hire 1,000 city residents for permanent, full-time jobs within three years. One condition of the agreement was that fifty percent of those hires would come from seven "in-need" neighborhoods around the city.
On Thursday night, Janet Lindner, Yale's vice-president for human resources and administration, reported that the university has hired 2,591 residents over the last three years and that 627 of those hires came from the designated in-need areas. The report also noted the racial demographics of the hires: 42 percent white, 26 percent Black, 17 percent Latino, and 15 percent classifying themselves as other.
The numbers given by Linder, who said there was still "much work to be done," give the immediate impression that Yale has accomplished its promise to the city. But the details of her report were quickly challenged by multiple caucus members, union representatives, and residents who provided testimony.
Alder Jeanette Morrison, D-22, challenged Linder on her inclusion of construction and contract jobs in the report. Yale reported construction positions counted for 390 of the hires, including 205 from neighborhoods in need. "Those jobs are not secure," Morrison said. "They come and go. What we fought for was to make sure people have full-time jobs. These [numbers] aren't real because people in my community don't have year-round work. … you have all this data, but the devil is in the details," she stated.
UNITE-HERE Local 34 president Laurie Kennington also testified, adding to the voices who found discrepancies in Yale's official report. "We do have to dispute what the university is saying," Kennington said. Diving further into the details of the numbers, she explained that 208 of the 627 hires Yale claimed should not be included because they are short-term jobs and not the agreed-upon permanent and long-term positions.
This would leave the actual number somewhere close to 273 hires over the course of three years. Kennington went on to state that "there is something wrong with the [hiring] system."
Alder Tyisha Walker-Myers, D-23, questioned Linder further, asking, "Why are we not hitting the numbers for neighborhoods in need?" Alder Ron Hurt, D-3, asked, "What's the plan of action to get into the areas with higher needs? There [seems] to be a disconnect with [Yale] hiring managers."
After one and a half hours of testimony, members of the public were allowed to take to the podium and speak about their struggles with finding work and the need for job security. Rev. Scott Marks, Director of New Haven Rising, expressed, "This failure has revealed that the University's hiring process is deeply flawed, and New Haven residents are not being treated fairly. Our residents can succeed in Yale jobs, but the current hiring process erects walls that prevent them from having a fair shot."
Lisa Bergman and Marcey Jones of the New Elm City Dream campaign gave testimony that focused on the youth affected by unemployment. Making the connection between gun violence and lack of jobs, they noted that many young people in the community felt that with more employment opportunities there would be less room for young people to be involved in street violence, which has claimed the lives of many. They urged Yale to "urgently fulfill their commitment of hiring 500 people from neighborhoods in need into permanent union jobs."
Art Perlo, who worked at Yale for 33 years, drew attention to what he considered structural bias in the hiring practices at the university. "Strong commitment to affirmative action for New Haven residents, and especially African-American and Latino residents, is necessary," he said.
Pastor Kelcy G.L. Steele of Varick Memorial A.M.E. Zion Church said, "My community cannot wait any longer for good jobs. Our city hosts one of the wealthiest universities in the world, yet 75 percent of children in our low-income neighborhoods live in households that do not earn a living wage."
The hearing continued for over three hours as members of the community provided testimony proving their push for quality jobs in New Haven is far from over.