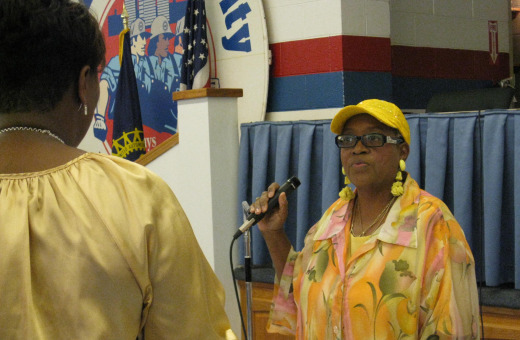 DETROIT – There's a very clear reason the Coalition of Labor Union Women highlighted the Patient Protection and Affordable Health Care Act at its September meeting. "The Affordable Health Care Act extends coverage to tens of millions of women and protects women against gender discrimination such as charging them higher co-pays, deductibles and premiums," said Lindsay Maas, Michigan field director for Planned Parenthood.
Besides Maas, those speaking on the new health care legislation were 2nd district state Sen. Martha Scott and the state Senate candidate in the 7th district, Kathleen Law. All agreed that while the bill was not all progressives wanted, it's an excellent start. It will bring peace of mind to many and has many benefits for women and children.
Benefits cited were protection from being dropped by insurance companies for pre-existing conditions – including pregnancy, the inclusion of children from the ages of 18 to 26 on their parent's plans, funding of community health centers and the expansion of Medicaid to help those on with the lowest incomes – the majority of whom are women.
Maas said the U.S. infant mortality of 6.8 deaths per 1,000 births is one of the highest in the developed world. To counter this, the bill covers pre-natal care and contains support and counseling for needs such as breast feeding. "All women should have a chance for a healthy baby," she said.
She cited the importance of the increased funding of community health centers, including HIV aids clinics and those run by hospitals and Planned Parenthood. Having those clinics in the community is key. "Twenty million new patients could be treated. Your provider will be in the community. We need health clinics."
Preventive health care is an important part of the bill. Maas indicated that beginning September 23 of this year, all new health plans must offer free preventive health care including mammograms for women over 40 (including genetic counseling), pap smears for cervical screening and the HPV vaccine. HPV is the leading cause of cervical cancer, she said.
While labor and other social justice organizations are trying to educate the public and their members about the benefits of the bill, far right politicians are attempting to water it down and stop its implementation. On Tuesday of this week in the U.S. District Court for the Northern District of Florida, 20 states are seeking to nullify the law. The judge has indicated he will likely rule against the government's case to have it thrown out.
Because of this Republican opposition, Law said, "we are going to have to fight," and she stressed the importance of supporting candidates this November who support health care reform. "We have to get out the vote in Detroit and Wayne County. We will phone bank, go door to door, do mailings and more."
Maas said this bill will go down in history along with Medicare and Medicaid but individual states have a lot of "wiggle room" when they implement it. "That's why elections are so important."
Scott summed up the feeling in the room: "It irks me when they call it Obamacare; it's to help all of us. We should all be on board with this piece of legislation."
Photo: CLUW President Millie Hall (John Rummel/PW)