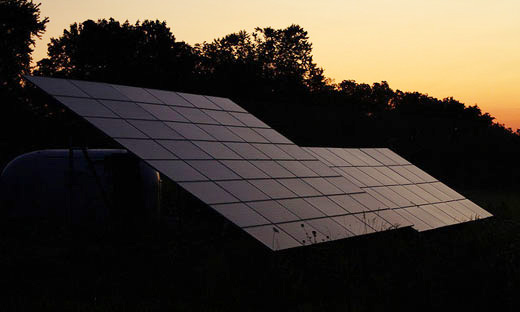 The Garden State's Board of Public Utilities approved a $446 million solar energy proposal on May 28, the same day that President Obama toured the recovering, post-Sandy Jersey Shore. The plan involves turning the state's 800 closed landfills and 10,000 brownfields (abandoned industrial areas) into massive solar farms. As of now, what was once a landfill in Kearny, New Jersey is the first such farm, and currently boasts 12,500 solar panels over 13 acres.
This is one of the first major clean energy movements in the state, which has been plagued with pollution, natural disasters, and a historically severe lack of environmental oversight. The program, called Solar 4 All, is proof that "these projects can be done, and they can be successful," according to Public Utilities Board commissioner Robert Hanna. New Jersey now ranks among the three states with the most solar energy development nationwide.
The Kearny solar farm has been active since 2011, built over a landfill that had lay dormant since 1981. Its solar panels now power some 450 homes with three megawatts of energy.
"We're tackling underutilized property that hasn't been productive, and has been an eyesore," said Todd Hranicka, director of solar energy with state electric company PSE&G. That company manages this solar farm, leasing the property from the New Jersey Meadowlands Commission, a zoning and regulatory agency. PSE&G also operates another solar farm in Hackensack, New Jersey, though that project is not directly linked to the $446 million plan.
PSE&G has also installed solar panels throughout the town of Nutley. The company is also nearing completion of a large solar farm in Trenton. That farm will consist of 5,496 solar panels covering 5.5 acres. PSE&G is currently working on solar farms in Edison, Hamilton, and Linden, as well.
Garfield, New Jersey also outfitted 12 of its municipal buildings with solar panels and entered into a 15-year contract with Amberjack Solar Energy in order to steadily increase the town's reliance on solar power. This may also have been the incentive for the establishment of the town's Weatherization and Green Technology Training Center, which opened in October 2012. The center was originally a disused warehouse, and is now a significant local source of employment, where workers take part in a weatherization-training program and work with clean energy technology. And studies suggest that more jobs are exactly what can be expected as renewable energy moves forward.
According to data from a 2011 report by the Solar Foundation, the solar industry in New Jersey employs 3,000 workers and comprises nearly 500 businesses. Solar power is also generating positive news throughout the country. A 2012 study by the Foundation found that employment growth in the U.S. solar industry grew by 13.2 percent between August 2011 and September 2012.
Solar power may be one of the answers in solving the state's economic problems and immense need for jobs, issues that were exacerbated by Hurricane Sandy, which left New Jersey with a $2.6 billion bill and highlighted the urgent need to update its infrastructure. The state wants to "harden the power grid to withstand extreme storms," as does PSE&G, which wants to spend nearly $4 billion to update its technologies. Part of its modernization efforts certainly include solar farms.
Meanwhile, the state's decision to select landfills and brownfields (instead of farmland) for its solar panels is significant, and has garnered praise from environmental groups and advocates. The plan received support from the New Jersey Conservation Foundation, whose executive director Michele Byers remarked, "New Jersey has some of the best soils for food production, so it doesn't make any sense to destroy that resource in favor of another resource of solar power."
Colette Santasieri, director of strategic initiatives at the New Jersey Institute of Technology, and an environmental and urban planning expert, added, "It adds a level of sustainability by putting these areas back to productive use."
Photo: A solar panel, one of many, in Rosemont, New Jersey. Egan Snow/Flickr (CC)