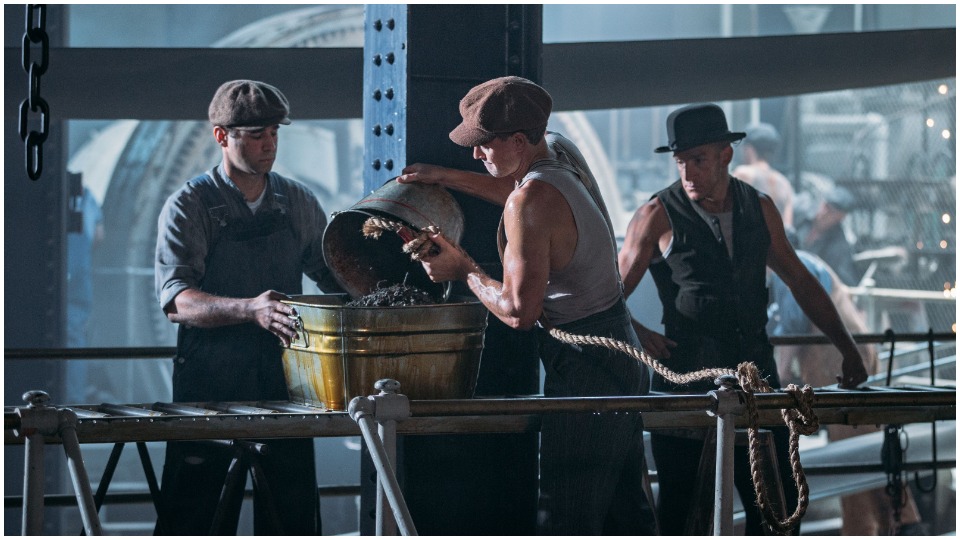 Stand!, a new movie musical about a general strike that took place a century ago, may be more timely than ever, as American unions consider staging industrial actions to oppose any attempt by Trump to seize power.
Director/producer Robert Adetuyi's (screenwriting credits for 2007's Stomp the Yard and 2018's Honey) fact-based film is set in 1919 at Winnipeg, in Canada's Manitoba province. Stand! dramatizes the poor working conditions and low wages of proletarians, from factories to sweatshops to domestic workplaces, that sparked a general strike in the capital city of the province of Manitoba. An early sad number sung by women at their sewing machines and men in a plant laments the hardships of hardworking people who, unimaginably, earn only about $100 per year and are forced to live in tenements. The music is composed by Ukrainian-Canadian Danny Schur, who co-wrote Stand! with Rick Chafe.
The movie belies the misconception many U.S. residents may have of Canada as a homogenous society with a population of mostly British heritage. The characters include immigrants from Ukraine (derided as "bohunks," a derogatory term for central and southeastern Europeans who migrated to North America), Jews, Blacks, First Nations people, and Canadians of British descent. Although some of the latter are on the side of the working class, all of the villains seem to be of English ancestry.
Winnipeg singer Lisa Bell croons a standout song playing Emma Jones, an African-American maid serving in the home of the Anglo arch-reactionary AJ Anderson (New Brunswick-born stage and screen stalwart Paul Essiembre). Due to lynchings, Emma fled north from Oklahoma, only to discover racism didn't stop at the Canadian border. The aptly named Bell is the featured vocalist in the Stand! single and video. (Hear/see her sing the rousing knockout title track.)
The all-important role immigrants play onscreen—as they did in the real-life 1919 walkout—is especially vital for U.S. viewers. Who can forget the vicious assaults Trump has unleashed against immigrants since he announced his presidential candidacy by maligning Mexicans as "rapists" and "criminals," not to mention his racist "Muslim travel bans?" Another central theme of Stand! that remains relevant in our own era wherein whites and other non-Blacks join African Americans in the Black Lives Matter struggle is the central importance of inter-ethnic unity versus attempts by the powers-that-be to "divide and conquer" the masses.
On the other hand, one of the most interesting characters is Native to what is now Canada, Gabriel Chartrand, a returning World War I veteran who is of the Indigenous Métis people. In a bit of canny casting, he is depicted by Gabriel Daniels, son of a Métis leader who participated in a lawsuit that won equal rights for his people. The ex-soldier must choose between the status he believes is conferred upon him because of his having fought in WWI for Canada or throw his lot in with the striking workers.
Women, too, play pivotal roles, as leaders and rank and file strikers. The campaigners include Helen Armstrong (Hayley Sales, whose credits include Deadpool 2) and Rebecca Almazoff (Laura Slade Wiggins, who plays Karen Jackson in the Showtime series Shameless). Eventually, AJ's much put-upon wife Susan Anderson (Robin Ruel of The Pinkertons TV series) also supports the strikers.
Like the anti-racist classic musical West Side Story, the protagonists of Stand! are star-crossed lovers from different backgrounds. But instead of the Puerto Rican Maria and white American Tony, the cross-cultural sweatshop sweethearts are Rebecca, the Jewish labor organizer and 1919 version of an emancipated woman, and Stefan Sokolowski (the Disney Channel's How to Build a Better Boy, Glee) is a Ukrainian Catholic factory worker.
Sparks fly. Rebecca's brother Moishe (Winnipeg actor Tristan Carlucci), who is politically progressive but repressive when it comes to his suffragist sister, and Stefan's old-school father Mike (Gregg Lee Henry, one of those veteran actors whose face you recognize but can't remember his name, whose string of credits include several Brian De Palma movies, including Body Double), act as cock blocks who seek to stifle the inter-religious budding romance they both disapprove of. Will they or won't they? is a key plot point as Rebecca and Stefan's attraction grows against the odds.
Some viewers may feel that the obligatory love affair distracts from the overall class struggle theme, but the relationship is actually well woven into the strands of the story. There is also an interesting plot twist as Mike Sokolowski plays a part similar to that of Victor McLaglen in John Ford's 1935 Irish Republican Army classic The Informer, which was set in Ireland around the time that the Winnipeg general strike happened.
Soviet director Vsevolod Pudovkin grappled with this complicated issue of how to integrate individual characters into a mass drama in 1926's Mother and 1927's The End of St. Petersburg. Pudovkin's political classics culminated with Russia's 1905 revolution and 1917's Bolshevik storming of the Winter Palace, while Stand! leads up to "Bloody Saturday," when Winnipeg's general strikers were ruthlessly attacked on June 21, 1919.
I learned a lot from this progressive picture with its stirring message of class unity. While I knew about the general strikes in Seattle and San Francisco and the sitdown strikes at Flint, I had never heard about this epic chapter of class struggle in Winnipeg. Having said that, I had some reservations regarding Stand!, starting with what seems to me to be inconsistent politics. The Sokolowskis are Ukrainians who have fled the USSR because of the Bolshevik "invasion" of Ukraine. So, they are on the side of the White Russians in that Civil War—but the proletarian Stefan supports the strikers in Canada.
Another example of this trend is in the movie's ongoing debate over which tactics the strikers should pursue: Nonviolent civil disobedience or something more militant? It turns out that the "revolutionary" immigrant agitating for the most militant acts is actually an agent provocateur. Maybe the filmmakers are hedging their bets: They wanted to be pro-working class—but not so much that they and their movie would be accused of making and being "communist propaganda." So perhaps they pulled their proletarian punches?
There is also the question as to whether a musical is the best genre for what is primarily a political story about class conflict. Stand! originated in 2004 as a work of musical theater co-written by Schur and Chafe. But as so often happens with theatrical works, their transition from stage to screen doesn't make full use of the attributes of the motion picture medium. Their work sometimes looks like a low budget movie with modest production values. Created only six years after the Winnipeg general strike, Sergei Eisenstein's highly realistic portrayal of Russian workers' refusal to work and fight for justice in 1925's Strike seems much better suited for conveying this subject matter in a film. Despite the fact that Strike is a black and white silent movie, it is far more cinematic than Stand!
Nevertheless, Stand! is worth seeing because of its fact-based depictions of class struggle, working-class multi-racial unity, feminist awareness, police brutality, and ruling-class villainy. It is an important reminder of a page from labor history, as—if Trump refuses to leave office—American workers may be faced soon with not only a general strike, called by trade unions but a more radical mass strike, a spontaneous uprising of the general population that transcends the bounds of organized labor.
Stand! opens Dec. 1. Viewing information is here. The trailer can be seen here.