ST LOUIS — Almost a decade ago I had tickets to this opera. Following up on the Minnesota Opera premiere in 2007, Opera Pacific in Costa Mesa, Orange County, Calif., announced it and I hurried to purchase tickets. Then, in the wake of the 2008 Recession, Opera Pacific up and folded. I wondered if I'd ever get a chance to see it again.
The Grapes of Wrath is rich in human characterization and detail, and expressed in an enchanting, emotional musical language, with a poetic, vernacular libretto. The 2007 critics hailed it as "a major new American opera, one that is likely to stand the test of time" and "one of the masterpieces of the 21st century," but the Recession discouraged other companies from producing it. It was a long, three-act, cast-of-thousands affair, too daunting an undertaking for most opera houses. It took ten years, but composer Ricky Ian Gordon (no relation) and his librettist Michael Korie did not give up on it. They reworked it, shortening it to two acts and removing a number of subsidiary characters. The Opera Theatre of St. Louis (OTSL) iteration, the world premiere of this new version (seen May 27), puts 34 singers on stage, appearing in nearly twice that number of roles as well as in the choral ensembles.
This consummately American opera is based on John Steinbeck's best-selling novel, which won the Pulitzer Prize for Fiction in 1940, a year after publication. The book still appears on most lists of the best English-language novels of the 20th century. Millions of filmgoers know the screen version starring Henry Fonda as Tom Joad, the young man who achieves an elevated social consciousness and political wisdom through his family's experience of fleeing the Oklahoma Dust Bowl out the old Route 66 and striking out for jobs and a future in California.
Woody Guthrie, Bruce Springsteen, and Mumford & Sons wrote songs based on the novel. Guthrie's son Joady Ben, born in 1948, was named for the courageous fighting family that sticks together through economic suffering, ecological calamity, and death. With its broad historical sweep and inspiring characters, the novel makes a perfect subject for an opera.
A California native, Steinbeck's earlier novels included Tortilla Flat, In Dubious Battle, and Of Mice and Men, which offered pointed commentary on various kinds of injustice. He first conceived of the new novel while working on a series of newspaper articles about the plight of migrant workers in California. He was disgusted by the shantytowns he visited, and equally appalled by the working conditions of so-called "Okies." The Grapes of Wrath was meant to be a wake-up call to the rest of the nation, a "battle hymn" (the title derives from "The Battle Hymn of the Republic").
Critically acclaimed upon publication, The Grapes of Wrath was also highly controversial. Steinbeck was accused of leftist sympathies. He wrote of three "great facts": "When property accumulates in too few hands it is taken away. And that companion fact: when a majority of the people are hungry and cold they will take by force what they need. And the little screaming fact that sounds through all history: repression works only to strengthen and knit the repressed."
Composer Ricky Ian Gordon, 60, has set Langston Hughes poems for chorus, wrote the opera Morning Star about the Triangle Shirtwaist Fire, and A Coffin in Egypt, about race and gender issues in the community surrounding an East Texas cotton plantation. He is currently writing a work for the Metropolitan Opera.
Librettist Michael Korie is well known for gripping theatrical stories, including the musicals Grey Gardens and Far From Heaven and the opera Harvey Milk. He was the recipient of this year's Marc Blitzstein Award given by the American Academy of Arts and Letters, given to artists who use their gifts to raise critical social issues.
The Grapes of Wrath incorporates traditional American instruments like the banjo, guitar and washboard in a tuneful, appealing score with many lush choral numbers and numerous opportunities for soloists to shine in set pieces that receive grateful applause. This is a "number" opera in the tradition of the "Broadway opera" period in the 1940s and '50s, when composers such as Gershwin, Weill, Menotti, Blitzstein, Bernstein, Loesser, Floyd, and later Sondheim, addressed serious themes in musical works the opera houses at that time wouldn't touch.
OTSL went all out to make it look like the great American opera had finally arrived. The set design by Allen Moyer was a marvel to behold: Backdrops, platforms, fabrics, and a magical algorithm of tables and chairs produced a variety of scenes. The old jalopy that brought the Joads out West amassed from out of nowhere and dissolved on cue; the absence of literalness allowed the audience's mind to engage interactively with the music, almost as though listening to the radio. Christopher Allen conducted this complex score with fervor and panache.
Worryin' for this livin' world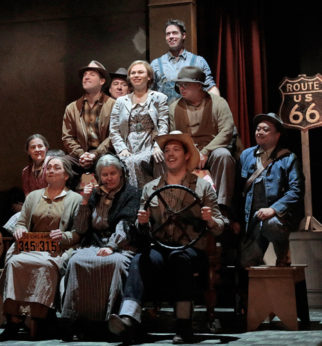 The storyline is generally familiar and I won't recapitulate it here. There are many standout roles, some of tremendous depth, others more fleeting. The central figure is, of course, Ma Joad, sung to powerful effect by Katharine Goeldner, who holds the family together and propels the opera forward. If Joe Hill said, "Don't mourn, organize!" Ma's version of this is to Granma on the death of Grampa: "We can't stop, Mama, just to be sad." Her son Tom grows in awareness with every scene, sung strongly by Tobias Greenhalgh. Levi Hernandez performs the role of Pa Joad, and veteran singer Robert Orth plays troubled, alcoholic Uncle John. The mentally challenged son Noah is sung with empathic feeling by Hugh Russell, and the pregnant daughter Rosasharn is embodied by the crystalline Deanna Breiwick.
The critical role of Jim Casy, the erstwhile preacher who has lost his faith, is played with humor and gusto by Geoffrey Agpalo. Delivering his secular eulogy for Grampa, he pronounces, "He lived the best he could…it's this livin' world I worry for." By taking the blame for a crime he did not commit, allowing Tom to escape, he shows a more Christ-like understanding of life than any soup kitchen revivalist. After his stint in the hoosegow, things turned around for him: "In jail I got it: It all boil down to one little word—need." Steinbeck surely knew Marx's formulation "to each according to their need"—no wonder he was called a red. Casy's example profoundly affected Tom's decision to devote his life to the uplift of working people.
A stunning roadside café waitress number is performed by Jennifer Panara, in which we see how sympathies toward the desperate migrants change, hearts open, and once again, the poor and working people show themselves to be the most generous toward other folks in bad straits.
Most readers (and filmgoers) recall the touching final scene: Rosasharn's baby is born dead, and just then a man and boy appear, the boy pleading for something to eat for his starving father. Rosasharn opens her blouse and revives him with her breast milk. In this staging, the boy and his father are black—notable because they are the only black characters in the opera. Gordon and Korie — or stage director James Robinson — may well have felt that the script was missing any treatment of racial dynamics; the gesture seems to communicate that in the growing magnanimity of poor people in mortal struggle against the banksters and exploiters, this sign of interracial solidarity pointed ahead to a freer future.
The Grapes of Wrath stands at the pinnacle of the new canon of American operas headed (or should be) toward repertory productions in regional and national companies. It is, in Gordon's words, "a sad story that grows, rather than diminishes, in pertinence. The story seems especially resonant at the moment, a story of people being sold a bill of goods. That seems to be what's happening to us now with our huckster government."
Performances of The Grapes of Wrath continue on June 9 and 15 at 8 pm, June 17 and 21 at 1 pm, and June 25 at 7 pm at the Loretto-Hilton Center, 130 Edgar Rd., Webster Groves, Mo. 63119. For tickets and information call (314) 961-0644 or go here. It's suitable for young teens and up. Also in the 2017 Festival Season, which ends June 25, are Puccini's Madame Butterfly, The Trial (by Philip Glass and Christopher Hampton in its American premiere), and Mozart's Titus (La Clemenza di Tito), all sung in English.