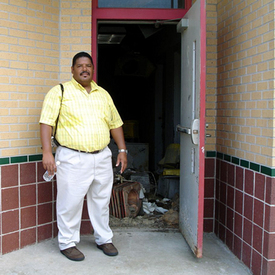 NEW ORLEANS — As a former New Orleans resident with fond memories of this great city, I was horrified as I drove in one year after Katrina. On the outskirts, the fields of dead trees and boarded-up buildings barely hinted at the shocking scenes to come.
New Orleans' nickname is "the city that care forgot." Today, I would call it "the city that capitalism forgot."
Many restaurants are still shut down in the French Quarter. The devastated Ernest Morial Convention Center is open only to a tenth of its capacity. Downtown, I saw new and old office buildings boarded up. Some of the grand old department stores along Canal Street are shut. The old NAACP building is closed. Oddly, the gambling casinos by the Riverwalk are fully operational.
I drove through the famous Garden District. The Tulane University Center and dormitories were boarded up, with reconstruction ongoing. Many houses in the area had signs of damage.
The population is now less than half of the pre-Katrina number.
I drove out to the Lower Ninth Ward. None of the streetlights were working. All businesses along St. Claude were boarded up.
The Lower Ninth Ward, a major cultural center, is the home of world famous artists and musicians. Due to its geographic separation, rich multiracial and multicultural working-class heritage, and governmental neglect, residents have developed a history of activism.
The Martin Luther King Elementary School for Science and Technology housed a branch of the New Orleans Public Library, the first full-service library in the ward. It provided an array of adult classes including GED, reading, math and computer skills.
As I arrived at the school, Doris Hicks, former principal, informed me that I just missed a rally of 300 people "demanding that they open the Martin Luther King Jr. School and library, which have been closed since Katrina." Heaps of rubble were piled in front of the school, with more visible inside.
Hicks told the disappointed crowd that the Louisiana Department of Education planned to relocate the school temporarily "sometime after Labor Day" to an old building that people described as "rat infested." One official expressed the hope that the school would reopen in January 2007.
Eric Johnson, a former sixth grade teacher who grew up in the ward, told me he thought the failure to reopen the school was "politically motivated." He noted that "all of the schools in the more affluent, white neighborhoods are being reopened. This is a predominantly Black neighborhood, and these are the ones that are being affected."
King School suffered no major structural damage, and "it would not take that much to fix this building," he said. "It would be easy to bring in modular buildings so we could reopen this community." Instead, he said, they are being offered use of a building that had substandard conditions before the storm.
"They're not giving us the tools to reopen," said Johnson. "Here we are a year later, and they have yet to begin the work to either clean out or repair a building, a place for us to start school. We were one of the few schools in Orleans Parish that had an acceptable rating and was actually a well performing school. It's kind of odd that you do not provide for one that was producing to come back, one that already had a proven track record."
Johnson, a member of the United Teachers of New Orleans union, has been unemployed since Katrina. He tried unsuccessfully to land an elementary teacher's job in Dallas. "There were plenty of our children there, but the systems wouldn't hire us with our Louisiana credentials," he said.
"I just wish they'd let us get back here. I enjoyed teaching. I figure if these children had an opportunity, these problems they're having now wouldn't be as big of a problem."
The Ninth Ward was one of the first neighborhoods in New Orleans where African Americans were homeowners, Johnson noted. Now 95 percent of the people are homeowners, but they can't afford to buy another house, and they are not being permitted to rebuild, he said.
Rentals pre-Katrina were as low as $300. Now people cannot find anything for less than $1,500. That plus many bureaucratic hurdles are making it impossible for residents to return.
"New Orleans will feel the effect of this," said Johnson. "These are the workers. They are the backbone of the tourism business. You can't rebuild this community without the workers. The problem is that on a worker's wage, you cannot afford to live here."
Johnson worries that the nation is forgetting about the effects of Katrina. If New Orleans fails, so does Louisiana, he said. "How can the other 49 states go with a failing one? You got to pull everyone together."