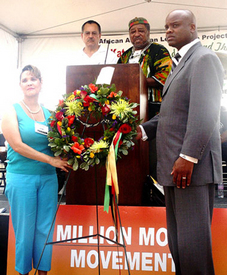 NEW ORLEANS — A five-day observance of the second anniversary of Hurricane Katrina concluded Sept. 1 with protesters marching on the Superdome to demand delivery of promised funds to rebuild homes, hospitals, schools and the city's infrastructure.
It was the second annual "Hands Around the Dome," sponsored by a grassroots coalition. There was an outpouring during the week of marches, rallies, candlelight vigils, and teach-ins exposing the still unhealed wounds of the storm.
Mtangulizi Sanyika, leader of the African American Leadership Project, pointed to the huge Superdome where thousands took refuge from the storm. "That building is a symbol of the pain, the suffering, the neglect and, yes, the incompetence of the people responsible to look after us," he told the crowd. "Never again will we put our trust in a federal government that abandoned us. Never again, however, will we let government off the hook because they must be held accountable."
Sanyika blasted "blame the victim" propaganda about the people trapped for weeks in the Superdome after Katrina slammed the city and the levees broke.
That kind of talk "does not put the Road Home money in our pockets or explain why our schools are not performing. This is where we stand. … We will rebuild this city and make it a livable and equitable and sustainable place to live."
Rep. Juan LaFonta, chair of the Black Caucus of the Louisiana Legislature, warned, "Six months ago, the secretary of state started purging the names of those displaced by the hurricane from the voting rolls. If you want this city to recover, we must protect voting rights."
Frederick "Hollywood" Delahoussaye, founder of the New Orleans Renaissance Society, brought the crowd cheering to its feet as he recited his spoken-word poem, "I Am the Soul of New Orleans," with the lines, "Somewhere between the waterline and the color line is the poverty line. And we stand in line waiting for shelter, safe haven and overdue reparations." The words came to him while wading waist deep up Elysian Fields Avenue after the levees broke, he said.
Judge Ernest Jones said, "A breach of contract between the people and the government led to the breach in the levees. The hurricane was a natural disaster. The breach in the levees was a man-made disaster."
City Councilmember Cynthia Willard-Lewis decried the "cronyism and corruption" that has crippled the rebuilding, a reference to Halliburton and other corporations closely tied to the Bush-Cheney regime. Her voice rising in anger, she vowed to continue defending the poor and working people in New Orleans.
As dark storm clouds rolled near, the crowd walked around the giant stadium singing, "This Little Light of Mine."
LaFonta told the World the Black Caucus, NAACP and other civil rights groups have filed a voting rights complaint with the Justice Department. The purge was not pre-approved by the Justice Department, as required by law, he said. "I look at this as a partisan attack. New Orleans has been a center of Democratic and minority leadership. New Orleans has been frustrating for the Republicans because they could not get their hands around Louisiana because of the Democratic vote in this city. Historically, we've been an anchor. Purging voters here is like taking the legs off a table in terms of minority leadership nationally."
Donatus King, president of the New Orleans NAACP, told the World the main struggles in New Orleans are affordable housing, health care, quality public schools and voting rights. "Not only are they purging the voter rolls, they are changing people's polling places. It's an issue that impacts the rights of all of us. That's what democracy is built on: voting rights."
It was Labor Day weekend and Ron Daniels, leader of the Institute of the Black World 21st Century, praised the AFL-CIO for helping rebuild the city. "It's a big challenge," he said. "The income gap between rich and poor is getting wider. Globalization is destroying jobs and driving down wages. Labor has to keep pushing for jobs that provide a living wage."
Home care provider Ellen Rollins, a member of SEIU Local 521 in California, flew in with another SEIU member. "This is a good place to be Labor Day weekend," she said. "Our local sent us here to support all the displaced people who want to come home and can't. I went down to the 9th Ward. The government has no intention of rebuilding there. It's all corporate greed and avarice. Bush flew in. He should have stayed home and sent the money instead."
greenerpastures21212 @yahoo.com