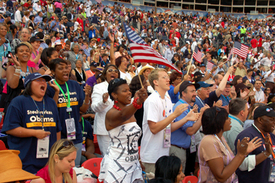 Obama movement vows to 'put Barney Smith before Smith Barney'
DENVER — Sitting in Invesco Field at Mile High here Aug. 28 was awesome. The significance of Barack Obama's historic presidential nomination was reflected in the inter-generational crowd of 84,000, many union members, all races and nationalities, moved to activism by their own life stories under the cruel, greedy and corrupt Bush administration.
"A new revolution has begun…" said a text message scrolling across the big screen.
Looking around at this beautiful mosaic of America, it was clear that a much needed and long fought for political realignment is underway in our country.
Describing his plight, a lifelong Republican from Indiana wrapped it up in a nutshell and got a standing ovation when he said, "We need a president that puts Barney Smith before Smith Barney! The heartland needs change and with Obama we're going to get it."
The victories of the Aug. 28, 1963, civil rights march opened the doors for thousands of women, African American, Hispanic, Asian-Pacific Islanders and youth to win election to public office from the local level all the way to Congress. But divisive and racist corporate right-wing strategies especially targeting the South and rural communities are yet to be broken. John McCain, claiming to be for change, represents this old style politics of control.
When Barack Obama declared to the stadium and worldwide television audience, "This election is not about me it is about you," he brought everyone to their feet with hardly a dry eye in the crowd.
The challenge before this broad, all people's movement is to turn out the maximum vote in every state and flip key states in the West, Midwest and South from red to blue. Colorado, with a large Latino vote, and a governor committed to alternative energy, hopes to lead the way.
The impact of the labor movement echoes large in this new expanded electorate. The tone was set by a united AFL-CIO, Change to Win, National Education Association rally which exposed McCain's 17 percent labor record and championed Obama's 98 percent. McCain voted against the Employee Free Choice Act which Obama co-sponsors.
Delegates were urged to speak forthrightly with co-workers who may be influenced by racism. Barack Obama is the candidate who represents their needs. Michelle Obama's working class family story adds to the message.
Women's, youth, African American, Hispanic, senior and veterans' caucus meetings heard reports that their main issues got into the platform. Hillary Clinton was cheered as she urged those who supported her in the primary to now join her and work as hard for Obama and Biden.
This movement goes beyond the confines of the Democratic Party. It is a product of years of work to create a broad, all peoples front against the ultra right.
A new direction in the country is vital to open up the possibilities for a people's movement to win basic change in foreign and domestic policy.
Within this context many convention delegates participated in workshops, rallies and marches that set the stage to continue the momentum post-election.
A peace march of 10,000 called for immediate withdrawal from Iraq, full veterans' benefits and reparations for the Iraqi people.
An immigrant rights march of thousands led by former Denver Mayor Federico Pena presented its demands for comprehensive immigration reform and a path to citizenship.
A labor rally called for passage of HR 676 for universal single payer healthcare "The majority of people in our country want HR 676. It's just a matter of time," said Rep. John Conyers.
Recalling the 1963 march on Washington at which he was a speaker, Rep. John Lewis told the crowd at Mile High Stadium, "For those of us who stood on the steps of the Lincoln Memorial this moment is a testament to the determination of the people to make a difference."
Referring to the nomination of Obama as a down payment on the dream, Lewis exclaimed, "We must march again on Nov. 4 to the ballot box in every city like we've never marched before to elect the next President of the United States."
The McCain campaign will spend millions to forestall this political realignment.
It is up to each and every one who demands a change in priorities from war to rebuilding, from fear to hope, to join with co-workers, family, neighbors and friends to realize the spirit of Denver and turn around our country in the next 59 days.
joelle.fishman @pobox.com