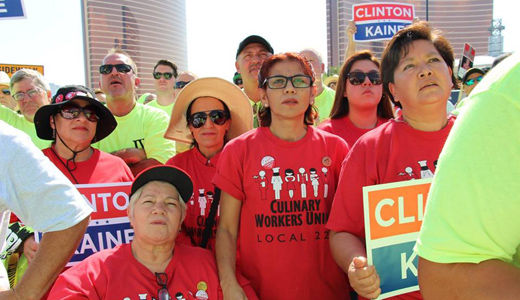 Do Union members really support Donald Trump as much as Trump says they do? 
Donald Trump said and continues to reiterate, "I have tremendous support within unions…every poll shows it."
Everyone knows that Trump likes to stretch the truth a little and nobody loves Trump more than Trump, but the truth is that union members really don't like the idea of a Trump presidency.
On September 7, the AFL-CIO released new internal polling data that shows "Trump is at 36 percent among union members in the five battleground states of FL, NV, OH, PA and WI."
Just as many other Americans are turning away from Trump's extreme rhetoric and xenophobic statements, among union members Trump has lost over five points in these key states over the last two and a half months.
"We are educating our members and demonstrating the dangers Trump's reality show poses to our reality. It's making a difference. And we're not letting up," wrote the AFL-CIO. "'Every poll shows it.' He can keep saying it, but like most things with Trump, the claim is just hollow words – and it won't come true on Election Day."
Trump is not really as pro-union as he claims.
Union members across the country are watching the ongoing labor dispute between Trump's Las Vegas Hotel and the Culinary Workers local 226 (Unite Here) as real guide to how Trump works, or doesn't work, with unions.
In April, after Trump Hotel Las Vegas disputed the union election, the Regional Director for the office of the National Labor Relations Board (NLRB) covering Las Vegas overruled the Trump Hotel Las Vegas and certified the Culinary and Bartenders Union as the legal collective bargaining representatives to the more than 500 workers at the hotel.
Since then Trump Hotel Las Vegas has tried to "negate their employees' right to unionize and instead of recognizing the results of the federal government union election, hotel management has undertaken a hostile anti-union campaign" wrote the Culinary Workers Union in recent press release. "Employees of the Trump Hotel Las Vegas are calling on their boss, the Republican Presidential nominee Donald Trump, and co-owner Phillip Ruffin to negotiate a fair union contract."
The Culinary Workers Union is also working to "educate and inform the travel industry about the serious ongoing and escalating labor dispute" at the Trump International Hotel in Las Vegas.
In July, the Culinary Workers Union and AFSCME teamed up to hold a rally highlighting Trump's union busting tactics. Maria Mendoza was one of the thousands who showed up to protest the Trump's failure to negotiate.
"I work hard everyday, but with the low wages I'm paid, I really struggle to provide for my daughters," said Maria Mendoza, a guest room attendant at the Trump Hotel Las Vegas. "Mr. Trump says that he wants to 'Make America Great Again,' but I work for him and want him to negotiate a union contract so my coworkers and I can have fair wages, job security, and good health benefits.
The ongoing battle between union members and Trump's Las Vegas hotel is not the only thing that union member have taken offense to. Earlier in the campaign Trump professed his love for "Right to Work." Trump told the crowd that Right to Work is "better for the people" and "gives great flexibility to the companies."
Union members have been fighting for decades against these so-called Right to Work laws. Right to Work (for less) does nothing but lower wages, reduces a workers chance to have any type of retirement benefit, weakens collective bargaining, and is just a tool to bust unions.
So-called Right to Work laws hurt all workers.
"The average worker in states with Right to Work laws makes $5,971 (12.2 percent) less annually than workers in states without right to when all other factors are removed than workers in other states," stated the AFL-CIO.
Trump's continued support of anti-worker policies like Right to Work and his company's refusal to negotiate with workers will only drive down his support among union workers further.
Reposted from NH Labor News.
Photo: Culinary Workers Local 226 Facebook page.