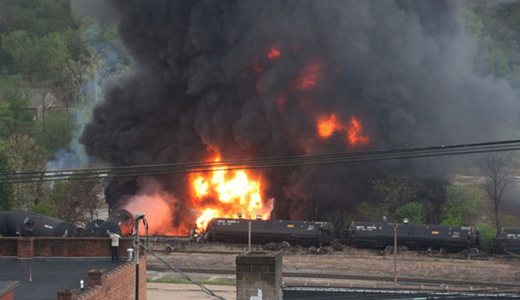 On the heels of two recent oil train derailments in Ontario and West Virginia, the Center for Biological Diversity released a report on Feb. 19 offering new details and insights into the immense risks posed by unregulated and expanding oil-by-rail transport. The report, Runaway Risks: Oil Trains and the Government's Failure to Protect People, Wildlife, and the Environment, notes that with the increasing use of oil trains comes the chance of an uptick in derailments and explosions – and that it's innocent U.S. citizens who are going to feel the burn.
According to the report, an estimated 25 million Americans live within the one-mile evacuation zone recommended by the U.S. Department of Transportation in the event of an oil train derailment. And animals are at risk as well: oil trains pass within a quarter mile of protected critical habitat for at least 57 threatened or endangered species, including the California tiger salamander, California red-legged frog, piping plover, and bull trout. Oil trains also pass through 34 national wildlife refuges, as well as important lakes, reservoirs, and other bodies of water.
"These oil trains pose a massive danger to people, wildlife, and our environment, whether it's trains passing through heavily populated areas or some of our most pristine landscapes," said Jared Margolis, attorney for the Center for Biological Diversity who focuses on the impact of energy development on endangered species. "The federal government has failed to provide adequate protection from these bomb trains. We clearly need a moratorium on crude-by-rail until the safety of our communities and the environment can be ensured."
Noting the lack of safety regulations and oversight, he added, "People, wildlife, rivers, and lakes will pay a huge cost for the government's failure to act. Regulators know it's only a matter of time before the next explosive oil train accident. They need to act now to protect Americans and our environment."
The report went on to make several recommendations to remedy some of the ongoing issues, including doing away with the outdated DOT-111 tank cars involved in many fiery derailments, and to issue a moratorium on this form of oil transport until new tank car standards can be issued that call for rupture-proof cars and thermal protection to withstand any and all accidents. The report also declared the need for a more comprehensive response plan in the event of such a disaster, and the establishment of speed limit zones in all population centers.
Mollie Matteson, a senior scientist with the Center for Biological Diversity, discussed the need for significant safety reforms, remarking, "Back-to-back fiery derailments involving crude oil trains should be an unmistakable wake-up call to our political leaders: stop these dangerous oil trains and stop them now. People's lives are at stake, clean drinking water is at stake, and the wellbeing of towns and wildlife along thousands of miles of rail line are directly in harm's way of this unchecked, reckless increase in oil transport by rail."
"The potential harm from oil train derailments cannot be easily ignored," the report stated. "The amount of crude oil being transported by rail throughout North America has increased dramatically in recent years. In 2008, only 9,500 rail cars of oil were transported on America's Class I railways. In 2013, more than 400,000 rail cars of oil traveled the nation's railways, representing a more than 40-fold increase. Recent reports indicate that [it's] continuing its dramatic escalation."
And with pipelines having nearly as notorious a reputation as trains, the Center is quick to add that there is no truly 'safe alternative' to the rail car method of oil transport. Margolis concluded, "The reality is there's no way to safely transport the highly volatile crude. Instead these extreme fossil fuels should be left in the ground for our safety and to avoid the impending climate catastrophe."
Photo: Luann Hunt/AP