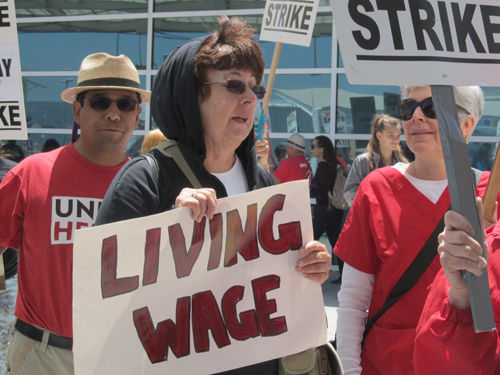 WASHINGTON (PAI) – At the direction of President Obama, the Labor Department is readying proposed rules – probably to be unveiled within a month – to greatly expand who can get overtime pay. Obama asked DOL to tackle overtime pay in March 2014.
The proposals are now under White House review before DOL unveils them, said Betsey Stevenson, a member of the President's Council of Economic Advisers. They could add millions of people to the rolls of workers eligible for overtime pay.
DOL wants to broaden overtime eligibility by both raising the pay cap beyond which a worker cannot get overtime and by making salaried workers – not just hourly workers – eligible to get overtime, too, she told a Politico [a political journalism organization that covers the issues, ideas and personalities behind U.S. politics and policy] panel on labor and the future economy on May 6.
While she did not give a figure, other panelists said that DOL could virtually double the income cap from $23,660 yearly, set by GOP President George W. Bush's Labor Department a decade ago. That's $455 per week. Bush also banned most salaried workers, regardless of pay level, from getting overtime – time-and-a-half-for any hours they work over 40 per week.
As a result, millions of workers lost their eligibility for overtime pay, and they weren't all highly paid, either. An Economic Policy Institute analysis produced at that time showed thousands were in low-skill, low-pay occupations such as newspaper editorial assistants. EPI adds that now, only 11 percent of salaried workers qualify for overtime. In 1975, two-thirds did.
Bush's move produced protests from workers and unions, with then-AFL-CIO Secretary-Treasurer Richard Trumka, in shirtsleeves, leading a demonstration against Bush's overtime pay curbs on a sun-splashed summer day in front of the Labor Department.
Lifting the overtime pay cap and extending overtime to hourly workers "will help a lot of workers who are in the middle of the wage scale," said another panelist, Jared Bernstein, a former top EPI economist and a first-term economic advisor to Vice President Joe Biden.
Raising the minimum wage, a plan that labor, Obama and congressional Democrats all back, is an obvious way to aid low-income workers, Bernstein said. "But it's tricky to think of policies that would help raise the median wage," Bernstein added.
Stevenson said the overtime pay plan is part of Obama's agenda of raising the pay for all workers. But she admitted that just raising pay is not enough. While median pay – the point where half the workforce is above and half below – has declined slightly for 30 years, she said, median compensation has declined even more.
Median compensation includes not just pay, but benefits such as paid sick leave, vacation time, health insurance and pensions. Forty-year median compensation figures were not on Labor Department or Census Bureau websites, but median hourly pay for non-management workers peaked in 1973 at $22.41, adjusted for inflation. Last year, it was $20.67.
Photo: PW