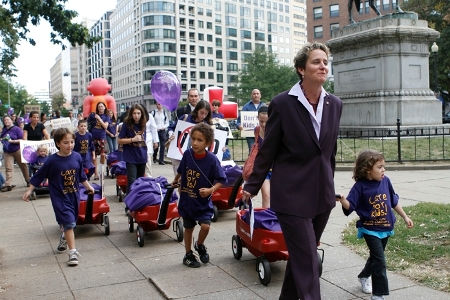 WASHINGTON (PAI)–The Service Employees will "refocus" itself by pumping $4 million into organizing African-American and Latino workers, adding funds to their political campaign chest for selected races, and by trying to repair relations with the rest of organized labor — with one exception — says new President Mary Kay Henry.
In her first remarks after being elected May 8 to succeed Andy Stern, Henry said her elevation "marks a renewed commitment to our union's core mission: To improve the lives of all workers who are struggling to make ends meet in this economy. Working people are facing hardships we haven't seen in generations…and we can make an even bigger difference in the lives of workers in America."
In an hour-long telephone press conference after her election by the union's 73-member board, Henry added the 2.2-million-member organization would also "refocus" its political operation to continue at the grass-roots level between elections, just as it did in the battle for health care revision. Its total political spending will be $44 million in this election cycle, including a new $4 million special fund for selected gubernatorial, Senate and state legislative races, targeting states important in redistricting.
And SEIU also would "refocus" — her word — on organizing in the private sector, particularly in occupations, such as taxi drivers, where community activists have built fledgling organizations but which could use the larger union's might on their side.
Henry, 52, a Los Angeles resident and a Detroit-area native, was the union's International Vice President. A career SEIU staffer and official since 1979, Henry succeeds Andy Stern, who stepped down in the middle of his term.
Henry defeated Stern's chosen successor, Secretary-Treasurer Anna Burger, who withdrew from the race almost two weeks before. "I'm deeply committed to Burger and I want to re-forge a united leadership team to tackle all our initiatives," Henry said. Terms of both Henry, the first female SEIU president, and Burger expire in mid-2012.
Stern strongly endorsed Henry in a statement the union issued. "From her earliest days organizing workers to her partnership in growing the strength of SEIU, Mary Kay's leadership has always been marked by her singular ability to connect with each and every person she meets to bring out their best," he said.
In politics, Henry said the special $4 million fund would be targeted to races identified as key in this year's election cycle: Gubernatorial races in Illinois, California, Arizona, Ohio, New York, Connecticut and Florida, U.S. Senate races in Illinois, Missouri, Colorado, Nevada and Pennsylvania and state legislative races — due to redistricting in 2011-12 — in Michigan, New Hampshire, Nevada, Florida and Texas.
The union's new organizing focus would have two aspects, she added. One is to respond to its own African-American and Latino members, who said unorganized colleagues would benefit from community-based organizing in occupations such as taxi drivers and with groups such as free-lance writers.
The other would be to explore joint organizing with other unions in largely unorganized industries. Henry particularly mentioned partnering with the United Food and Commercial Workers as a partner, but named no specific targets. UFCW and SEIU jointly campaign against the abuses of Wal-Mart, the monster anti-worker retailer.
Henry takes over SEIU at a time when it claims to be the fastest-growing union in the U.S., and the largest, though the National Education Association, with 3 million members, would dispute that. But Stern also put SEIU through bitter battles with other parts of organized labor, a point Henry recognized.
She said she would strive to repair relations not by changing structures, but by "listen and learn conversations" with all unions, in and out of the AFL-CIO and Change To Win, on common issues for workers. But SEIU, Henry added, is "fully committed to Change To Win and we have no intention today of returning to the AFL-CIO."
SEIU led six other unions — the Teamsters, Laborers, UFCW, UNITE HERE, the Carpenters and the Farm Workers — out of the AFL-CIO and into Change To Win in 2005. The Carpenters have since left CTW and UNITE HERE split, with two-thirds of its members returning to the AFL-CIO.
"I intend to lead on settlement of the dispute" with UNITE HERE "in coordination with members of Workers United," Henry said, referring to the third of UNITE HERE members that followed former union President Bruce Raynor into SEIU. Raynor is now on the SEIU board.
Henry's one exception to repairing relations with other unions is the National Union of Healthcare Workers. NUHW was formed by leaders of what was SEIU's largest local, the 150,000-member United Health Care Workers-West, whom Stern removed from office. He charged they misappropriated union money. "Come with me and talk to workers who see their union being torn apart," Henry said of NUHW.
Before being bounced, the NUHW officers said Stern and Henry negotiated major contracts with California health care providers over the heads of the rank-and-file. Henry denied that charge. SEIU won a $1.25 million court judgment against NUHW for misuse of salaries, but its misappropriation charges against NUHW were tossed out.
Photo: New SEIU President Mary Kay Henry was a leader to expand health care for children, SCHIP. (SEIU)