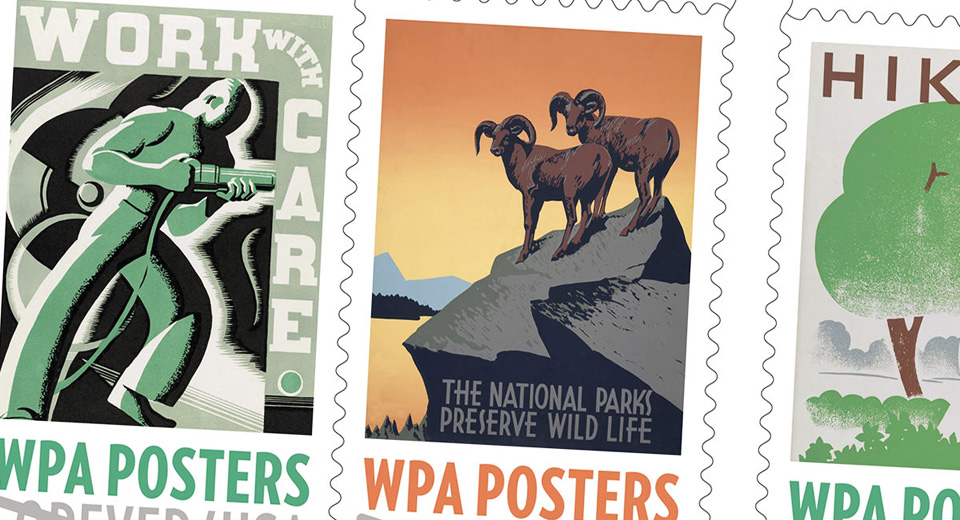 The U.S. Postal Service has recently released a booklet of 20 stamps of 10 different designs of posters from the Work Projects Administration, striking and utilitarian artworks created by Depression-era artists employed by the Poster Division of the WPA Federal Art Project. The WPA put people back to work—in construction (bridges, dams, federal buildings), nature preservation, theatre for a nationwide underserved public, murals in local post offices, and other arts.
The WPA Posters stamps are "Forever" stamps, always equal in value to the current first-class mail one-ounce price, which is currently 49 cents. The book of 20 sells for $9.80.
The posters were originally created to support the civic-minded ideals of President Franklin D. Roosevelt's New Deal program. Each stamp features one of these posters conceived and printed in workshops across the nation under the WPA. Formed in 1935 as the Works Progress Administration, renamed the Work Projects Administration in 1939, the WPA lasted until 1943. By then, the function of its Federal Art Program Poster Division had been fully absorbed into the World War II effort.
During the Depression, WPA artists designed and printed some two million posters from approximately 35,000 designs. Most of their work was printed by silkscreen, an economical medium that saw significant innovation at the hands of Poster Division artists. The posters featured on these stamps come from the Prints & Photographs Division of the Library of Congress, which houses the largest collection of WPA posters.
Themes featured on these stamps include public ownership and management of airports and docks, worker safety, visiting the local zoo, a vision of prosperity based on a takeoff on the initials WPA, "Work Pays America," and travel to beautiful, unspoiled national parks and other areas of the country.
Ironically, these stamps featuring images from approximately 80 years ago appear at a time when privatizing air traffic control is under discussion at the federal level, when safe working conditions are under assault in the name of corporate profit, national parks are severely underfunded, and federal wilderness lands are under threat of being given back to the states to be sold off for commercial exploitation.
Antonio Alcalá served as the art director of the project and designed the stamps with Maribel O. Gray. The stamps were issued at Hyde Park, N.Y., the home of Franklin and Eleanor Roosevelt, on March 7th of this year. For more information about the WPA Posters commemorative series, visit USPS.com.