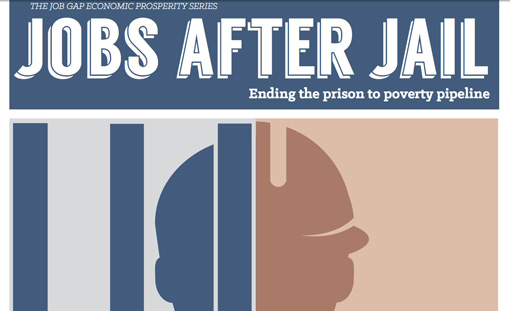 SEATTLE – The Alliance for a Just Society, a nationwide network of social justice organizations, released a study Feb. 23 that enumerated many barriers those with criminal records have to navigate in order to "attain a measure of financial stability." The results shed light on how "tough" criminal justice policies can ruin a person's life long after they've paid their debt to society.
Criminal justice not withstanding, the 44-page report cites an earlier Alliance for a Just Society document that found that for every job that pays $15/hour there are seven job seekers. Add onto that the fact that the average state has approximately 123 restrictions for those with felonies and you have a recipe for poverty, not to mention "discretionary restrictions and restrictions for non-felony records."
The detrimental effect of a criminal record doesn't end with jobs. Food stamps and affordable housing restrictions also dog ex-convicts' ability to reintegrate into society.
Altogether, these restrictions have an outsized effect on people of color.
"Though people of color make up 39 percent of the total population, they make up two-thirds of all state and federal prisoners….. One in 87 white men are currently incarcerated, black men and Latinos have significantly higher rates of one in 12 and one in 36, respectively."
The study found that, "in total, there are over 6,000 mandatory employment restrictions for felonies," with each state having "at least 41 mandatory restrictions on record, and several states having more than two hundred."
Among the most commonly restricted occupations are categories like law enforcement, health care and legal services, all of which have an average wage above $15 an hour.
"These categories also include employment in the top 60 occupations with the most projected job openings, like licensed vocational nurses, police officers, and lawyers. Restrictions in these occupations can impose a significant burden and restrict higher-wage employment for those with conviction records."
The study goes on to break down the state-level restrictions of selected states. Among them, Hawaii, North Dakota and Utah which tie for state with the fewest restrictions, to Louisiana which "far exceeds the number of restrictions in any other state, with 389 mandatory restrictions."
Alliance for a Just Society ends its study with prescriptions for legislative action to ease the lives of those who have done their time. Among their suggestions is the elimination of lifetime legislative bans to employment, increasing the minimum wage to $15 an hour, and "banning the box."
"Banning the box" refers to ending the employment practice of asking for a potential employee's felony status on the job application. The movement that has risen up around this issue has succeeded in passing such ordinances in thirteen states, as well as at the company level at corporations such as Target.
"Expanding job opportunities for workers with prior records is fair for our society and smart for our economy," said Paul Heroux. "Making sure the path to employment is not blocked for people with records will restore dignity and hope to our communities. I should know. It made all the difference in the world to me." Paul Heroux is a semi-retired painter/handyman, a felon rights advocate, and a veteran of the prison system.
Main Street Alliance, a network of small-businesses for social justice, have been organizing around the issue of disenfranchisement from the employer's perspective.
"Having a criminal record doesn't mean you're a bad employee. In my experience, people with criminal records are often model employees. They are frequently the most dedicated and conscientious. A lot of doors are shut to them, so when someone gives them an opportunity, they make the most of it," said Jim Houser, owner of Hawthorne Auto Clinic in Portland, Oregon. He is a member of the Main Street Alliance National Executive Committee.
"As a small business owner, I know that when people have opportunities to succeed, the local community and economy thrives- and in turn, my company thrives."