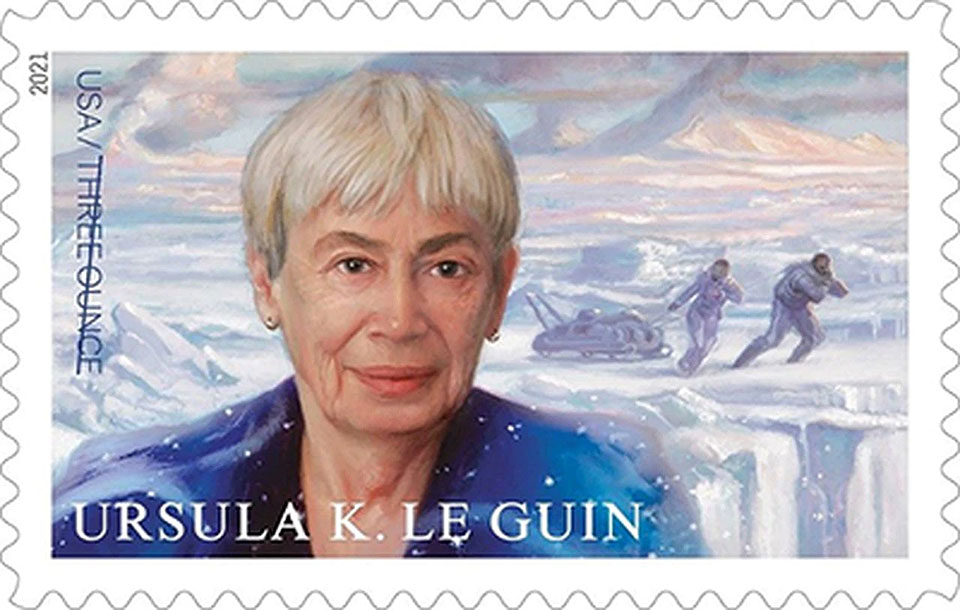 The U.S. Postal Service (USPS) has honored the cross-genre writings of Ursula K. Le Guin, the acclaimed science fiction and fantasy author, with the 33rd stamp in its literary series. The stamp was released on July 27 in Portland, Ore., the author's longtime home, where she died on Jan. 22, 2018.
The stamp is a "Forever" issue selling for $.95, designed for use on 3-ounce mail. It will retain its value even if USPS rates for this weight increase.
Le Guin authored a long catalog of award-winning speculative fiction works, including The Left Hand of Darkness and The Earthsea Cycle. The stamp features an illustration of Le Guin based on a 2006 portrait. The background of the stamp is a scene from Left Hand of Darkness, published in 1969. It was designed by Donato Giancola.
In conjunction with the new stamp release, USPS Chief Financial Officer and Executive Vice President Joseph Corbett was quoted saying, "Ursula once said she wanted to see science fiction step over the old walls of convention and hit right into the next wall—and start to break it down, too. She felt the ideas represented in her fiction could help people become more aware of other ways to do things, other ways to be and to help people wake up."
Le Guin's writings have been translated into numerous languages throughout the world, and in 1997 she herself published a translation of the Tao Te Ching, motivated by her sympathy for Taoist thought. A political nonconformist, she probably would most accurately be described as an anarchist.
Ursula Kroeber was born on Oct. 21, 1929, in Berkeley, Calif., to author Theodora Kroeber (1897-1979) and UC Berkeley anthropologist Alfred Louis Kroeber (1876-1960). In 1961 Theodora Kroeber published the highly influential book Ishi in Two Worlds, an account of Ishi, the last survivor of the Yahi people of Northern California after the rest of its members had been killed by white colonizers. Alfred Kroeber had befriended and studied Ishi between 1911 and 1916 when Ishi died.
Le Guin was educated at Radcliffe College, and later received a master's degree from Columbia University. She began exploring the potential of science fiction and fantasy through writing in the early 1960s, publishing her seminal first novel, Rocannon's World, in 1966.
Her literary career extended over a span of nearly 60 years and included over 20 novels and over 100 short stories, as well as poetry, criticism, translations, and children's books. Thematically, she explored gender identity, androgyny, sexuality, feminism, race, coming of age, and alternative political structures, such as in the 1974 utopian novel The Dispossessed.
Author Michael Chabon referred to her as the "greatest American writer of her generation."
A writer of high principles, in 1977 Le Guin refused a Nebula Award for the story "The Diary of the Rose" to protest the Science Fiction Writers of America's revocation of the Polish science fiction writer Stanisław Lem's honorary membership. She attributed the revocation to Lem's criticism of American science fiction and willingness to live in the Eastern Bloc, saying she felt reluctant to receive an award "for a story about political intolerance from a group that had just displayed political intolerance." The organization tried to explain that his honorary membership had been revoked only after he had begun to be published in the United States and was thereby eligible for paid membership.
In 2009, she resigned from the Authors Guild after it endorsed Google's book digitization project, claiming that the Guild had abandoned "the whole concept of copyright" and had given it up "to a corporation, on their terms, without a struggle." Speaking in 2014 at the National Book Awards, she criticized Amazon's oligarchic control over the publishing industry. Le Guin was a longtime member and advocate for the National Writers Union.