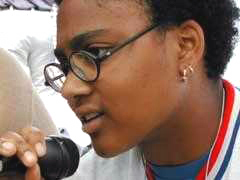 Erica Smiley is looking forward to her new job as national coordinator of the Young Communist League USA. Smiley, 26, was elected at the YCL's national convention Memorial Day weekend, succeeding outgoing coordinator Jessica Marshall, who was cheered by the delegates for her outstanding work.
The World interviewed Smiley by phone from her new home in New York City. For the past five years she has been living in Washington, D.C., where she worked most recently as a media organizer with Jobs with Justice and learned the ins and outs of working with people. She is also a die-hard Washington Redskins and Baltimore Orioles fan.
Smiley is enthusiastic about her move to the Big Apple. "This is great," she said. "It's a change, and an adjustment, but there is a lot to offer here."
She was born and raised in Greensboro, N.C. Her father is a music professor at North Carolina Agricultural and Technical University and her mother works as a transportation planner for the city of Greensboro.
Smiley said she did not become political until high school, where she played sports and joined "nerdy school clubs."
She went on to college and graduated from the University of North Carolina at Chapel Hill, where she majored in political science and minored in mathematics.
Shortly after graduating from UNC, Smiley started doing local canvassing for a community group and became active on the coordinating committee of the Black Radical Congress.
Later, as field director of Choice USA, she organized young people to stand up for women's reproductive rights. Later she briefly worked with child care providers as an organizer with SEIU, before taking the media organizer position at Jobs with Justice.
Working with JwJ was "one of the best experiences," she said, adding that it provided "a good place to really expand on my own ideology, talking to everyday people in a language they understand."
Smiley first came across the YCL in 1999 at a United States Students Association legislative conference, where she met some YCLers at an information table.
It wasn't long before Smiley joined the YCL.
"A lot of people looked like me, Black and Brown, it was very attractive," she said about the YCL.
"I had never studied Marxism up to that point, it wasn't really on the radar," she said. "I saw the concrete gains the YCL was making with issues like the free Mumia campaign, public education, jobs and legislation. Socialism made sense and provided a long-term vision in the work I was doing."
Today Smiley believes that the youth and student movement is leading an "upsurge, a period where young people are coming together and connecting key issues like peace and education."
At the same time, there seems to be an "inherent natural consciousness that something is wrong in the system, especially with the ongoing occupation in Iraq," she said. "In the last couple of years, more and more youth are becoming involved."
The upcoming congressional elections require young people to "continue to build the youth movement and attack the Bush administration," she said.
In Smiley's view, "The major role of the YCL is to help to defeat the ultra-right, and to strive to hold the youth movement together."
Maintaining the level of unity is important right now, she added.
The immigrant rights struggle and the elections complement each other, she pointed out. "The YCL can be the glue to push broad unity with immigrant youth within the movement." Doing this means a "need for local action" that "cannot be separated from the electoral process," she said.
The YCL "cannot play a significant role unless we grow and build more clubs, recruit more people, actively and deliberately," she emphasized. "The YCL must unapologetically build the organization."
"We have to get bigger," she said. "We have a lot of work ahead of us" so we can become an even more relevant, large force among young people, "an example, demonstrating unity."